Thank you for visiting our South Florida wedding photography Gallery.
Below is a collection of wedding photography images from various weddings we have covered. At a wedding we take a wide range of images including posed portraits, photo-journalism, decor and detail photos and many other types of unique images. In addition to my galleries this website also contains a blog which is loaded with helpful wedding and wedding planning information. The wedding photos below were taken at weddings in Dade, Broward, and Palm Beach counties. If you are planning a wedding in areas such as Miami, Fort Lauderdale, Boca Raton, Delray Beach, The Florida Keys, Coral Gables, Miami Beach or any other South Florida location we would be happy to help you with your wedding planning. Call us at (561) 737-5561
Scroll to the bottom of this page to read real comments from our Brides, Grooms, Parents & Others
Why should you hire us to photograph your South Florida wedding?
There are many great reasons why I should be your wedding photographer. First, I have been formally trained in the art of wedding photography by the worlds best wedding photographers. After receiving my BA in Communications and photography I moved to Los Angeles where I worked with the most successful and talented wedding photographers in the world. Second, In addition to being a talented photographer, I'm also exceptional at the art of photo retouch and image creation. It's a known fact that at a wedding people sweat, clothes may not fit perfectly, wedding venues are required to have distracting exit signs and sometimes an occasional tummy tuck may be needed. While many South Florida wedding photographers may offer photo retouch they don't provide in house retouch and enhancements. Because my photography career started before Photoshop started I was quick to embrace this new computer based art. Basically if you have a photo that needs retouch or enhancements we are happy to offer this service free of charge. Third, I only use the latest camera gear and always being back up equipment. Actually I don't consider extra cameras at a wedding as back up gear. The term back up gear implies that the photographer has a main camera and a lower quality or older back up camera. I always being several camera to a wedding, each camera is a current model with the latest technology. I shoot with these cameras at the same time. This means that if a camera breaks the very second the bride is walking down the aisle my additional camera is either on me or next to me so and ready to fire. This means I can move from one camera to the next swiftly. Fourth, In addition to years of experience, the latest equipment and my Photoshop skills I also offer wedding album design. Wedding album design goes along with photo retouch in the sense that photographs never fit perfectly into an album perfectly. Many wedding photographers can take pictures but can't design custom album pages. Because of this lack of skill they use album templates and album design programs. If a bride and groom are not picky about their albums then this is fine. Our wedding couples are much more discriminating which means we custom fit our images together on a page. Click through to this link to read our blog article on wedding albums. Wedding Album Article. Fifth, read our reviews and note from happy clients. Our goal is the have the happiest clients. Given all the above our clients are happy because we always deliver and provide full retouch. All over my website are notes and reviews from our happy clients. Here is a link to our Wedding Wire review page. In addition to Wedding Wire reviews I am always receiving nice notes from my clients. You can read these notes at the bottom of my home page.
Having happy clients is my number one goal. Over the years I have received a huge amount of wonderful comments and reviews. If you are planning a South Florida wedding and are looking for a photographer, I urge you to read some of these client comments. I posed many of these reviews at the bottom of my home page. However I've posted different wedding related comments below. Check them out!
---
Hi Jeff,
I just wanted to say thank you so much for everything on Saturday! Our day was so wonderful and we are so appreciative of you. Everyone was so comfortable taking photos and we are so happy you were able to capture so many beautiful moments. I love the teasers you posted on Instagram. Thank you again for all of your work! It was such a pleasure meeting you. Thank you!
Best regards,
Caroline Flint
---
Jeff--our photos were great and our album is FANTASTIC! There were so many great shots. The final product came out better than what I imagined. Everyone absolutely Loves our album! Both you and Robin have been a joy to work with. We know this won't be the end of our relationship. You'll be hearing from us as our family grows! Thank you for being so easy and wonderful to work with and thanks again for our beautiful memories.
---
Matt: HOLLY SH-T Our Album is absolutely gorgeous!!!!!! I can't believe how great it turned out. Love it love it love it. We couldn't ask for anything better. Everything you guys have done for us since our first meeting was just perfect. Thanks again and please say hello to Albert for us Matt & Suzette
---
Jeff
All I can say is WOW.
The other day we received the package which contained the 16 x 20 formal picture & the 11 x 14 bride and groom on the bike photo. We didn't open the package so as not to damage any of the large photos.
On Friday we went to the framers and he opened the package. We were speechless when we saw that 16 x 20 picture taken under the chuppah. You truly captured the entire essence of the wedding with this photo! The chuppah, the flowers on the chuppah, the flowers behind the chuppah and the view to outside. The 4x6 proof, the 8 x 10 and the 11 x 14 of that photo didn't really provide the panoramic view the way that 16 x 20 did.
While at first I thinking 'vertical' of that photo, you were 100% correct making it a horizontal, it certainly would not have told the same story as the way you had it printed.
Thank you, Tami
---
BELOW: - Samantha had an awesome wedding at the Sundy House in Delray Beach. As a South Florida wedding photographer, I must admit that the Sundy House is one of my favorite wedding venues. This garden wedding venue has a unique variety of exotic plants trees, and flora. In addition to all the amazing landscapes, the Sundy House has small streams, statues and picturesque wooden bridges. Check out her lovely note below.
We had a remarkable experience with Jeff as our photographer.
We were blown away by the amount of professionalism, creativity and unique imagery that Jeff put into his pictures during our wedding. His pictures were so creative and we enjoyed having him take our photos. Everyone who has see our wedding pictures has complimented us on the quality of the pictures. Jeff started our bride and groom pictures by setting up a "First Look" between the two if us. Once we saw each other we spent the next hour roaming around the grounds taking pictures. Jeff took pictures at the pond, one the bridge, and against the bamboo gardens. Before the wedding day, Jeff worked with us to create a complete wedding day timeline which made the timing for the wedding easy to follow and reduced a ton of stress. Jeff doesn't claim to be a wedding planner, but you wouldn't know it based on his wedding planning skills. When it comes to hiring a South Florida wedding photographer I couldn't imagine hiring anyone else. Hiring Jeff to photograph our wedding was the best decision we made.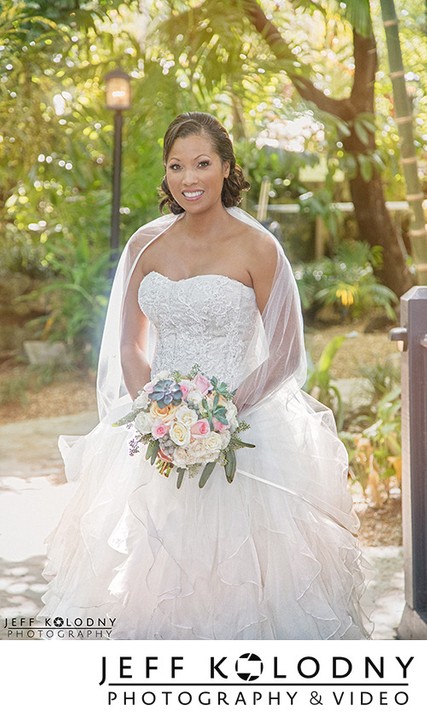 From Jeff, Working as a South Florida wedding photographer, I get to work at a wide range of wedding venues. Some of my favorite wedding locations are on the beach, others are located in luxury hotels, and there are plenty of county clubs that are perfect for weddings. This bride decided to get married at The Sundy House. If you are reading this and are looking for a garden type wedding location than this venue should be on you list of places to check out. I have spoke to many couples who have decided that they want a South Florida wedding but not on the beach. The garden setting at the Sundy house is simply beautiful. As a wedding photographer in South Florida, I can tell you this is a very unique location. One factor couples need to consider when planning their South Florida wedding is rain. As a photographer who used to live in Los Angeles it never rained at one of my weddings. Sure if the wedding took place in December, January, February, it may rain, but other times no way. The forecast for their wedding day said rain. Knowing that rain was a possibility I moved the shooting time forward to avoid the wet stuff. This worked perfectly, we had beautiful sunshine during the first look and bride and groom pictures. Once we were finished taking pictures the rain started. I have shot other weddings at the Sundy house where it did rain all day. In the cases when it rains, its my job to make the best of the situation. Check out these weddings which also took place at The Sundy house. Sundy House Weddings
---
linsey Waldman: Jeff and Robin, Neil and I can't thank you enough for making the weekend so perfect. Everyone truly smiled for you a