Why should you hire us to photograph your South Florida wedding?
There are many great reasons why I should be your wedding photographer. First, I have been formally trained in the art of wedding photography by the worlds best wedding photographers. After receiving my BA in Communications and photography I moved to Los Angeles where I worked with the most successful and talented wedding photographers in the world. Second, In addition to being a talented photographer, I'm also exceptional at the art of photo retouch and image creation. It's a known fact that at a wedding people sweat, clothes may not fit perfectly, wedding venues are required to have distracting exit signs and sometimes an occasional tummy tuck may be needed. While many South Florida wedding photographers may offer photo retouch they don't provide in house retouch and enhancements. Because my photography career started before Photoshop started I was quick to embrace this new computer based art. Basically if you have a photo that needs retouch or enhancements we are happy to offer this service free of charge. Third, I only use the latest camera gear and always being back up equipment. Actually I don't consider extra cameras at a wedding as back up gear. The term back up gear implies that the photographer has a main camera and a lower quality or older back up camera. I always being several camera to a wedding, each camera is a current model with the latest technology. I shoot with these cameras at the same time. This means that if a camera breaks the very second the bride is walking down the aisle my additional camera is either on me or next to me so and ready to fire. This means I can move from one camera to the next swiftly. Fourth, In addition to years of experience, the latest equipment and my Photoshop skills I also offer wedding album design. Wedding album design goes along with photo retouch in the sense that photographs never fit perfectly into an album perfectly. Many wedding photographers can take pictures but can't design custom album pages. Because of this lack of skill they use album templates and album design programs. If a bride and groom are not picky about their albums then this is fine. Our wedding couples are much more discriminating which means we custom fit our images together on a page. Click through to this link to read our blog article on wedding albums. Wedding Album Article. Fifth, read our reviews and note from happy clients. Our goal is the have the happiest clients. Given all the above our clients are happy because we always deliver and provide full retouch. All over my website are notes and reviews from our happy clients. Here is a link to our Wedding Wire review page. In addition to Wedding Wire reviews I am always receiving nice notes from my clients. You can read these notes at the bottom of my home page.
Having happy clients is my number one goal. Over the years I have received a huge amount of wonderful comments and reviews. If you are planning a South Florida wedding and are looking for a photographer, I urge you to read some of these client comments. I posed many of these reviews at the bottom of my home page. However I've posted different wedding related comments below. Check them out!
---
Jeff--our photos were great and our album is FANTASTIC! There were so many great shots. The final product came out better than what I imagined. Everyone absolutely Loves our album! Both you and Robin have been a joy to work with. We know this won't be the end of our relationship. You'll be hearing from us as our family grows! Thank you for being so easy and wonderful to work with and thanks again for our beautiful memories.
---
Matt: HOLLY SH-T Our Album is absolutely gorgeous!!!!!! I can't believe how great it turned out. Love it love it love it. We couldn't ask for anything better. Everything you guys have done for us since our first meeting was just perfect. Thanks again and please say hello to Albert for us Matt & Suzette
---
BELOW: - Samantha had an awesome wedding at the Sundy House in Delray Beach. As a South Florida wedding photographer, I must admit that the Sundy House is one of my favorite wedding venues. This garden wedding venue has a unique variety of exotic plants trees, and flora. In addition to all the amazing landscapes, the Sundy House has small streams, statues and picturesque wooden bridges. Check out her lovely note below.
We had a remarkable experience with Jeff as our photographer.
We were blown away by the amount of professionalism, creativity and unique imagery that Jeff put into his pictures during our wedding. His pictures were so creative and we enjoyed having him take our photos. Everyone who has see our wedding pictures has complimented us on the quality of the pictures. Jeff started our bride and groom pictures by setting up a "First Look" between the two if us. Once we saw each other we spent the next hour roaming around the grounds taking pictures. Jeff took pictures at the pond, one the bridge, and against the bamboo gardens. Before the wedding day, Jeff worked with us to create a complete wedding day timeline which made the timing for the wedding easy to follow and reduced a ton of stress. Jeff doesn't claim to be a wedding planner, but you wouldn't know it based on his wedding planning skills. When it comes to hiring a South Florida wedding photographer I couldn't imagine hiring anyone else. Hiring Jeff to photograph our wedding was the best decision we made.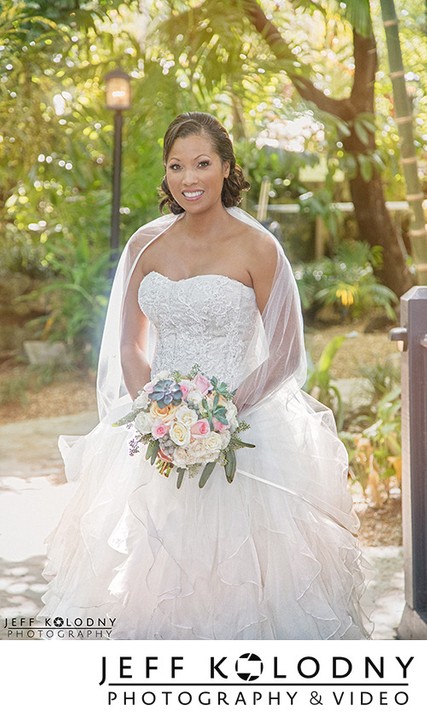 From Jeff, Working as a South Florida wedding photographer, I get to work at a wide range of wedding venues. Some of my favorite wedding locations are on the beach, others are located in luxury hotels, and there are plenty of county clubs that are perfect for weddings. This bride decided to get married at The Sundy House. If you are reading this and are looking for a garden type wedding location than this venue should be on you list of places to check out. I have spoke to many couples who have decided that they want a South Florida wedding but not on the beach. The garden setting at the Sundy house is simply beautiful. As a wedding photographer in South Florida, I can tell you this is a very unique location. One factor couples need to consider when planning their South Florida wedding is rain. As a photographer who used to live in Los Angeles it never rained at one of my weddings. Sure if the wedding took place in December, January, February, it may rain, but other times no way. The forecast for their wedding day said rain. Knowing that rain was a possibility I moved the shooting time forward to avoid the wet stuff. This worked perfectly, we had beautiful sunshine during the first look and bride and groom pictures. Once we were finished taking pictures the rain started. I have shot other weddings at the Sundy house where it did rain all day. In the cases when it rains, its my job to make the best of the situation. Check out these weddings which also took place at The Sundy house. Sundy House Weddings
---
linsey Waldman: Jeff and Robin, Neil and I can't thank you enough for making the weekend so perfect. Everyone truly smiled for you and you captured every moment. You are so creative! We can't wait to see the "thousands" of pictures of our crazy friends and family. Thank you a million times! Love, Neil and Linsey
---
Hi Jeff,
Thank you so much they are amazing! Matt is shocked he likes the way he looks in so many of them!
Thanks again! Katie
Katie told me that Matt doesn't smile for pictures and is self-conscious about having his picture taken. Before they hired me, they asked, How am I going to make them look good in pictures? My answer, I know how to pose people so that their best features are highlighted and there worst features are hidden. I realize that most of my clients are not super models, they are normal people and some are not always confident in front of the camera. Its my job to pose them in such a way that they feel they look good. Years of experience and photographing well over 1000 weddings, I know how to make people look their best. While some photographers use a hands off journalistic approach, I teach my subjects how to look good. Once they understand how to pose, shift their weight, use their hands, they feel confident and empowered in-front of the camera. At this point some easy simple direction is all that is needed for my clients to own their poses. Don't believe me? Call me and set up a short mini photo session. You will be amazed at how great you can look in your wedding and engagement pictures!
---
We LOVE LOVE LOVE the pictures....thank you so much!!!!
You are unbelieveable, extremely creative, and your work is stunning.
Kevin and I could not have asked for a better crew at the wedding, with you in the driver's seat!!!
Looking forward to seeing the rest, and to our follow up consult (chances are we will be upgrading to the Austrailan book you had showed us).
---
Liz and Ben: Jeff, I have spent most of this week and last week looking at the pictures, and feeling as if I am re-living the wedding over and over again! I still only have one word, AMAZING!!!! We recently had a wedding photo party with all the family and they love the pictures too! I love your creative and romantic approach to photography, it is truly timeless. I will always recommend you to anyone looking for a photographer, because I know that you are the BEST! Thank you again for everything! Liz and Ben Lauren
---
Jennifer Denmon: Jeff-- These are BEAUTIFUL! More than we could have hoped for!! Working with you was an incredible experience. I knew the moment we saw your work that I wanted YOU to photograph our wedding, and these pictures just solidify what we already knew--you are SO amazingly talented and so much fun to work with!! Can't wait to see the album!! Jennifer.
---
The below words are just some of the testament to you and your crew. These sentiments say it all!
Wow. Was this amazing. You captured everything. I don't think there are enough kleenex
"What an absolutely artistic, beautiful, sentimental video and treasure for the family to cherish forever."
"I had to replay parts that were too blurry due to the tears that were filling my eyes."
Michelle and Raul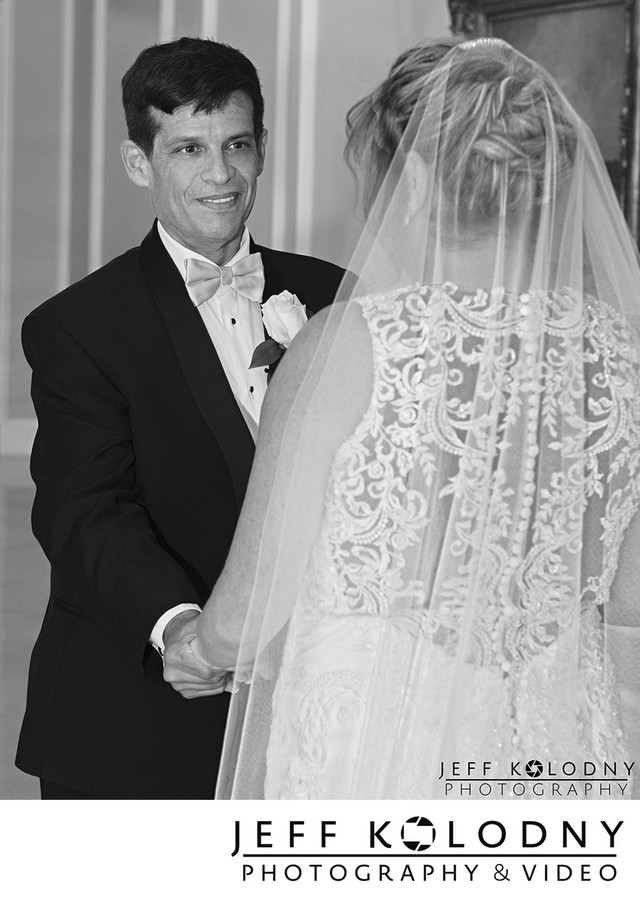 ABOVE: - I shot this "first look" wedding photo at the Eau Hotel in Palm Beach. If you are planning a wedding here in South Florida, then you should check out the Eau. This luxury hotel is located on the beach and is high end in every way. The very second you walk into the lobby, you will realize that this wedding venue is all about pampering it's guests. The plush sofas in the lobby are very inviting, Even the smells and appearance of the main lobby is relaxing. At this wedding I started taking taking pictures inside the bride room. The bride and her mother are very close, and I made sure to take pictures that convey the mother daughter relationship. When a couple is shopping for South Florida wedding photography, one consideration is, does the photographer understand the relationship between family members. Wedding photography isn't just about taking beautiful pictures. It's about producing pictures that convey the special relationship between family members. One example of this could be seen when looking at this bride and grandmother image. This is another "first look"image, just not between the bride and groom but between the bride and her grandmother. During a wedding there are often several first looks. Sometimes the first look happen through the course of the day. Part of being a skilled wedding photographer means that the photographer and the camera are always ready to capture a spur of the moment shot. Whenever, I receive a thank you note from a bride, groom, mother of the bride, or father of the bride, I'm always thrilled.
---
Joe: Jeff, these are beautiful; I can't wait to see all of the completed photos. Thank you again so much for everything, you were great at the wedding, and captured the night perfectly with photos that matched our style and the mood of the wedding.
---
MIKE: Hi Jeff, I just wanted to say thanks as well for photographing Ivy and I and posting the pictures on your blog so soon. You made us both feel so comfortable and I can only imagine how great the rest of the photos will look. You are the best!
---
OMG !!!! Jeff, I Just got my album the other DAY. It looks AMAZING !!! LOVE IT !!!! HOWARD is coming back today from his work trip, I can't wait to show it to him :)
THANK YOU SO MUCH :)))
FROM JEFF - This was a very unique South Florida wedding. A second wedding for a very creative bride and groom. They decided to plan a boxing theme wedding. The tag line for their wedding was "Round Two". They hired one of South Florida best event planners "Linzi Events" who designed decor that was beyond creative. Check out these pictures from this extremely creative wedding. The bride dressed and ready for round 2 Beautiful table decor Outside the box decor. I have photographed lots of weddings in my years, this one is the most unique.
---
Ivy: Jeff, thanks for posting the pictures so soon! Mike and I are still on our honeymoon in Hawaii and have been eager to see a few photos-- they look absolutely magnificant! It was a pleasure working with such a creative photographer! We can't wait to see the rest of the photos!
---
Mom E.: Wow!!! The photographs are breathtakingly beautiful. Of course I have always known that you two are beautiful people. The photos show the sheer joy and excitement felt by all that evening. It is fun to relive the special celebration through the eyes of a professional. Jeff's artistic eye for special details is amazing. I am anxiously awaiting the unveiling of the rest of the photos. They are going to be gorgeous!
---
Hello Jeff & Robin!
I hope all is well. I just wanted to take my hats off to Kolodny Photography. Words cannot describe how beautiful the final album looked for Jessica and Asia. I got a chance to visit with them on Friday afternoon and I was just speechless as I turned the pages of their book. JUST GORGEOUS! You have God Given talent Jeff, I swear!
Kerline Docteur, PBCTM
Joie de Vie Weddings & Events, Inc.
www.joiedevieevents.com
---
Amanda Fauss: Jeff - Thanks for putting up some of the photos from our April 27th Palm Beach wedding! We are back in Chicago now, having returned from our honeymoon in Moorea & Tahiti. These look wonderful & we can't wait to see the others! Thanks so much for everything - your work is beautiful and your professionalism unparalled! It was a great pleasure working with you, and we highly recommend you to anyone looking for the best wedding photography!!
---
Lauren: Looking at these photos smacks us right back into the best night! Thank you for capturing these moments. You were wonderful and we're anxiously awaiting the rest of the pictures. Thanks for being so creative with working within the hotel despite the rainy weather!
---
Liz and Ben: LOVE, LOVE, LOVE the infrared photography that you did at our wedding!!!! AMAZING! We love you!
---
Mary Ann Farina: Jeff, Carolyn forwarded me your e-mail. What a treat!!! These are some of the most beautiful photos I've seen of wedding moments. You are a wonderfully talented photographer. It was difficult to choose, I do love the way you bring the background surroundings into the pictures to beautify and enhance the overall effect congratulations on your work...you should be very proud.
---
Arlene and Rich: Jeff - Thank you so much for taking such amazing pictures...we were a little nervous at first, but you made us feel comfortable and we had a great time. You're the BEST!
---
Mike: Jeff, Of all the emails I get from photographers, yours is the one I open just for pure enjoyment! Your creative eye turns the most everyday objects into a visual feast. Wishing you and your family a Happy and Healthy New Year! Take care, Mike
---
Staci: Jeff, your pictures are amazing. you were the best to work with and the sample on the blog has only made us hungry for more. thanks for the incredible work. we can't wait to see the rest. Staci and Glenn
---
Leah and Jeremy Cohen: Jeff, we LOVE the pictures-they are exquisite!!!! You are an amazing talent and so easy to work with. You can turn basic pictures into works of art! Thank you so much- we will forever recommend you to others.
---
Dear Robin and Jeff,
The album and the DVD are... indescribable. I will try to put into words how we feel. Through your work you captured the essence of our day, of us as a couple and as individuals, and of our family and friends.
Our wedding day will forever be told as a story because in fact what you presented us is not an album, it is a storybook. I was so overwhelmed with the images, with the love and emotion portrayed, that we spent last night at our families' houses sharing in the photography. No dry eyes, laughter through tears, and the nostalgia to want to do it all again, that is what we experienced last night looking through and watching our 'storybooks.'
Your work, your professionalism, your sense of dedication and ease to work with is truly amazing. We are deeply touched and forever grateful for the memories you helped create and preserve for us.
---
Jeff, you are such a talented and creative photographer. We can't wait to see all the rest of the photos.What a pleasure you are to work with ,thank you.
---
Marisa Zeibert: Wow!!! These look incredible! Thank you so much, we cant wait to see them all. You were so great to work with and really helped to make our wedding everything we dreamed of.
---
Abby: As always Jeff, these photos are amazing. I'm sure the bride and groom were thrilled with how they came out! Great work!
---
Karen: I love the pictures! They are so beautiful! You really captured how special the day was!
---
Samantha Meister: Jeff, these pictures are absolutely incredible. You did a breath taking job! I am so excited to see the full album. Your skills are non-comparable. Thank you for capturing the most special day in my sister's life!
---
Amanda Gromosaik: Dear Jeff & Robin, We can't begin to tell you how flattered we are that you entered a photo from our wedding into a contest...and WON! Congratulations! So often, we have sung your praises to our friends and family, as we've shared our wedding album. Thank you, so very much, for capturing our day full of woderful memories, in such warm and dramatic fashion. Our best, Amanda & Kevin
---
THE RIGHT CHOICE
Choosing a photographer for my wedding was one of the hardest decisions I had to make for the event. I found Jeff simply by googling "best photographer in miami area" and Google knew best! Jeff sat with me for over an hour to discuss the job and we immediately connected. I knew he was the one to document one of the biggest days of my life. Jeff is efficient, patient, talented and professional. He is an experienced photographer with an eye for art and I would highly recommend him to anyone who wants the best. My wedding was definitely not an easy job because I have a huge family but Jeff handled it in a stride. I just got my pictures back and I am so happy with how they came out! Jeff is definitely the right choice!
---
This is Angie from Windy Mintlaw in Scotland. Stuart and I would like to thank you very much for sending Albert to photograph our wedding on the 17 of May. He has a creative drive, which we loved. He even gave us ideas on how the wedding cake is supposed to be cut, fitting of dress and veil … LOL I am so grateful for him. I hope he enjoyed being at our wedding as we enjoyed him being there.
He is truly a delight; both Stuart and I felt privileged to have our wedding photographed by Albert. Our guests are also raving about his professionalism (even some who did not even go to the wedding).
Kind Regards,
Angie
---
Meaghan: Jeff, We absolutely love our photos!! We could not be happier with the work you did. And working with you was amazing - so easy to have around. We only have great things to say! Thank you so much Megs and Vlad
---
Hi Jeff,
This is so exciting! Masa and I looked at all the pictures today and they are absolutely beautiful. Thank you so much for creating these wonderful memories for us...
Thank you again, warm regards
Barbara & Masa
---
Hi Jeff,
I just wanted to say that it was a pleasure working with you on our special day. You were absolutely phenomenal. Besides being an incredible visionary with the photography aspect, you were so helpful with giving out directions to the limo driver, helping me get a stain out of my dress, being a stylist, and making the day less stressful. One of the first decisions I made when planning the wedding was booking you and it turned out to be one of the best decisions I could have made. Tom thoroughly enjoyed working with Scott as well. We are very much looking forward to seeing our pictures. If anyone I know is planning a wedding or a special event, I will not hesitate to volunteer your information. Thank you!
While we are waiting, you had mentioned that you can send a picture or two so that we can go get our thank you cards made. We are going on our honeymoon very soon and wanted to start mailing out the thank yous before we leave. Thanks.
Ashley and Tom
---
BanKasa Dream Weddings Curacao: We like to thank Jeff for the great and wonderful pictures. It was nice to work with you, and hope we see you again on Curacao. A beautiful and different island for a great wedding organized by BanKasa Dream Weddings Curacao. Thanks Jeff.
---
Ruchir: Jeff, It was truly a pleasure working with you on this event. The pictures came out beautiful !! It's awesome to see the day come back to life thru your work, esp when you spend soo much time planning and coordinating with the bride and groom and to see them smiling in each and every picture - make it all worth while ! You Rock ! Ruchir Wedding Planner www.roseevents.com
---
Jeff
Alan and I viewed the BlueRay version of the video the other day. Not enough Kleenex in the house for that project!! So wonderful. I actually got to view the processional and many of the other activities that were happening that night.
---
Hello Robin and Jeff,
I just wanted to tell you how incredibly thrilled Edward, our families, and I are with the wedding album! I knew that the pictures were beautiful, but I never anticipated that they could possibly be even more beautiful! While it proved challenging to choose our favorite pictures from the hundreds of stunning photos you took on our wedding day, it has proven even more challenging for us to put the photo album down and attend to our daily tasks. I would honestly spend all day staring at it if I could!
However, this album is just the icing on the cake! From day one, our experience with both of you has been phenomenal! From the first inquiry emails I wrote, both of you have been extremely helpful, kind, attentive, and patient. After meeting Jeff, I knew that he was the only person I wanted to "follow me around" on my wedding day. Our incredible engagement photo shoot only confirmed that I had made the right choice in choosing the only person that I believed would be able to capture all of the beauty, emotion, and love that I wanted in my wedding photos. Jeff, you definitely did just that! These amazing wedding pictures have allowed us to relive our special day over and over again. We simply can't thank you enough for capturing the details that made our wedding day so unique and special to us and to our families. Every time I look at the album, I feel like I did on my wedding day. It makes me feel like my wedding never ended; you made our wedding last forever!
We are so grateful for our experience with both of you and for all of your hard work, creativity, and professionalism!
Sincerely,
Tarah and Edward
---
Dear Jeff and Robin,
A couple of weeks ago we received our wedding album. It's absolutely beautiful! The quality of the pictures on each page is amazing. It brought back a lot of great memories of the wedding. Thank you again for all of your work and for capturing such beautiful and moments.
Best,
Wendy
---
THANKS MEGAN AND VLAD!!
If you have been reading our website, you will know that Vlad is a major photography buff. A lover of the art of photography, we even transformed our guest room into an office and photo studio for the man behind Purse Blog. Designers send us bags to review and shoot, which has been an exciting adventure for us. When it came time to pick a wedding photographer, Vlad, of course, was very hands on. We would not settle for anything less than amazing when it came to the photography, and we ended up with more than we could ask for. After asking around, researching like crazy, and examining work, we ended up choosing Jeff Kolodny as our photographer.
Jeff's work wowed us from his previous jobs and has blown us away for our own wedding. There will be hundreds of other photos he will be showing us to add to our album, but we got a first look at Jeff's work from our wedding today. Being able to capture true feeling, emotion, and beauty in every photo, Jeff Kolodny photos amaze us. An array of photos from our wedding day can be found at Jeff Kolodny Photography. And as shown above, Jeff knew about my love of handbags and he integrated my Hermes Kelly Longue into many of our photos, which is ever-so-perfectly-fitting.
Thank you to Jeff and his wife Robin for their amazing work. Not only do we love it, but I know all of the handbag loving world will appreciate my Hermes bag being part of our wedding day! Megan and Vlad own the website Purse Blog.
---
Dear Jeff
I printed out a bunch of the pictures over the weekend and took them with me when I visited some friends and family. First of all, there were so many beautiful pictures it was hard for me to pick only a few to show them. I printed out almost 400 great pictures and then had to struggle to pull out 100 to put into an album so I wouldn't overwhelm everyone. Everyone who saw those pictures was AMAZED. That isn't even close to an exaggeration. I heard people swooning over the infrared shots and how I looked like a "princess" and they loved the snow effect. I heard people commenting on the beautiful colors and the very cool fish eye lens shots. Everyone was constantly giving compliments to the photographer and his great eye! They literally loved everything.
Again, thank you so much Every time I look at the pictures I am so touched and find new things I love about them. I am SO HAPPY that I picked you to photograph this huge day for us. It really was one of the best decisions I have ever made (besides agreeing to marry Elad!) I am very proud to have your photographs as a memory and I am going to sing your praises to anyone willing to listen!
THANK YOU THANK YOU THANK YOU!
- Shawn
---
Your team worked so hard getting just the right shot.
As a guest mentioned: you were there but unobtrusive. I can imagine how difficult it will be for us to choose the 'best-of-the-best!
I loved how Amy checked off all the pictures we requested.
Thanks for all your suggestions and for making the day so special.
Tami L