Jeff Kolodny Photography & Video
South Florida portrait photographer
Looking for the most creative award winning South Florida portrait photographer? Call Jeff Kolodny photography at (561) 737-5561
Are you visiting South Florida on a family vacation? Do you live locally and are search for the best family photographer, Celebrating a family milestone such as a graduation, birthday, or other event. Family portraits are the best way to reminisce and enjoy the past, as well as share family history and stories. What a better way to relive your Florida vacation, or remember celebrate a birthday than with a professional family photo session. I have been capturing family pictures in South Florida for over 15 years. His photo sessions are fun, creative, artsy. Based in Boynton Beach, He provides photography all over South Florida including all the following towns. Boca Raton, Palm Beach, Delray Beach, Fort Lauderdale, Parkland, Wellington, West Palm Beach, Jupiter, Coral Springs, Miami, Coral Gables. If you are visiting or live in Florida I will be happy to travel to any location to capture your family with amazing and creative pictures.
About this family picture, taken on a Boca Raton Beach.
This fun family picture was taken at one of the area's most prestigious beach hotels in the area. Recently renovated The Boca Raton Hotel offers a beautiful perfectly manicured beach, rock formations which are perfect for taking picturesque family pictures, and plenty of space to take beach pictures that are not filled with South Florida beachgoers in the background of your pictures. (Of course, as the best South Florida portrait photographer I'm highly skilled at photo retouching so even if you are taking pictures are one of the more crowded area beaches, I could most likely remove the unwanted sun seekers from the background. You can learn more about the portrait photography retouching we provide here. Portrait photography retouching. This family picture was taken on New Years Eve since the family was vacationing in Boca Raton the decided to remember their experience with a family portrait. We started shooting about 2 hours before sunset on what was a perfect day. The wind was calm and the setting sun provided soft pretty lighting. I started out the photo session with a casual photo of everyone and then changed to pictures of the parents together, and each sibling alone and together.
BELOW: Look at how pristine this beach is. The crew at The Boca Raton, beach club puts in long hours making sure that the beach is clean and free of debris. The rocks in the background help to add interest to any Beach picture. Having worked in South Florida for over 15 years, I can tell you the most every Beach has such wonderful scenery and few crowds. Part of the beach location is being the hotel and hotel service is provided by the hotel. If a hotel beach goer wants a bite or a drink the service staff at the hotel is happy to provide it. To the south of the beach resort is the Boca Raton more private residence. This part is never crowded and is the perfect place for pictures. In addition to being the perfect place for family portraits, I have photographed many marriage proposals, weddings, and Bat and Bar Mitzvahs on this beach.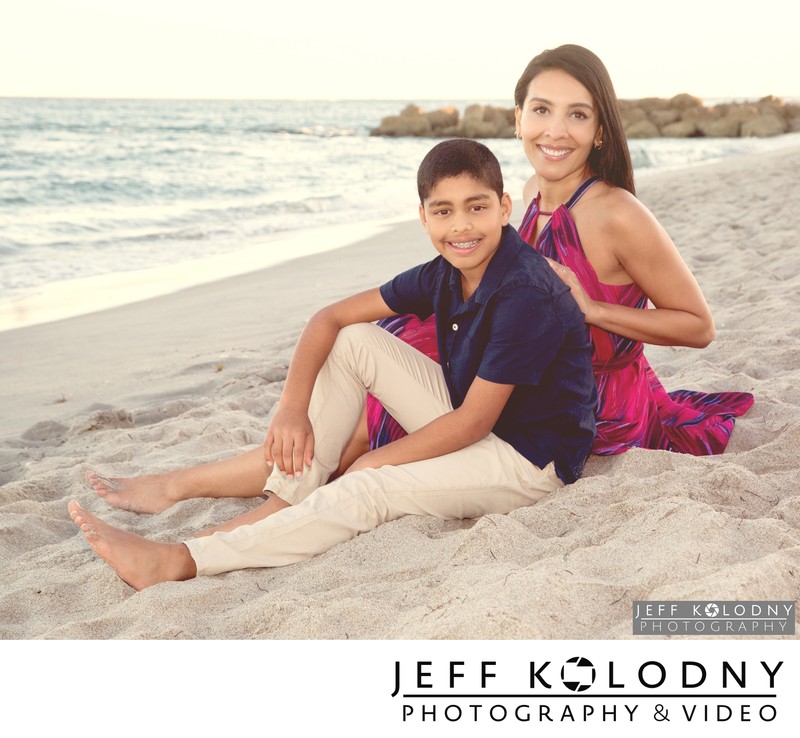 To add interest to this picture, I added a slight cream color adjustment. Since family photography is a very creative type of imagery, I have found that different clients prefer different types of looks. This cream tone is one of the more preferred special effects.
Working as a South Florida portrait photographer, I have shot images at many of the area's other hotel beach venues. In addition South Florida has a wide range of parks, gardens, and county clubs all provide beautiful beautiful scenic. Here are some other portraits taken at some of my favorite locations:
Portrait taken at The Morikami in Delray Beach. If having your family photographed with sand in your toes is not your idea of a good time, then the Morikami is an excellent place. The Morikami is a Japanese garden that includes a lake, awesome landscaping, a beautiful picturesque bridge and other features in including a tea house. Here is a portrait taken in Palm Beach, I photographed this couples wedding several years ago. Since the wedding they have visited South Florida and had me do their portraits several times. Don't forget to include your furry friends in your family portrait session. This family portrait took place at the couples home.
BELOW: - Taking pictures in rock formations by the beach always results in beautiful images. Rather than having just ocean in the background, the rocks break up the background and add interest. In addition people can pose by sitting on the rocks as well. Another important aspect of portrait photography is the photographer's ability to pose the subjects. It's not acceptable for a photographer to run a photo session and not give any direction. In this picture, the family members were asked to shift their weight to one lag. I often tells his subjects to remember that they only need one leg to stand. My putting all the weight on one foot, the other leg becomes the posing foot or lag. Notice had the young girl in this picture has her legs crossed.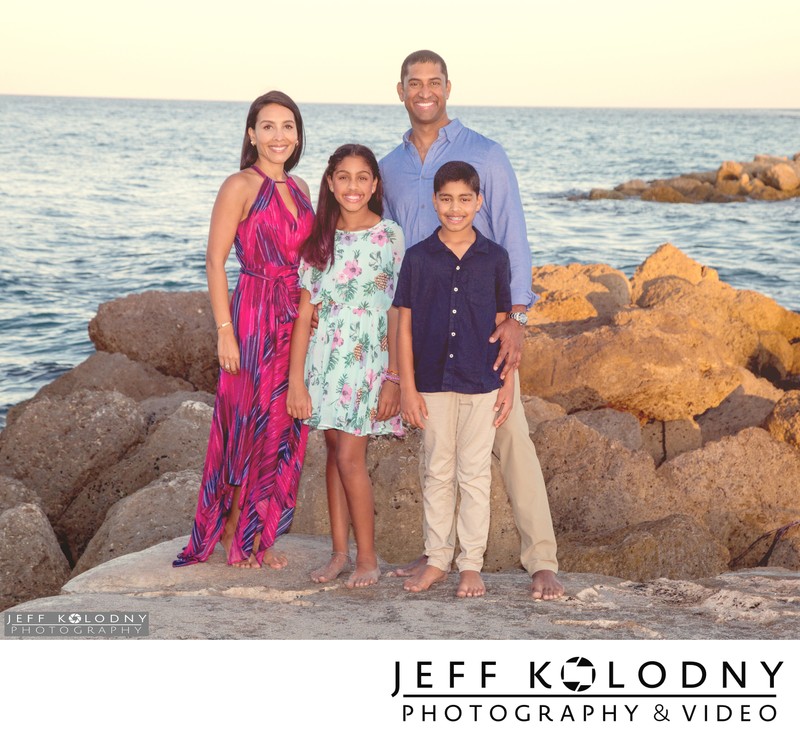 South Florida portrait photographer prices.
When a family is hiring a photographer, one question that always comes up is, What is the cost? When considering the cost, it helps to look at the expenses that the portrait photographer has. If we are talking about a true professional photographer, then it's important to understand that the expenses the photographer has include much more than simply a camera. A professional photographer, (Someone who earns their living doing photography) also needs to pay for insurance, marketing, (Such as this post) and processing of the images. As a professional South Florida Portrait Photographer we spend 1-3 hours retouching and enhancing images from one hour of photography. Then there is the question of how are the photography packages sold. For example, some photographers will price their photography as an all inclusive option. My an all inclusive option, we mean the photography, retouching and delivery of the digital images are all included. By pricing portrait photography in this was, there is a sort of cap on the photography cost. I say sort of because usually prints are at end game for the client. Other photographers, charge a fee for photography and ask their clients to purchase pictures from the digital proofs. As a photographer who loves the art of photography, I find this method the best option from a quality point of view. Price aside, when someone orders a wall print from me, that image is enhanced and calibrated for the professional lab that is producing the image. This means that the final colors will be accurate and vibrant. In addition the quality of the paper and dyes used in the reproduction are the best quality. For example, a photo print made with low quality paper, ink or chemicals may look fantastic when first delivery, however over time the quality will start to degrade. The transition is very slow, but over several years a print will start to loose contrast, shift in color, and start to look bad. At one point in my career, I was a photo lab printer working at one of the most prestigious labs in the country. The photo lab in which I was employed offered several different types of professional paper. Papers such as Cibachrome, FUJIFILM Fujicolor Crystal Archive paper or pigmented and UltraChrome ink produce images that last generations and produce colors that rival any paper or ink used at most online or store printers.


You will spend more ordering you prints directly from a photographer, however the difference in quality is well worth the cost.
Personally, I love big pictures. Nothing enhances a home as much as a beautiful large canvas gallery wrap or artsy framed picture. In addition, nothing starts a conversation going like an interesting wall picture. In addition to photographing family portraits, I also photograph lots of weddings and bat or bar mitzvahs, Often a photography session takes place inside the families home. This is when I get to see all the beautiful pictures that the family has collected over the years. A large family picture over a sofa breaths life and a sense to togetherness in any home. When a picture is taken by a professional photographer with the best camera equipment the fine details of the image only become apparent when the image is blown up large. I have a picture in my home that was taken on vacation. When looking at the digital file on a computer, you can see what looks like dots on the rocks. However in the large 50 x 60 wall print, you can actually see that those dots are in fact people, enjoying the view. Since this picture was printed on Fuji Crystal Archive paper, it looks as great today, 10 years later, as it did when it was fist printed. I expect it will look the same in another 20 years.
Why should you hire me as your South Florida portrait photographer?
Today there are more photographers than ever. However, which all these new photographers few offer the expertise and creativity that I do. Having held a camera in my hand since the early age of 13 photography is in my blood. As a kid, my family held photo night, in my father (a talented amateur photographer) would break out the slide projector and we would have a family viewing. Even back then the fun of looking at pictures blown up really large was enticing. Most of the pictures my father shot were taken on Kodachrome film which offered unsurpassed image quality. During these family viewing sessions, we talked about lighting, backgrounds, composition and more. My the time, I started high school I was shooting, model portfolios, product shots, sporting events. After graduating college I move to Los Angeles, where I worked for some of the most famous photographers in the world. Having been trained by these world renowned photographers, I learned how to pose, and make people look their best. If you decide to hire me as your South Florida portrait photographer, I promise, you photo session will not only be fun, but you will get the most beautiful pictures ever.
I'm based in South Florida and cover the entire area, so if you live or are vacationing in Boca Raton, Delray Beach, Palm Beach, Boynton Beach, Wellington, Fort Lauderdale, Miami, Miami Beach, South Beach, Parkland, West Palm Beach, Jupiter, or any part of Palm Beach County, Broward County, Dade County or Martin County, call me at (561) 737-5561. Jeff
Location: 501 EAST CAMINO REAL, BOCA RATON, FL 33432.