Magazine cover from a South Florida wedding.
Published magazine cover from a South Florida wedding photo shoot.
Getting my photography published is always a huge plus when it comes to building credibility as a wedding photographer. This magazine cover is the result of a planned photoshoot in South Florida. Almost all of the pictures on this website were taken at various weddings around Southern Florida. Some were taken in destinations around the Caribbean Islands and others were shot in various places in the United States. This wedding picture was taken at a time when most weddings in South Florida were either postponed or canceled. Shot in June of 2020, the country was battling the Corona Virus pandemic. Needless to say it was taken during a very difficult time for everyone in the wedding and event industry. Since no, or very few weddings were taking place, I decided to create a photo shoot of my own. I did this because I wanted to make sure I had an extra set of images to use for marketing.
The bride in this wedding shot was a model that I have worked with several times before. Her name is Erika and she is a skilled, dependable, and of course attractive model. You can check out her instagram page here. I met her while shoot another bridal inspired photo shoot in Miami. Here are some of the pictures from our other photo shoot. Erika at the W Hotel Miami, Erika the bride at a Miami Photo shoot. Erika in a red dress at the W Hotel. As you can see she is a talented model. Another bridal magazine cover featuring Erika. As a South Florida wedding photographer, getting my work published is always a huge plus. First, getting images published tells my audience that my work is worthy of being featured in a magazine and online. Published wedding pictures speak to the quality of the images because a printed magazine demands a high quality image. This means that the exposure of the picture needs to be correct. The photo can't be too dark or too light. Notice how the whites in the image are white and bright and not over exposed. For me as a professional photographer, I expect face lighting to be perfect. This means that there can't be any harsh shadows or highlights on the persons face. Another mark of perfect face lighting is the addition of a catch light in the eyes. A catch light is that small light in the eyes that brings out the color and enhances the look of the eyes.
The wedding photo shoot took place and the bridal gown came from Israel.
The wedding gown used in this photo shoot was custom made by Rafaela Kalderon, a bridal designer based in Israel. I met Rafaela on Instagram when I posted a picture from one of my South Florida weddings. She commented on how she loved the photo. When I was her comment I visited her instagram feed, then I checkout her website. We got to talking about the covid situation here and in Israel. I told her I have a model who I have been working with who would love to do a bridal inspired photo shoot. Rafaela agreed to make some custom gowns for me to photograph. I sent Rafaela Erika's measurements and in several weeks I receive some beautiful wedding gown custom made by Rafaela. The next step was to find a shooting location.
Because of Covid-19 most of the South Florida wedding locations closed. This made finding a shooting location a challenge.
I took some phone calls and some luck, but a wedding planner / florist told me to contact her connection at Deering Estate at Cutler. Having worked at Deering Estate before I was familiar with this location. Located on the water, this property offer a wide range for scenic opportunities for any South Florida wedding photographer. I was thrilled to have such a great shooting location. The wedding planner / florist who hooked me up with this awesome location was Anna Noriega from Events by Alore. Anna is also the one who made this beautiful brides bouquet.
Shooting beautiful pictures at Deering Estate was a dream. We had a fantastic day with plenty of sunshine.
When we arrived at 3:00PM we were greeted by Lulu who is one of South Florida best make up artists and hair stylist. Her company lulu's hair and makeup studio is simply amazing. If you are a bride looking for hair and make up call Lulu, she will make you look awesome. Here is a picture of Lulu in action. Once the make up was finished we headed out for pictures. The first picture we took was this magazine cover shot. Right from the start, I new these pictures were going to be fantastic!
BELOW: Check out this view looking out at the ocean from across the Deering Estate lawn. Of course this custom bridal gown created by Rafaela looked fantastic. The grounds around this location offer an incredible range of shooting locations.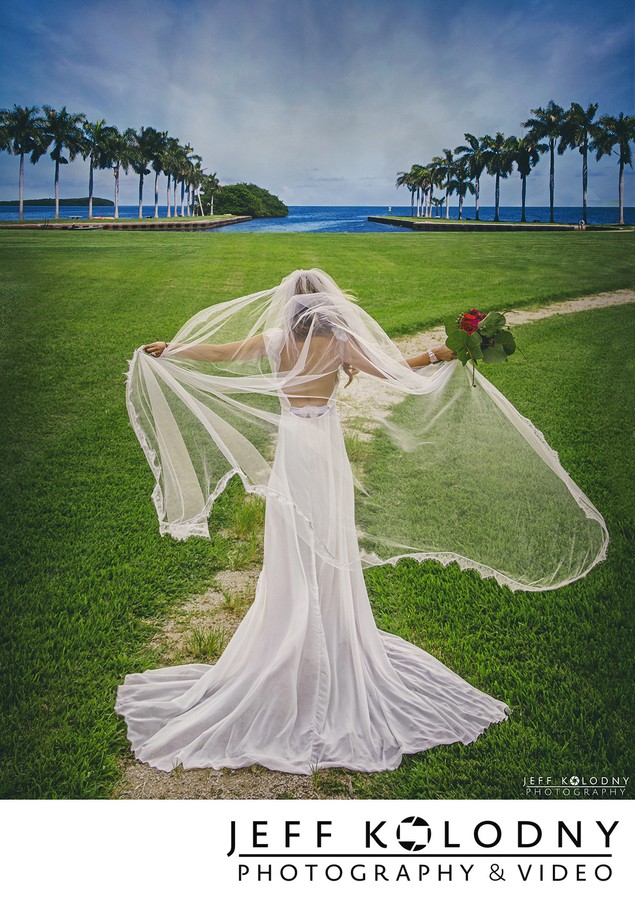 We spend the entire afternoon shooting bridal pictures with several different wedding gown changes. One of my favorite things about this wedding venue is the fact that you can find great backgrounds no matter where the sun is positioned. If you want a water view, you can shoot in several different directions and still capture the ocean in the shot. If you want greenery, there is plenty. The path leading in from the front gate is a great place for taken a shot with conversing lines. Check out this shot showing the path that leads in from the front entrance. Erika at Deering estate This one was actually the last shot taken toward the end of the day. Here are some more pictures from our photo shoot.
I shot this photo looking back at the main house from a part of the property that extends out into the bay. I really wanted the backlighting to show off her veil and the see through part of her gown. This shot was taken at the main house. Shot at the main house.
As you can see, this is a South Florida wedding photographers dream location. If you would like to see more pictures from Deering Estate, give me a call at (561) 737-5561