Best photographer in Miami
How do you determine who is best photographer in Miami?
When doing my website seo research I found that this is a search term that is very popular. Seems lots of people are looking for the Best photographer in Miami. The question is, what makes the "Best Photographer"? Is the best photographer the one with the best price? Or, is the best photographer also the most creative photographer? Does that mean most creative at any price? Is the best photographer in Miami determined by a mix of quality and value? Also, how can a recently engaged couple determine who is the best? As a South Florida based wedding photographer, I shoot about 1/2 of my weddings in Miami. Once I have been hired I always ask my brides and grooms, why did you hire me? The answers I get range from, we think you are the most creative, to we know you are dependable and great to work with. Sometimes the wedding planner said, I'm the best. In this article, I'm going to try to break down what the best photographer in Miami even means.
Is the best photographer in Miami also the most creative?
Do you think this wedding picture is creative? When I became a photographer, I was drawn to the art of photography because I love making beautiful images. For years and years I spent every moment living and breathing photography. I learned everything about photography I could possibly learn. I read all the books and classes, I received a BA in photography and communications and left school with a portfolio filled with, modeling pictures, portraits, product and food pictures, and photo-journalistic images.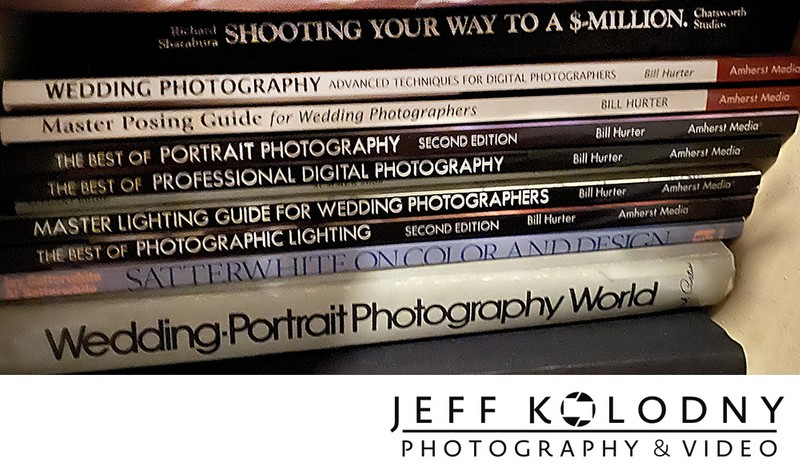 Here are just a few pictures from my extensive photography book collection. I'm not lying when I write that I have a huge collection of photography books. After studying and learning as much as I could about taking pictures I moved to LA to continue learning about photography. I learned every aspect of shooting weddings, corporate photography, event photography. Once I started my photography business I learned that being the beat photographer in not simply about shooting the best images. I know a ton of very talented photographers who have nothing but unhappy clients. This is due to them being lazy, not being responsible with money, and not properly preparing before a job. I recently spoke to a photographer who told me he is out of money and has well over 20 wedding albums that he can't afford to make. I heard another story about a photographer who never, went through the trouble to back up the images several times. Can you guess what happened? Her computer crashed because the hard drive failed. All the clients images were lost. After years and years of wedding photography experience I learned that being the best photographer in Miami or any place for that matter, means that your photographer also needs to be responsible and disciplined when it comes to running a successful business. My attitude regarding my images is, everything breaks, computers, cameras, memory cards. This is why I have what is often referred to as a system. I have a system for managing memory cards, a system for backing up images, I alway bring several cameras to every job. Even a easy short photoshoot requires two cameras. I always say, if you bring only one camera to a job, there is no question, it will break. Once I bring several cameras to a job, I won't have to worry about broken cameras. Just my attitude. In regards to the money thing, everyone wants to save money. However, everything has a cost, the latest camera are expensive, the best computers, hard drives to back up images are expensive. All this stuff needs to be factored into the cost of a photography package. If you want the best photographer in Miami, and you want to save money, my advise it to select a less popular date, or cut out hard cost items. I can tell you that the largest expenses with my business include, making a wedding album, paying for second photographers. By not including an album in your photography package you can lower the cost, I'm a huge fan of wedding albums, however couples can always make an album later. In addition, some photographer have put themselves in a saturation in which they need to pay a large kickback to the person who referred the job. If the photographer needs to pay a kickback then that cost will be passed on to you, the client.
About this picture creative wedding picture.
While bring a dependable photographer in critical to a Miami photographers success a photographer won't get hired if they are not creative. When I'm on the job, I'm always searching for creative opportunities. I have a mental mind set that helps me be creative, I developed this mindset as a result of working with the best photographers in the world. Having learned from the best of the best names in photography I was able to take some of their skills and make them mine. The list of my world past renowned teachers include: Jerry Ghionis, Joe Buissink, Susan Stripling, Gary Bernstein. This wedding picture was taken at the Biltmore Hotel in Coral Gables, which is a part of Miami. When I arrive extra early and ready to photograph a wedding, I alway make sure to spend lots of extra time doing a pre photography creative picture scout. I look at every angle of the wedding location and think about every possible creative angle. consider what can I shoot through? what can I use in the foreground to add interest? I consider the lighting, Is there a back lit situation that I could take advantage of? Then there is the question of, can I tell as story? Maybe there is a double reflection I could use? The list of creative options is never ending. There options and many more are always in my mind with I'm taking pictures. For this shot I came into the room where the groom and his guys were getting ready, and I saw what looked like a large chalk board. At least I thought it was a chalk board. I asked someone at the hotel if it was indeed a chalk board and was told it was not. The idea for this shot just clicked and I was not going to let this idea get away from me. So I posed the groom and the groomsmen for this shot. I told them I had this idea and I was going to make this image happen. So I took the picture without the chalk board writing and added it in photoshop later. If you would like to see more of my photography from the Biltmore Hotel click here. A Biltmore Hotel wedding adventure.