Wedding at PGA National
Wedding pictures taken at PGA National in Palm Beach Gardens.
Working as a South Florida wedding photographer means that sometimes you just get lucky. In this case, I got lucky twice! While there are lots and lots of high end wedding venues in Palm Beach Gardens, very few offer the scenic views and wonderful hotel space that PGA National offers. Recently, I found myself working at this awesome wedding venue two weekends in a row.
For those not familiar with PGA National, It's important to consider that this venue is not only high class, it's a big property with an unlimited amount of beautiful scenery. Everything from the recently renovated lobby, to the beautiful hotel spa and the expansive ballrooms is picture perfect. I hope you will consider this article the ultimate guide to PGA National wedding photography. My aim with this article is to cover everything from; the best places to take pictures, and at what time, to getting around the hotel. I'll also touch base on how to plan the perfect timeline for PGA National wedding photography. I'll even talk about the position of the sun around PGA and how to ensure you are at the perfect place to get that amazing shot.
Getting to PGA National in Palm Beach Gardens is easy. It's also convenient for your out of town guests.
PGA National is located 15 miles north of Palm Beach International Airport. It's an easy drive North up the Florida Turnpike, or up 95 North to PGA Boulevard. Then once on PGA Boulevard it's a short drive west to Avenue of the Champions which is the main entrance into the resort. You can find directions to PGA National here.
As a South Florida wedding photographer, I can tell you first hand, there is no shortage of picturesque places to capture beautiful image.
One piece of advise, I would offer to anyone having a wedding at PGA National is to allow plenty of time to take bride and groom pictures at some of the different places around the hotel. I always recommend allowing at least one hour or longer to take pictures around this wonderful venue. Some of my favorite photo spots are the Lakeside Lawn which is where most of the wedding ceremonies take place. The Lakeside Lawn features a beautiful scenic backdrop with a view of the lake and golf course. In addition the palm trees at the end of the ceremony site scream South Florida wedding.
Another one of my favorite picture taking locations at PGA National is The Honda Pavilion. This is one of my go to places for wedding family pictures, bride and groom pictures and wedding party pictures. As a wedding photographer, I sometimes find myself searching for a location that offers beautiful views, good easy lighting, and a place in which family members and the wedding party could chill while I arrange pictures. The fact that the Honda Pavilion is covered, yet offers amazing views means will always get great pictures at this location. Did I mention that the Pavilion is elevated so any pictures taken have a view of the lake or landscaping depending on the angle? In addition, the Honda Pavilion is also great place for a wedding ceremony. Check out these wedding picture from another PGA National wedding. This wedding included an evening ceremony under the Honda Pavilion. Erica and Noam's Lavish Wedding
Once the wedding ceremony has concluded, I often find myself photographing the cocktail hour one the grounds Masters Terrace. This very pretty location is beautifully landscaped with Palm Trees and flowering bushes and plants. For your wedding guests, it's an easy place to chat and relax before heading into a wedding reception.
From time to time, I'll find myself photographing a wedding or event that includes a large guest list. When I say large, I'm talking hundreds of people. These events almost always happen in the Grand Ballroom. The grand ballroom is almost 10,000 square feet and could accommodate a wedding with 650 guests. In addition to weddings, Bat / Bar Mitzvahs, I have also photographed lots of corporate events in this room. I have even worked one New Years Eve ball in this room.
Another one of my favorite ballrooms at PGA National is the British Ballroom. I love working in this ballroom for several reasons. First, it's easy to access from the main lobby. It's just a short walk from the main lobby and includes an atrium area located just cross from the ballroom. Wedding guest can easily leave the British Ballroom, and walk across to the open air atrium for a breath of fresh air without leaving for too long a time. The ballroom is much smaller than the Grand Ballroom but is very elegant. Actually the British Ballroom is 4400 square feet, large enough to host a 175 guest wedding with a band.
Many of the smaller South Florida weddings and corporate events I have covered have taken place in PGA's Vista ballroom. This room is perfect for a cocktail party as well. Recently, I covered a small charity event in the room. The guest was a writer who had a book published and a small amount of VIPs were invited to attend. I have also, used this room as a place to photography staff headshots during other events. Since the Vista Ballroom is smaller and located near the Honda Pavilion as well as across the hall from the Bella Lago ballroom it's a great place for a secondary function such as a cocktail hour or corporate breakout room.
The Bella Lago room is another one of my favorite ballrooms for weddings and events. I like this room because it's unique and has a different look when compared to some of the other PGA national ballrooms. This ballroom offers views the the golf course and has a vaulted ceiling and crystal chandeliers.
Exploring the golf course in a golf cart is one of my favorite ways to find new shooting locations at PGA National.
At almost every wedding I photograph, I make time to hop on one of the venues golf carts and explore for new locations. Part of being the best South Florida wedding photographer, means creating pictures that are fresh. This is best achieved by exploring the grounds in a golf cart. Using a golf cart also allows for picture taking in locations which the sun hits from the best angle.
About this picture. After the bride and groom had their "First Look" I took them around the hotel for some bride and groom pictures. We shot some pictures in the hotel lobby, and along a hidden walkway which leads to the spa. Actually PGA National featured some of my pictures on the hotel's website. You can see one here: Bride alone.
BELOW: Photographing all the little details during the getting ready part of a wedding is critical. It's through the collection of wedding details that an entire wedding day story is told. Everything from the bride's eyelashes to the bridal gown, to the shoes combines to tell as story. For this picture, I wanted to convey the artistry that the makeup artist incorporated in her job. As a photographer, shooting with the correct f-stop is very important. Standing on a step stool, my first shot didn't give me sharp focus on both lashes. This meant a change of F-Stop was required. A change from F2.8 to 7.1 made all the difference. I also wanted pretty soft lighting which came for a large sliding glass door just to the right of the bride. When I arrived the makeup artist had placed the bride in front of the slain glass door, to get this shot I had to move the bride and makeup artist to a location that allowed the light to hit the brides face from the front. My rule for people photography is the turn the face towards the light. This created a very flattering wedding portrait.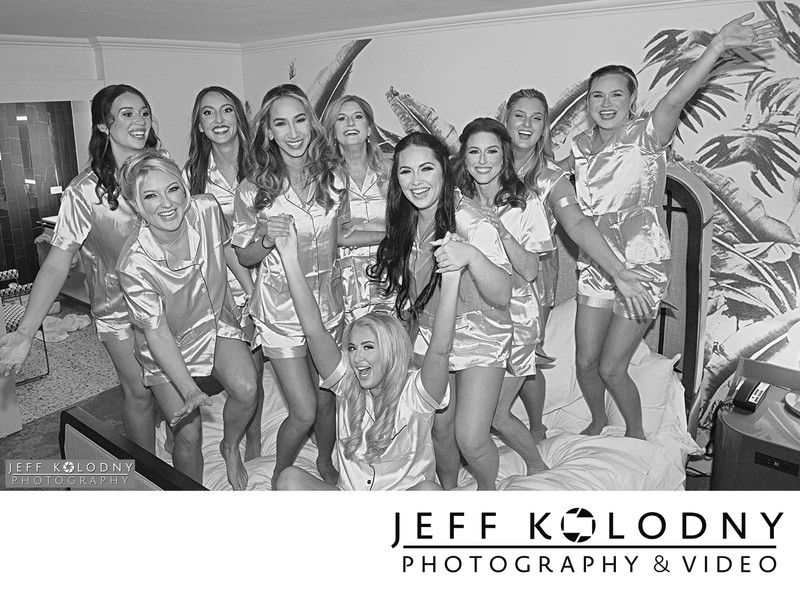 The wedding day started off with photography in the bridal suite. When I arrived the bride was still having her make up done and the room was a little messy. Often people will ask me, What is your style? Honestly, my wedding photography style is made up of several different styles. These styles include, black and white wedding photo-journalism, casually posed, fun, artsy, and creative. The picture below of all the bridesmaids jumping and posing on the bed is one of the first pictures taken once the bride's hair and makeup was finished.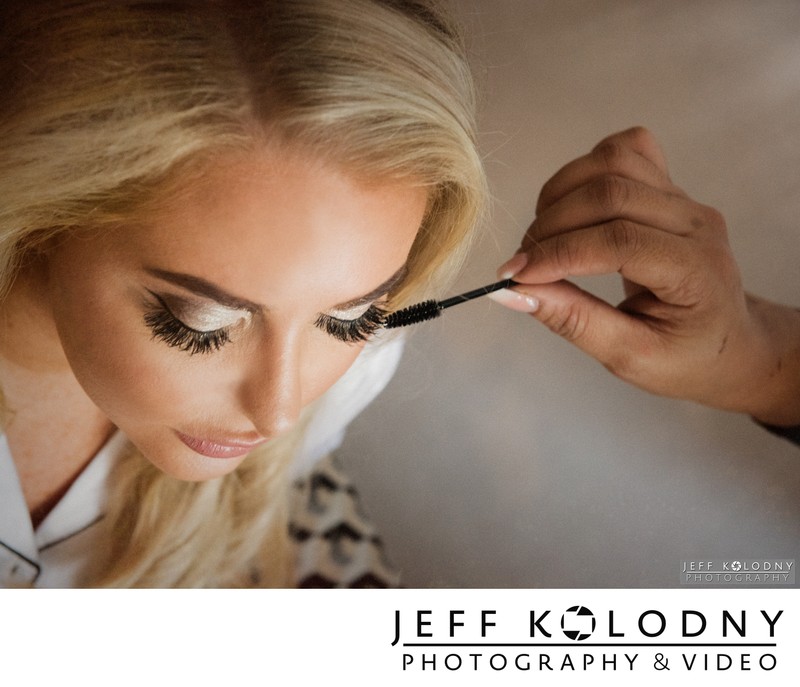 When I shot this picture, I originally shot it in color, however during the post processing I decided I liked it more in black and white. So I processed it as a black and white. I always give my couples both looks so that they can decide which they like better. Shooting action pictures like this is a great way to kick off the wedding because it allows the bridesmaids a fun and relaxed time before the wedding pictures get started. As I'm sure you could imagine, getting 10 bridesmaids all together on a bed and bouncing in such a way that you can see their faces what a little bit of a challenge. I had to position the girls from one corner to the opposite corner. This gave me the maximum amount of space to get all these girls casually posed close together.
PGA's multi million dollar hotel renovation will make this one of the most popular wedding and event venues in South Florida.
It's funny how sometimes I don't set foot in a certain venue for months or years, then I end up at the same venue twice in two weeks. This is the case with PGA National. At one point I was working at PGA every few weeks, shooting staff headshot, or capturing a charity event, or shooting a business function. Before this wedding, I hadn't visited the hotel for a very long time. Now part of the reason was due to the Covid Pandemic. Actually a two year stretch of events is missing from my calendar due to covid. While I was working during the pandemic, not all my jobs were weddings. Some jobs were small elopements, others were family portraits, and engagements. Having a wedding at PGA National was exciting to me, since I have not visited in a long time. I heard about the renovation but didn't realize it was still in process. This meant that some places were not available for photography, and other parts of the hotel were freely re-designed. The picture below was taken in one of the re-designed locations.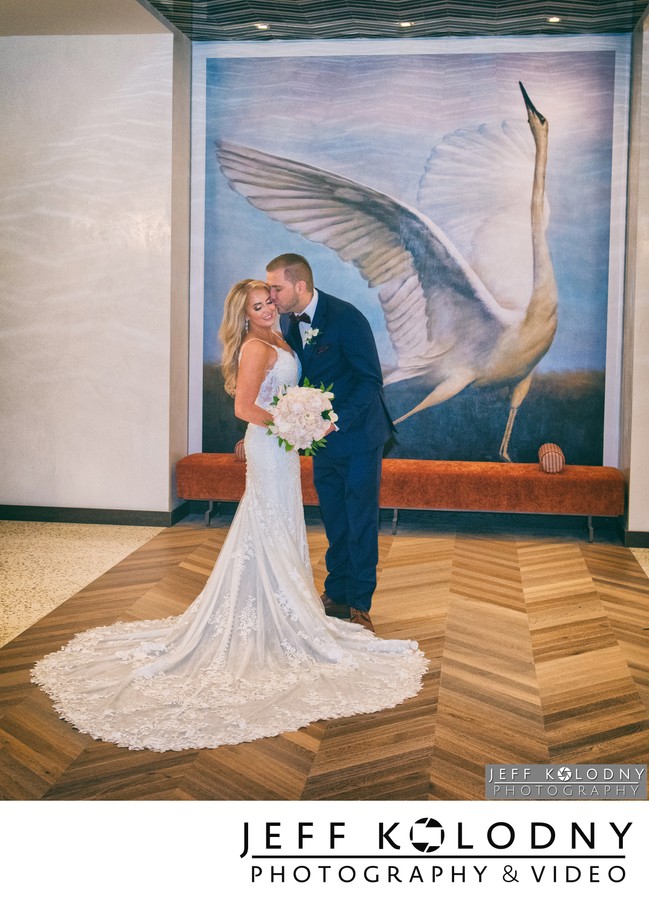 ABOVE: This picture was shot at one of the newest re-designed parts of PGA National. Walking past I realized this would be a nice photo spot. One of most time consuming parts of wedding photography is stylizing the bride gown. In this case her gown was easy to style. I loved to detail of this gown and the way the train flowed was simply elegant. I
n addition the brides flowers and bouquet also helped the the pictures together. As a wedding photographer, I love it when the bride has something to hold in the pictures. In this case the flowers were created by Dalsimer Events.
BELOW: Right after the bride and grooms first look I took a few romantic wedding pictures in a secret walkway which led to the hotel spa. Unfortunately the spa was closed for renovation, but I was able to use this walkway for some pictures. Often when I set up the first look, I'm the only one around. This is because some couples would like the first look to be private. During the first look the groom is often emotional and those emotions don't need to be on display in front of all the groomsmen and bridesmaids.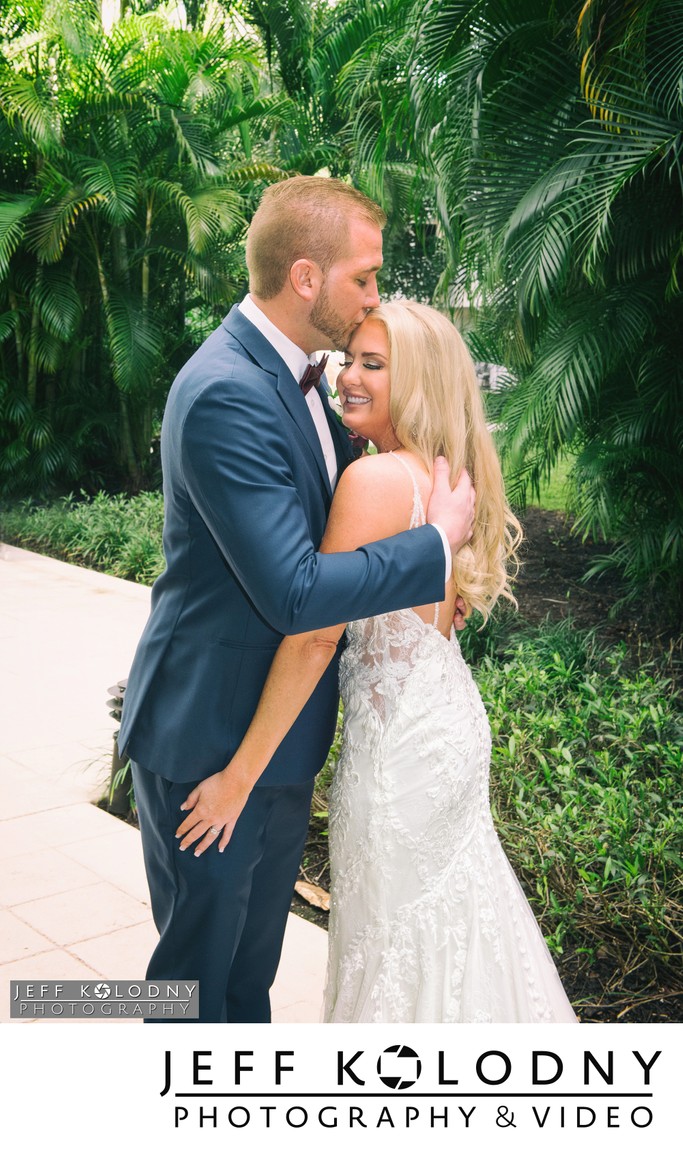 After the first look is the best time to take the bride and groom pictures. It's the best time to consider which different places will be used for photography and when the family pictures will start. In the case of this wedding, the wedding timeline was created by the wedding planner, Jennifer at Fabuluxe Events
After we shot some bride and groom pictures we walked over to the Honda Pavilion for more romantic kissy pictures.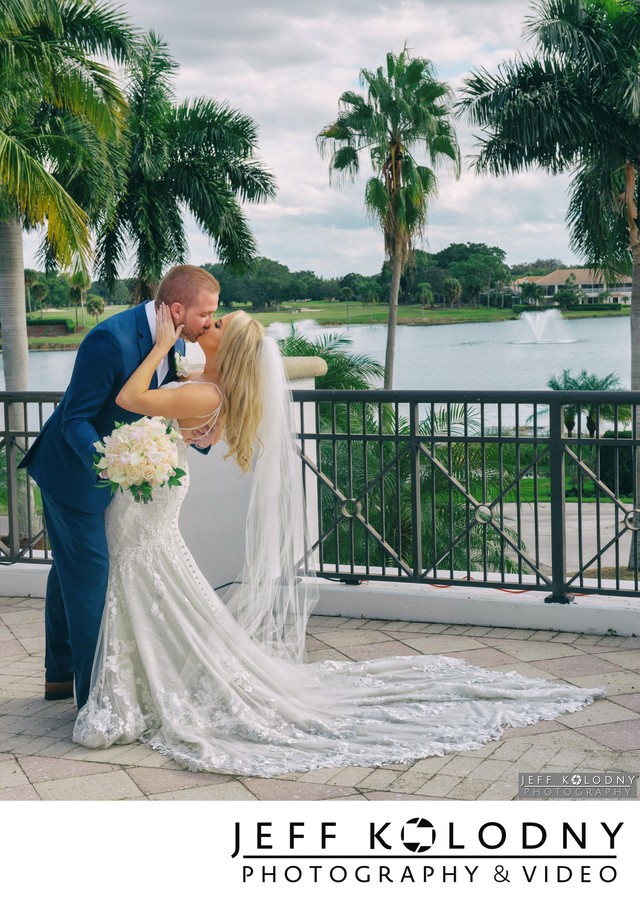 ABOVE: Captured at the Honda Pavilion, this kissy shot shows PGA's picturesque lake and the golf course. One word of advise, allow extra time to visit the wonderful places for photography that PGA offers. Also, as I mentioned before, the resort is huge, so walking from one side of the resort to the other will take a while. Having a golf cart handy is very helpful. Actually the pictures in this post / article only include about 1/2 of all the awesome photo spots available at PGA National.
BELOW: After a few hours of taking family pictures and running around the expansive grounds at PGA we finally got to ceremony time. The ceremony happened at the Lakeside Lawn under the most beautiful sunset. The weather was perfect and everything happened on time and as planned. After the ceremony ended we took a few extra family pictures and then it was party time.
As the hired wedding photographer, I realize that the wedding day is for the bride and grooms enjoyment and lasting memories. I'm there to capture those special memories through my photography. This means that my shooting time in which I require the couples attention is limited to some of the getting ready pictures, the first look, the bride and groom pictures and the required family pictures. Once the couple leaves the ceremony location and goes into cocktail hour, I switch hats and become more of a photo journalistic wedding photographer. In this capacity, I'm photographing the wedding as it happens. My interaction with the bride and groom becomes more minimalistic and I just let the evening unfold naturally. Sometimes I may offer some direction if needed but I really want the couple to forget I'm there. This means, shooting from a distance, with a long telephoto lens, or some quick get my shot and step away photography moves.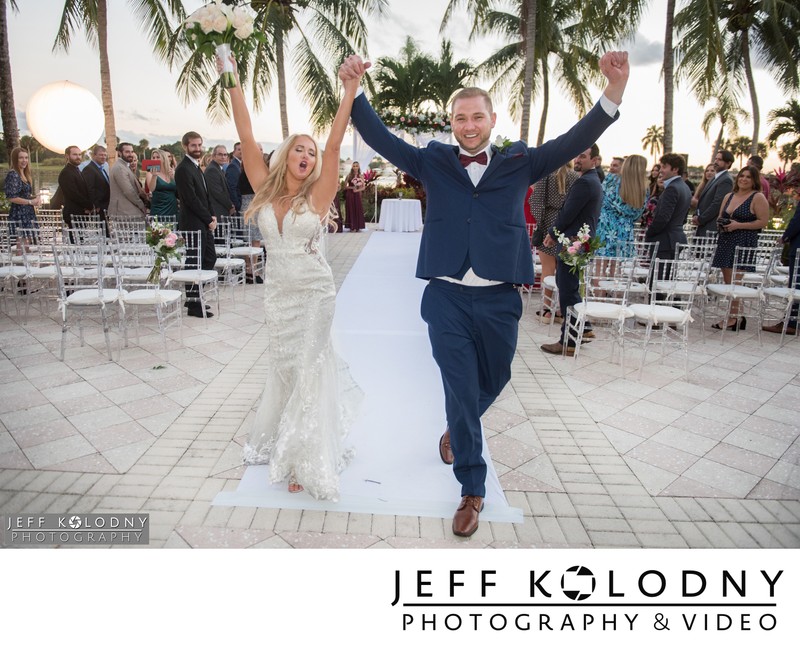 Finally, during the short after the ceremony photo session, I did spend a few quick moments capturing some more creative pictures like the one BELOW: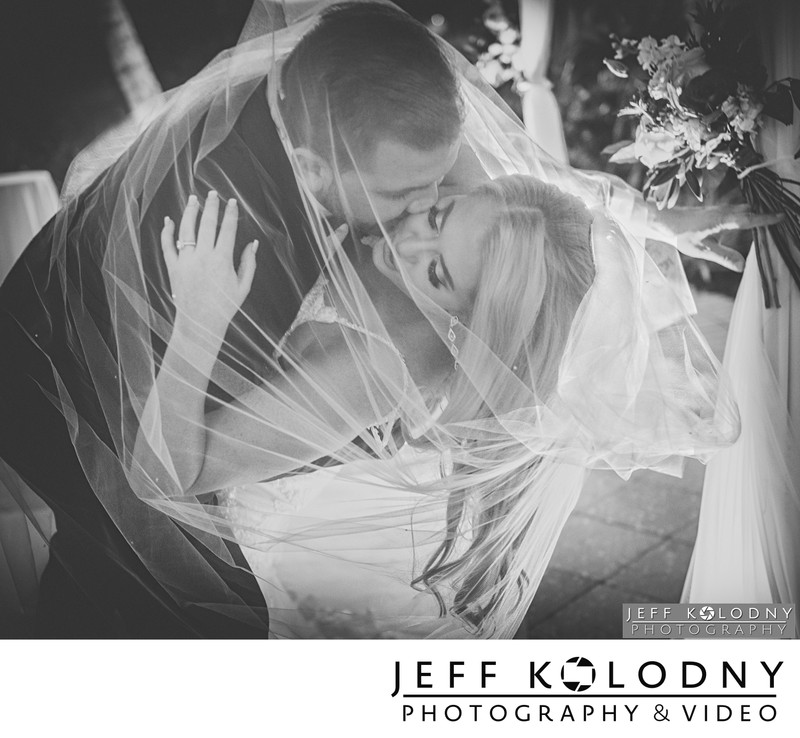 If you are trying to find PGA National on Google Maps, I added the map below. Just Click the map for more info.