Jeff Kolodny Photography & Video
Boca Raton Creative Photography
If you are planning a wedding or special event in Boca Raton you may be searching for someone who specializes in creative Photography. Just over 15 years ago I made the move from Los Angeles to South Florida to start my wedding and event photography business here. During my time working as a photographer in LA worked and learned from the most creative photographers in the world. Because I was entranced in the photography business I learned a few things about pushing the creative envelope. There are lot's of ways for photographers to create unique and interesting images. For this photo taken at B'nai Torah Congregation in Boca Raton I decided to use the stained glass to create an interesting bridal portrait. The light from the stained glass created a slight back-lighting effect which helped to separate the bride from the background. In addition to the light coming from the stained glass I used an additional light with I placed behind the bride. Had I not used this additional light her veil would have been very discolored. To light her face I used bounce flash which created nice soft facial lighting. As a wedding photographer in Boca Raton, my goal is to create the best creative photography possible. There are a ton of methods that can be used to create beautiful and unique images. Here are a few of my favorite creative techniques.
01 - Shallow lens Bokeh, If you have never heard of this, it refers to the effect of the out of focus lens blur which creates interest in the sharply focused part of the image. Check out this photo where the focus is placed on the Bride's Eye's. The interest created by the sharp eyes against the out of focus background makes this photo appear more creative. Check out this "first dance" photo where the selective focus is only on the bride and groom. The bokeh created form this lens created those really interesting out of focus circles in the foreground.
02 - Motion Blur, I love motion blur because it helps to tell a story with photography. This photo was taken during the bride and grooms first dance at Villa Woodbine in Coconut Grove. By keeping the camera shutter open longer I was able to allow the motion of the moment to create a blur effect in the background. This first dance photo is enhanced by the blur effect. Check out this photo below. Even though I'm based in the Boca Raton area, I';m happy to take produce creative photography all over South Florida.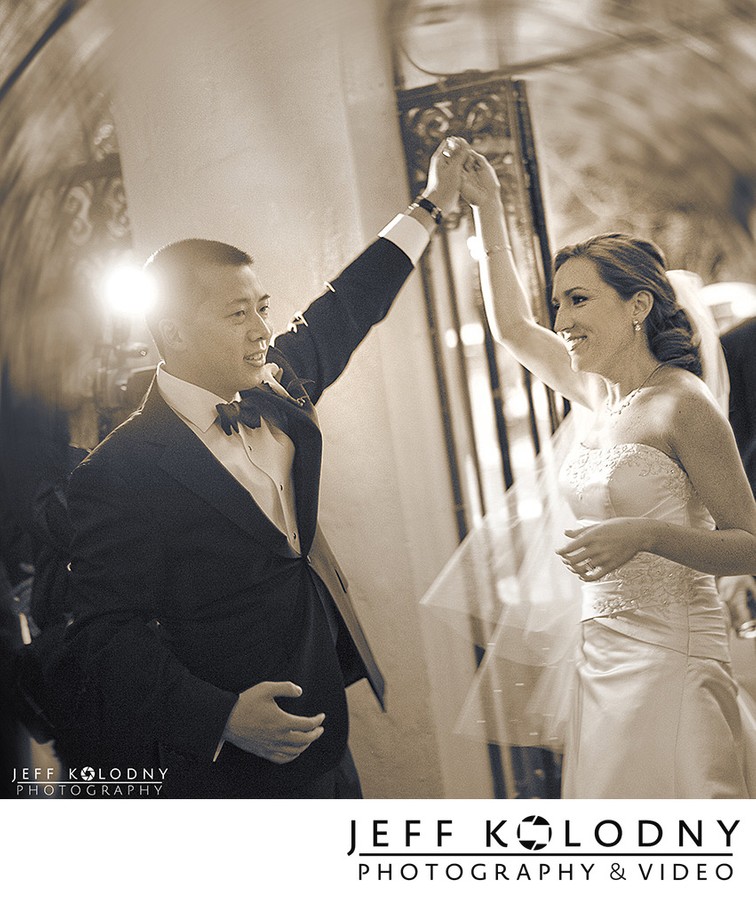 This drag shutter motion blur shot was taken at Villa Woodbine in Coconut Grove, Florida
03 - Reflections, any wedding photo can be enhanced with the extra help of a reflection. Whenever I enter a wedding venue such as B'nai Torah Congregation I am always on the look out for a reflective surface. A double reflection effect could come from a wide range of situations. Mirrors are a easy surface for creating this effect, also, reflections in hard surfaces such as a piano, or like the photo below, water is great for creating reflections in a creative photograph.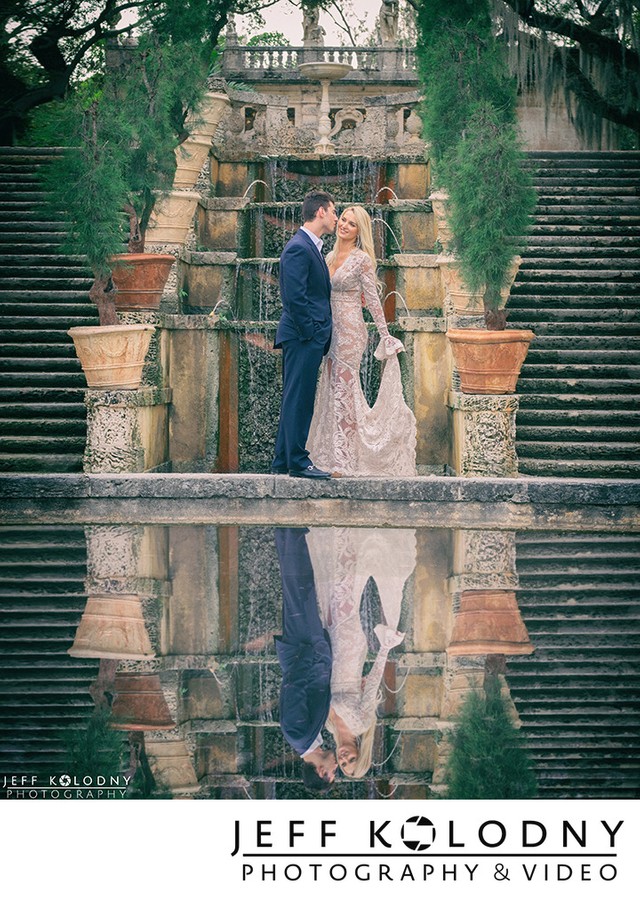 During this engagement shoot at Vizcaya, I noticed this small pond and knew this would be a great reflection shot.
ABOVE: I shot this photo at Vizcaya in Miami. If you are looking for an amazing place for a wedding or engagement shoot you owe yourself a visit to Vizcaya Museum and Gardens
Click this link to see another really cool double reflection photo from The Ocean Reef Club. By the way, if you are planning a wedding in for Florida Keys, check out the Ocean Reef Club in Key Largo.
04 - Fun with Patterns, I love using this method for creating interest in a photograph. To see the use of patterns in a Boca Raton Creative Photograph, click here: Bride and Groom at the Polo Club in Boca Raton. I noticed the pattern of the ceremony chairs and though to myself, here is a quick way to make a unique photo.
BELOW: The Ritz-Carlton in South Beach has this really cool wall made up of vintage Volkswagen Beetle hubcaps. Placing the bride wedding gown in the center created a visual pattern interrupt which makes this South Florida wedding photo unique.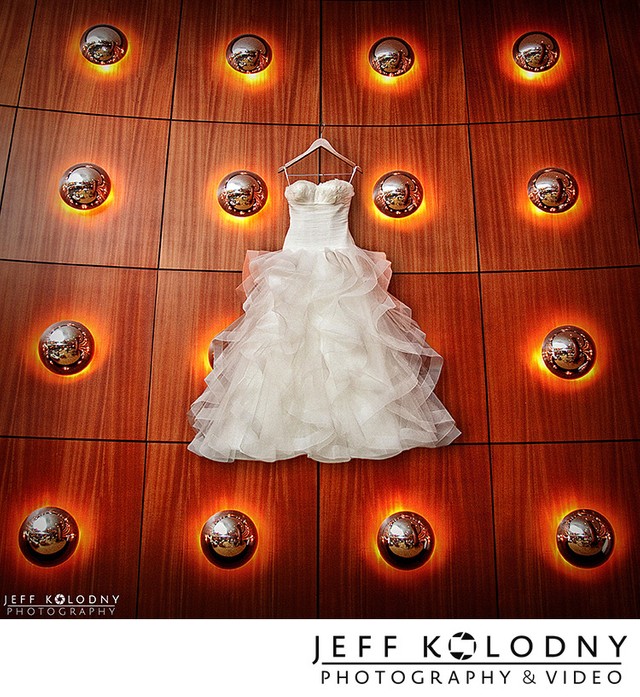 05 - Playing with colors, Another really cool and fun way to create interest and add creativity to a photo is to play with colors. This can be done several ways, One way is to drop out the color part selectively and turn that selected part to black and white, or sepia. I prefer sepia because by going with sepia the difference between the color part and the mono tone part isn't as dramatic. Check out this photo in which I kept the flowers in color, but made the bride and her bridesmaids sepia.
Vizcaya Girls Wedding Photo. Another method is to start with a black and white image and then completely color the image in photo shop. Click here for a colorized photo which I took at The Breakers, in Palm Beach. Kissing couple at The Breakers.
These are just a few ways a photographer can create unique photographs. While I often use these methods and many others, it's important to remember that a good photographer is skilled at creating quality work on a regular basis and at command. While I love working in Boca Raton at placed such as B'nai Torah Congregation I can produce creative Photography any place.
Location: 6261 SW 18th Street, Boca Raton, FL 33433.