Creative Photographer in South Florida.
As a creative photographer who is based in South Florida I get to shoot a wide range of unique events. While shooting corporate and special events is serious business it's also the type of work that allows a photographer to meet interesting people and cover some very unique events. Later in this post I'll talk about some of the other interesting projects I had the pleasure of covering. I started taking pictures at the age of 16 and have been a professional photographer once I finished collage with my BA in communications and photography. Because of my education and work experience, I consider myself lucky and a perfect fit for any corporate or special event photo project. Over the years I have become a highly sought after corporate and event photographer, This is because I have a very wide range of skillsets. To be the best creative event photographer in South Florida requires to ability to not only cover the event in an interesting and artistic way, but to also shoot a wide range of subjects. This particular assignment required several different photography skills. During this job, I had to shoot a fancy dinner, company headshots, food photographs and live action. I also had to produce great quality, perfectly lit photographs in a wide range of environments. Some of the pictures were taken in a dark ballroom, others were taken in direct outdoor sunlight I also set up a small studio for corporate headshots. Now about this photo. This picture was taken at one of the most interesting events ever. I shot this fishy photo at the Boca Raton Resort and Club which is one of my favorite venues in South Florida. If you have never been to the Boca Resort you should visit this fantastic venue. The resort is huge and hosts a wide range of events. In the past I have shot Weddings, Bat / Bar Mitzvahs, Sales Meetings, Corporate Functions, Team Building events, some very high-end Birthday Parties and a tremendous about of other types of events. Because the hotel staff knows that I'm one of the top creative photographers in South Florida they send me a wide range of clients, they also have me shoot events and photo projects for the hotel itself. This is one such project.
For this project I was required to take pictures at a very unique dinner which took place in one of the hotels smaller ballrooms. The tables were arranged in two rows, with the center space set up for the hotel chef to work. The event was attended by the top executives of the Waldorf Astoria hotel chain. As for the dinner, the guests actually created their own meals with the guidance of the hotel head chef. It's was not a normal dinner, the meal included grilling a special type of exotic steak or fish, making ice-cream using liquid nitrogen gas. I also shot some headshots of the hotel head chef.
The next day started with all the Waldrof Astoria executives meeting at the boat dock at the hotel yacht club. Their was a large table set up and some small cocktail hour type tables set up as well. Everyone hung out on the yacht club back patio next to the boat dock. Refreshments were served as the hotel head chef stood with the attendees on the yacht club deck. The chef stood with a cell phone with the loud speaker on. Next his phone rang and the voice on the phone said something to the effect of we are done fishing and are on our way to the hotel. Then he received another call from another boat saying we are on our way in. We have fresh sushi grade tuna, and some snapper. Then the two boats pulled up behind the dock and started to unload their fresh fish.
BELOW: Freshly caught fish arriving directly from the Atlantic Ocean.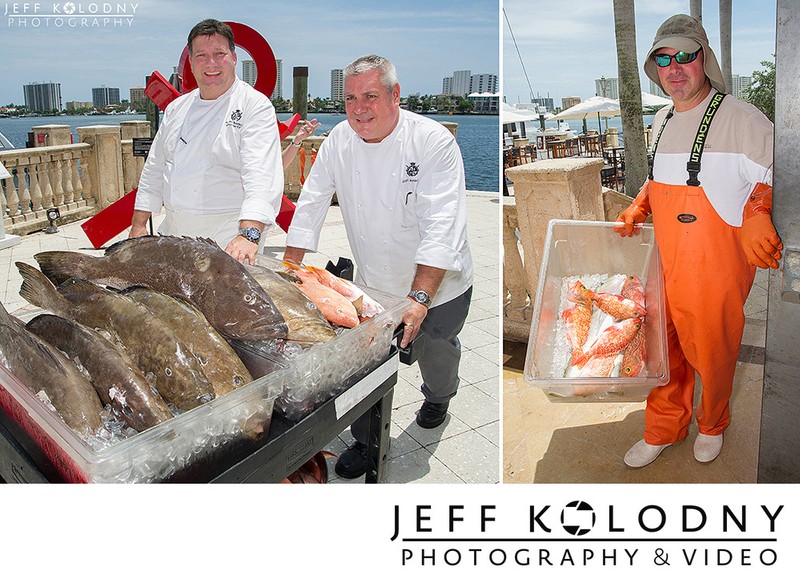 Once all the boats and the fish was offloaded, the first thing they did was to place the tuna fish onto a carving table and start to cut into the freshly caught tuna. It wasn't long before they were serving fresh tuna to all the guests. Then the chef gave a welcome speech and invited everyone to lunch. The chef said that the hotel restaurant only serves fresh caught fish the arrives daily from this very boat dock.
As you can see the above pictures were taken outdoors in direct sunlight. To be considered a creative photographer in South Florida the finished pictures need to look perfect. Notice how the faces have nice even lighting with no harsh shadows. You can see the fish clearly and you can also see the blue water of the intercostal waterway in the background. My using the best professional camera equipment mixed with the best lighting gear I was able to shoot these clean well composed photos.
After the lunch time cocktail hour ended everyone went into the hotelrestaurant (Lucca) for another cooking class that taught everyone how to cook fresh fish. This picture was taken inside Lucca. Remember how I mentioned that being a creative event photographer requires the photographer to have a wide range of specialized skills? I recently photographed headshots of all the Boca Raton Resort and Club's floral event department. Headshots is a very large part of my business. Many of the corporate events I photograph require taking corporate headshots. I actually wrote and article on headshots that includes some of the hotel staff's headshots, here is the link: South Florida Headshot Photographer. Because I did such a nice job with the staff headshots the hotel gave me a nice gift. I gift card to Lucca. It was great to be able to have a nice dinner at this fantastic hotel restaurant. Click the link for a photo of one of the dishes.
Yummy food shot taken at Lucca. Yes the food at Lucca was delicious. I hope you found this article helpful and interesting. If you have a need for a corporate, special event, wedding, or commercial photographer, give me a call at (561) 737-5561
Jeff
Location: 501 E Camino Real, Boca Raton, FL 33432.