In the years before Becoming the best South Florida wedding photographer I had the unique opportunity to produce photography for Playboy.   In this post,  I'll share my experiences and what I learned about making woman and brides look beautiful type images.  
This post is still being updated.  While it's live it is not complete.
This article includes plenty of links with examples on how to look your best in front of the camera.  Working for Playboy has afforded to the luxury of learning how to make all woman beautiful.  In the years that I have shot for Playboy one thing is certain.  It's a professional hard core company.  One might think that because it's Playboy there is a level of unprofessional conduct.  In my experience, this has not been the case.  As a matter of fact, Christy Hefner  Who was running Playboy during the time I was shooting for them demanded a high level of professionalism.  Actually at one point Christy Hefner was named the longest serving female CEO of any publicly traded company.    While naked woman were photographed, not all the images I created were of naked woman.  The photographic mission of Playboy was the creation of beautiful female imagery.  For me, Playboy was a tough job.  Every image was scrutinized for lighting, image sharpness, exposure, composition and artistic value.  This meant eyes must look good, skin tone needed to be correct, every aspect of every picture I captured was considered.  On one hand, yea I'm shooting some naked women, on the other hand, there was pressure to produce perfect images over and over sometimes with limited time and a crew of different people all with unique agendas.   It was fun, when I was getting it right, fun when 10 different people approved my work, not fun when 3 of the 10 had artistic issues.  Not fun when a girl had a bad day.  Attitude on the part of the photographer (ME)  was critical.  I had to smile, put the models at ease, project confidence, have a complete level of control over my lighting, my equipment, and my poses.  There was no being unsure of yourself when posing,  if a pose didn't look good it was extremely important to flow into a new pose and project the attitude that, this was my intention and I'm in control.  Any hesitation, any sort of confusion would be looked at as if I was unprepared or lacked posing ability.    It was a job that everyone wanted and everyone thought they could do it better me, however during the time I shot for Playboy, I watched may photographers come and go.  I also watched several top company executives get fired.  "Im sorry, not fired, they moved on the other opportunities."  My photo assignments with Playboy came to an end when I left Los Angeles and relocated to South Florida.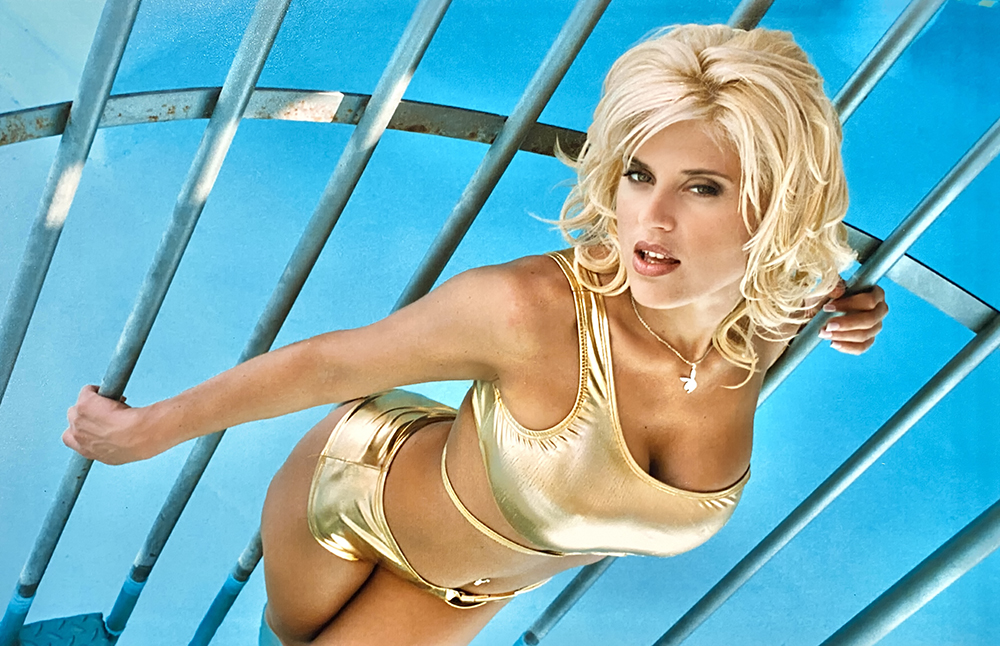 Woman Always look great when the picture is taken from a higher angle.  This works for couples, families and YES, Playboy models.  Check out these links to wedding pictures that were also shot from a high angle.   Bride and groom photographed from a high angle.   If you clicked through the wedding picture, you will see that the high angle perspective is very flattering.  In this case of high angle camera shots it's important to get the head tilt right.  This this shot, I had the couple tilt their heads away from the camera, just enough to show their faces.   Here is another wedding picture taken from a high angle.  Bride and groom photographed from above.  
Shooting for Playboy sometimes meant the photographer needs to shoot fast and accomplish a lot in a short amount of time.  This is also expected from the best South Florida wedding photographers.  Often the studio was contracted for a specific set of hours, in the case of a live show, pictures had to be done, before the show, between scenes, of in the few minutes after the broadcast.   Working for playboy often meant as the photographer I needed to work fast and had limited time.  Sometimes in the studio I had plenty of time.  I could take me time, set up the shot, review the shot and take more.  Other times I was on a set with many other production personal.  This meant everyone had a job to do and while the pictures had to be perfect they also needed to be done fast.  Often there were hold ups, hair and makeup sometimes took longer than expected.   Many times I was second to the videographer.  This meant I needed to stay out of the videographers way but get my photos as well.  This situation easily translates to South Florida wedding photography.  May of the weddings I shoot have video, while we offer video in some of our packages, it's very important that the videographer and photographer work well together.
Often time is of the essence.  In the case of a live tv shoot or a wedding ceremony.  The time indicated on the timeline is set in stone.
What does this mean and how does it relate to Playboy tv and wedding ceremonies?  Simple, in the case of a live tv broadcast, (and Playboy did plenty of live broadcasts) the start time is not negotiable.  When a show is live at 11:00am that means at 11:00am if the hair and makeup isn't done, too bad, we shoot with incomplete hair and make up.  This is true with all live scheduled shoots.  For me, as one of the best South Florida wedding photographers, I found this to be very frustrating and I had to really focus on the time line way before the wedding day.   When a bridal client hires me, one of the first things I do is create a photography timeline, sequences such as First Look, Bride's family, wedding party are all scheduled, same is true for many of the Playboy assignment.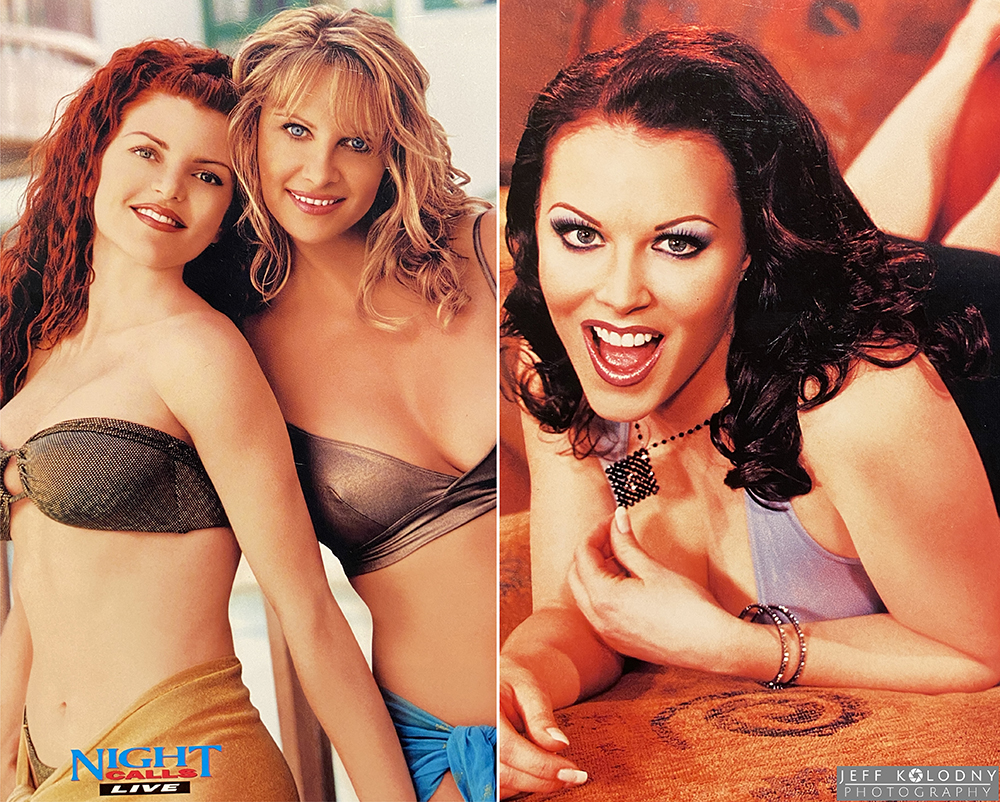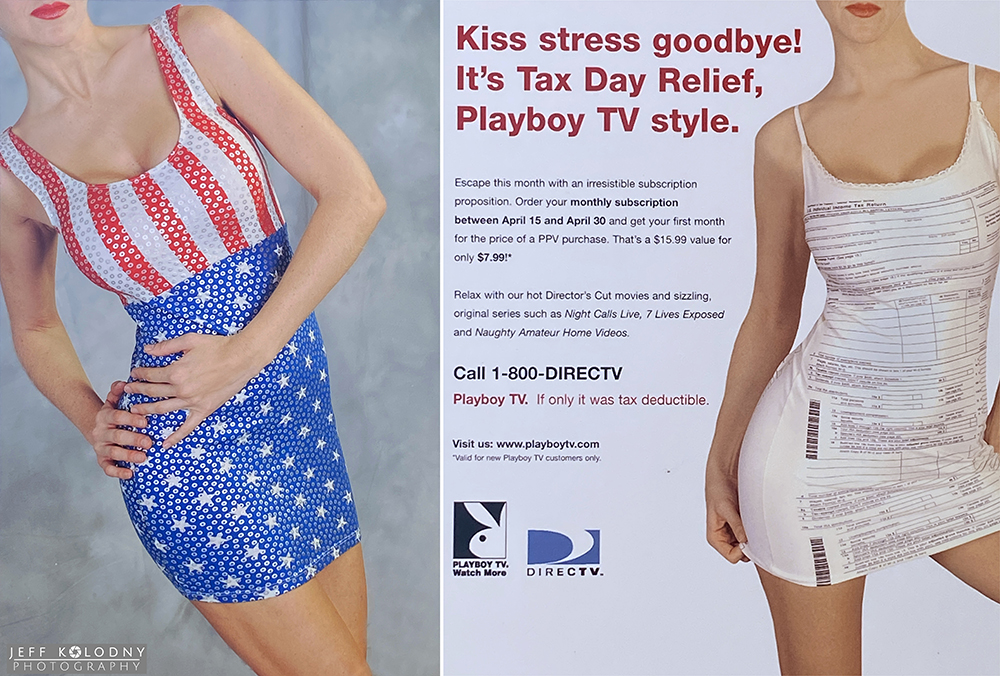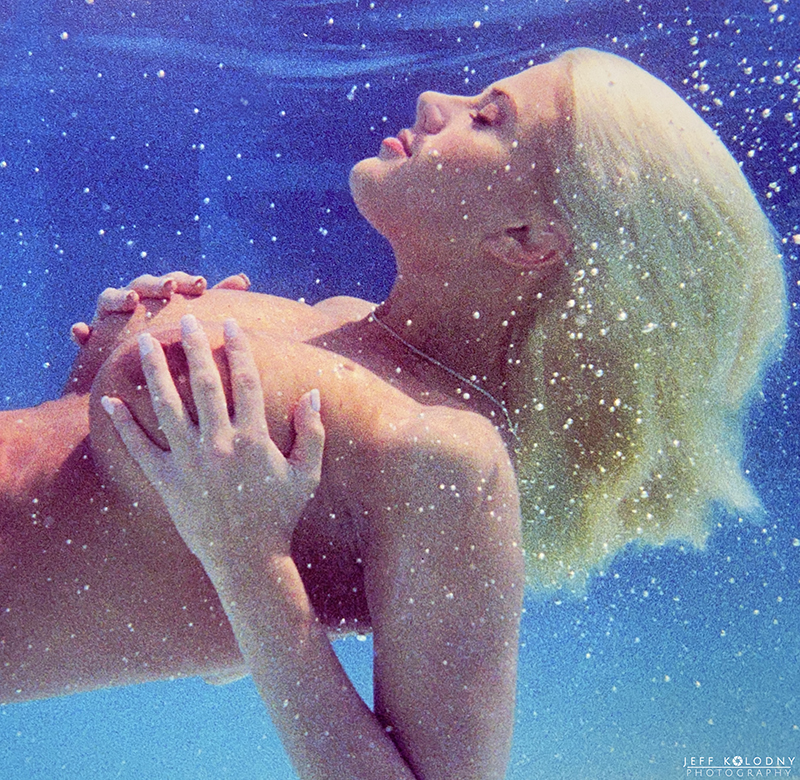 BELOW:  I shot a lot of advertisements for the networks.  These ad shots needed to be clean and not too sexy.  In the case of the advertisements everyone said Victoria's Secret was allowed to show more than us.  In some cases the advertisements didn't even show people.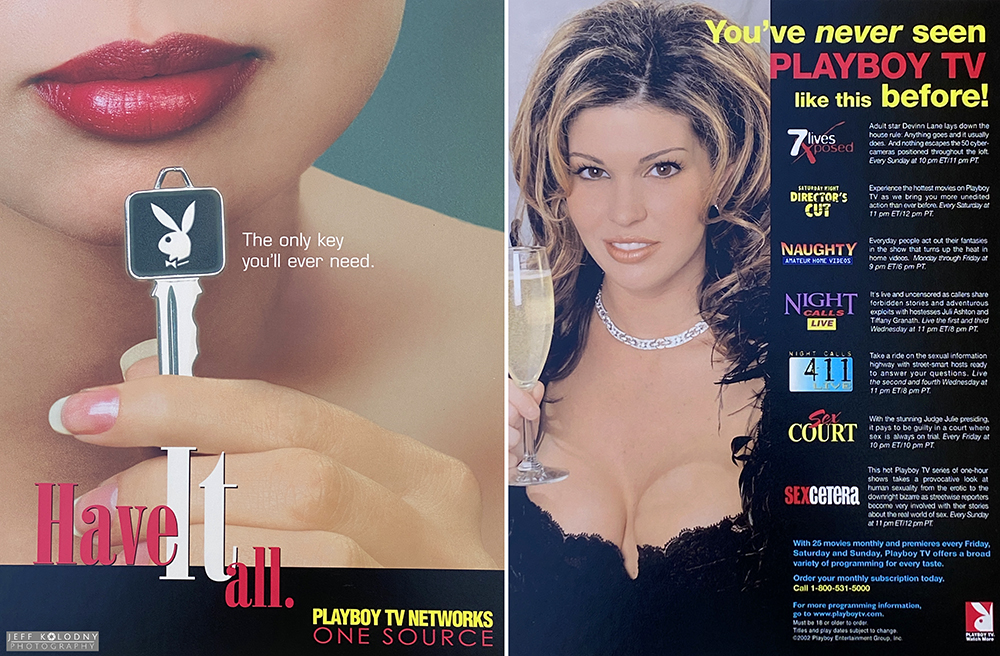 BELOW:  For the ad below I traveled around LA shooting in an empty football stadium, at an amusement park early in the morning an the empty bowling alley.  Shooting ad was common, they always needed mainstream advertising and since the ads had to be placed in popular magazines they had to be clean.
BELOW: One of my favorite playboy personalities was Julie Strain from the Playboy show "Sex Court". Julie was such a unique and fun character.  I loved the fact that she always went to bat for me if I had an idea.  I remember when I shot the Sex Court ad below I got some blow back because I had this idea for this shot and it took be some time to set up.    I had to grab some apple boxes  position the girl in the forground so that her legs fit the shot perfectly,  I had to play around with the lens focal length to and my position to make this fit.  It took me about 3 minutes to get this shot, and no one was happy that I spent time doing this.  Julie, was super cool and just said, let him get this.  The lighting isn't perfect and I sort of whipped this one out, but they did use it for an ad.