BELOW: Beach wedding photography offers endless opportunities to get creative unique wedding photos. The photo below was taken at the Delray Beach Marriott. For this shot I used a slow shutter speed and a tripod. During the slow exposure I had the bride and groom hold still while the bridesmaids ran behind the bride and groom. n
The Delray Beach Marriott gives the bride and groom the opportunity to shoot fantastic photos around the hotel as well as the opportunity to get those fantastic beach photos. It's the perfect Florida hotel for the bride who wants to keep her wedding gown neat and clean before and during the ceremony and then take photos on the beach during the cocktail hour.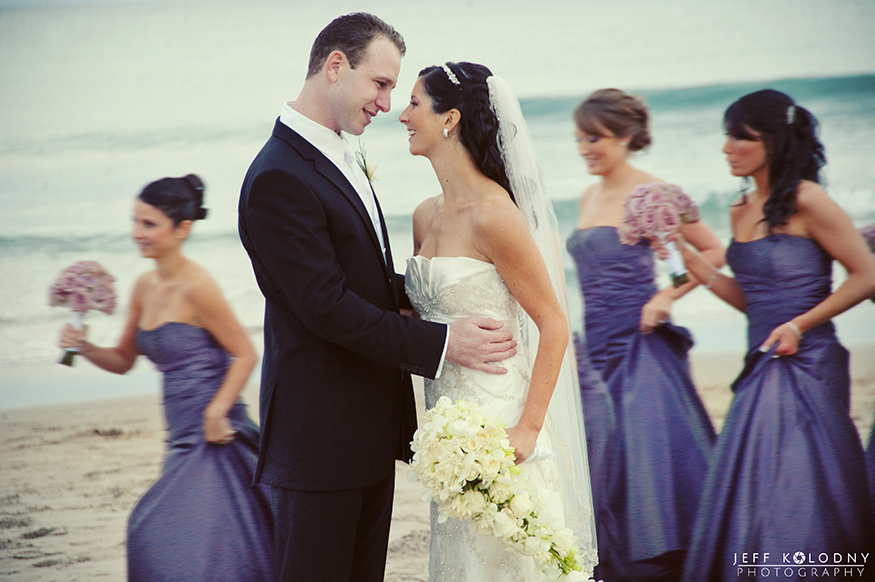 The idea of having a beach wedding is very appealing to many people. While a South Florida beach wedding is certainly a novelty for people living in cold climates up north, a wedding on the beach also holds a strong appeal to people living almost anywhere in the country. Warm breezes, the soothing sounds of the ocean, the feel of sand beneath ones toes are all reasons why many couples choose to have a South Florida beach wedding. Not to mention, those romantic "beachy" bride and groom photos that will be taken! Southern Florida has a huge selection of beach locations. Beautiful Florida beaches are found in many different towns such as, Palm Beach, Boca Raton, Miami Beach, and all over Broward County as well as Dade County. There are, however, some important tips to keep in mind when planning a wedding on or by the beach. n
n
BELOW: The photo below was taken at The Palms Hotel & Spa in Miami Beach. The Palms Hotel and Spa is a fantastic place for a Florida Beach Wedding. This location gives the Bride and Groom the option of having either a beach ceremony or a ceremony under their beautiful gazebo located on the hotel property. Many of the hotels on Collins avenue in South Beach and Miami Beach are located in public beach areas. For this photo I had to photoshop out several beach goers. If you're a Florida Beach Photographer than having awesome photoshop skills is a must because because removing objects from background comes with the territory.n
If you are planning a wedding in Miami Beach or Dade County than a visit to the Palms Hotel should be on your list.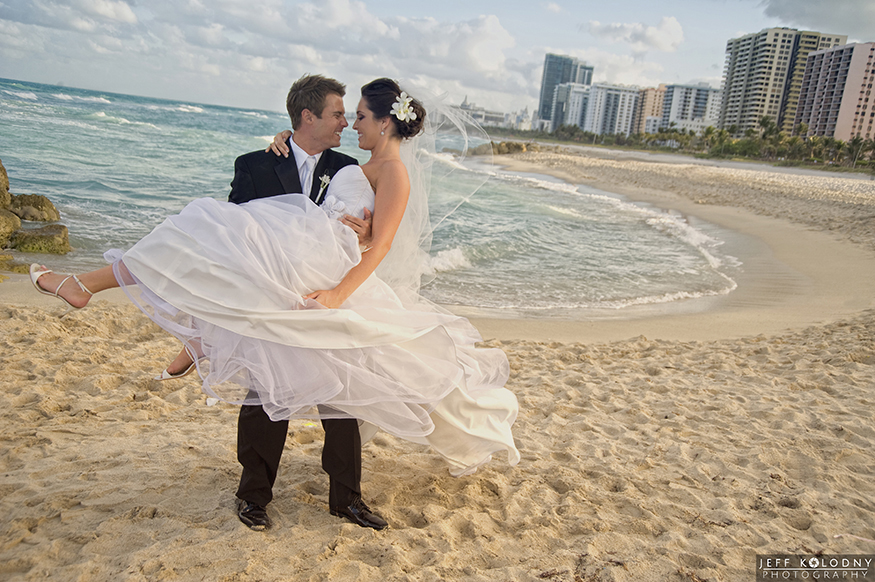 Tip #1: Managing a windy dayn
n
Although the beach can be a beautiful spot for a wedding, it is a wide open area with no barriers – and the wind usually blows in from the ocean to the shore. Depending on the particular conditions on your wedding day, you could end up in a very windy, uncomfortable position as the bride. If you are facing the camera with your back to the ocean, the wind could definitely be an issue. A long flowing hairdo could end up more than windblown, flying in your face and creating a uncomfortable problem and affecting your photos. To avoid potential issues, be sure to check the wind forecast for the day and work with your hairstylist to create an appropriate hairdo that will best withstand wind. n
n
BELOW: It was certainly a windy day when the below photo was taken. I shot this black and white photograph at the Harbor Beach Marriott in Fort Lauderdale. As one of Broward County's most beautiful wedding photography locations the Harbor Beach Marriott offers a wide range of shooting locations.n
Since it's a hotel located on the beach, brides and grooms have the option of having either a "toes in the sand" beach ceremony or a "keep your feet clean" ceremony on the upper deck.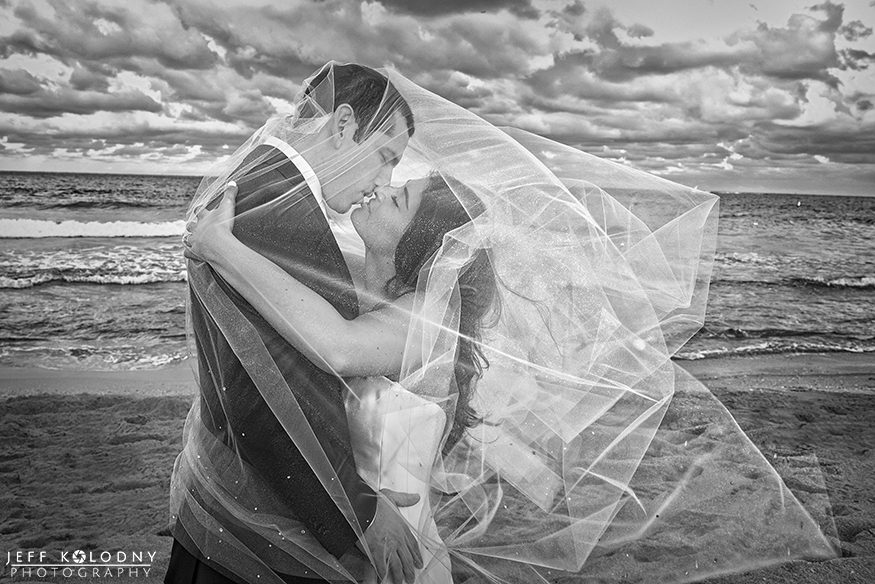 Tip #2: Crowd controln
n
If you are getting married at one of South Florida's many magnificent beachfront hotels such as the Eau, Palm Beach, Boca Raton Resort and Club or The Breakers than crowds, shouldn't be much of issue, but if you are conducting your ceremony at a public beach, crowding could be a problem – especially on a Saturday or Sunday. Definitely keep this in mind when selecting the perfect spot for your South Florida beach wedding. If you book your entire wedding at a hotel location, if it becomes too hot out at the beach, guests can escape indoors to cool off. This isn't possible at a public beach location, so be sure to provide cold water and select a somewhat shady area if at all possible.n
n
BELOW: An Ocean background always makes for a great photography opportunity. The flowers and ceremony canopy in this shot were created by Xquisite events in Boca Raton. Flowers and decor always look great against the sand and ocean.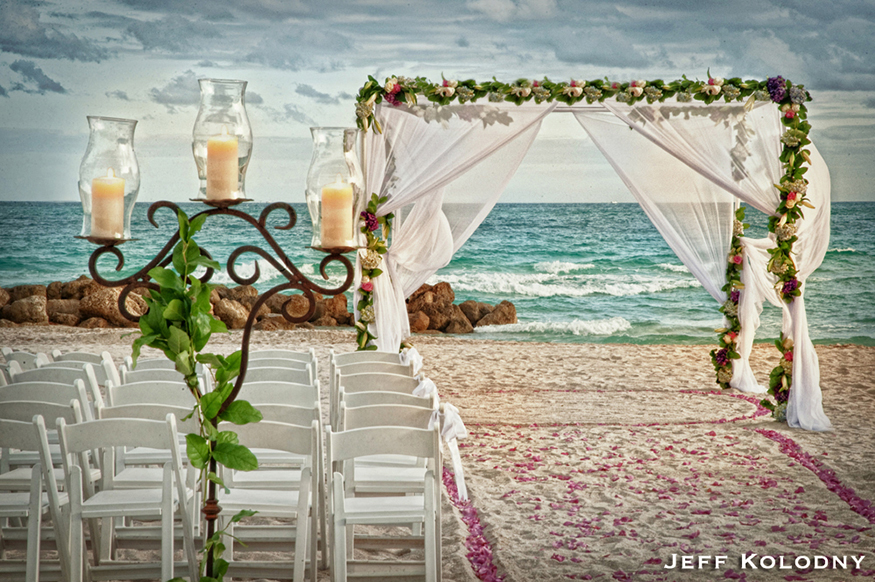 Tip #3: Obtain proper permitsn
n
This brings us to tip #3. If you do decide to have your wedding ceremony at a public beach location, make sure that you contact city hall to obtain a permit if necessary. After all, you'll be setting up chairs and possibly an arch, maybe even having musicians set up. The last thing you'll want to happen is to be evicted from your location for not having a legal permit. Again, this is not an issue if you are using a beachfront hotel property as your location.n
n
BELOW: This photo was taken in Naples Florida. There is a big difference between the beaches on the East Coast of the Florida and the West Coast of Florida. The East Coast Beach locations such as, Palm Beach, Jupiter Beach, Fort Lauderdale Beach and Miami have thicker sand and larger ocean waves. n
The West coast of Florida which includes Naples, Marco Island, Fort Myers and Sarasota have finer softer more powered sand and much calmer water. The ripple effect on the sand is caused by the fine powder like sand which is only on the west coast of South Florida.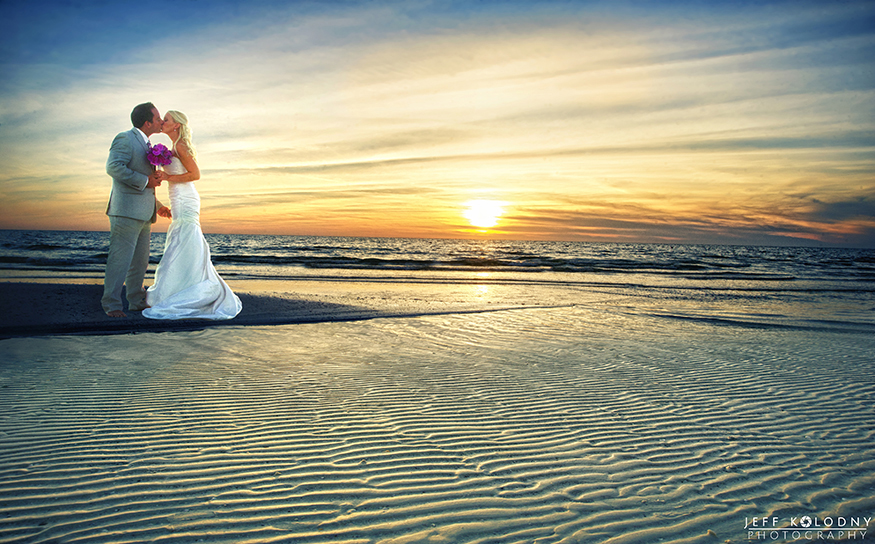 Tip #4: Transportationn
n
If you are planning to take your wedding photos at a beach location, you should arrange to have transportation for yourselves and your wedding party to be dropped off and picked up. Parking can be limited at South Florida public beaches, especially on weekends or in the high tourist season. In addition, if you are having your ceremony at the beach, but guests are coming over from a hotel or other single location, you should consider arranging transportation for them. It could be very frustrating for guests to arrive at the beach and then not be able to find parking. This scenario could also hold up your ceremony from beginning on time. It is much easier for your guests to know that their transportation to and from the beach ceremony is being handled.n
n
BELOW: Taken at The Breakers, Palm Beach. Looking out your hotel window and seeing a beautiful ocean view is a great perk of having your wedding at a hotel on the Beach.n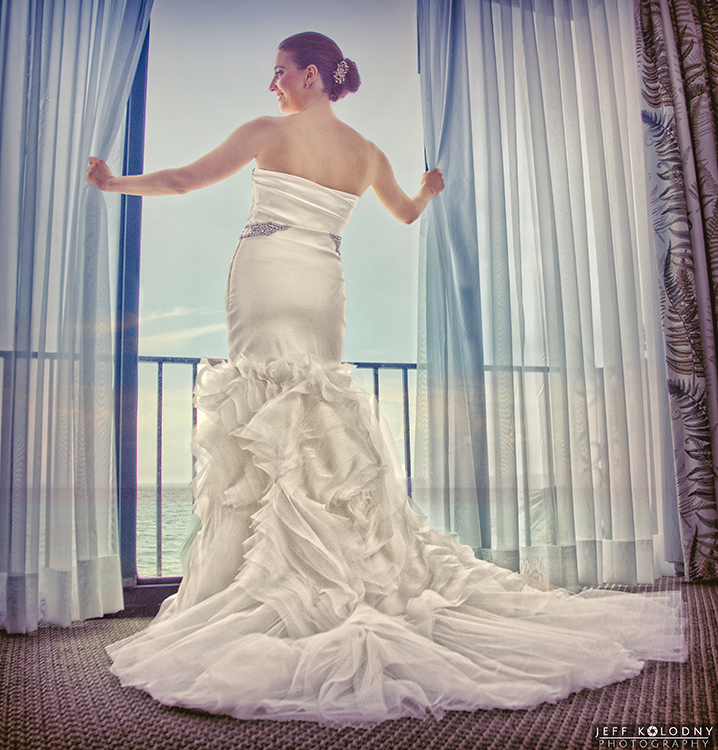 Tip #5: Sun blockn
n
The South Florida sun is strong and one might get sunburned even just sitting outside for ½ hour for a wedding ceremony. As the bride, work with your make-up artist regarding sunblock or make-up that provides some sort of sun protection. Also, make sure that your bridal party and family are prepared with sunblock protection as well. I have photographed many weddings with embarrassed red-faced bridesmaids.n
n
BELOW: Choosing a Fort Lauderdale Beach location means that you could very well have a cruise ship in your ceremony background. The Broward County Port Everglades Terminal serves many cruise lines. Ships usually pull out of Port Everglades around 5PM which means if you are having an evening beach ceremony you very well may be treated to the scene of a cruise ship in your ceremony background.n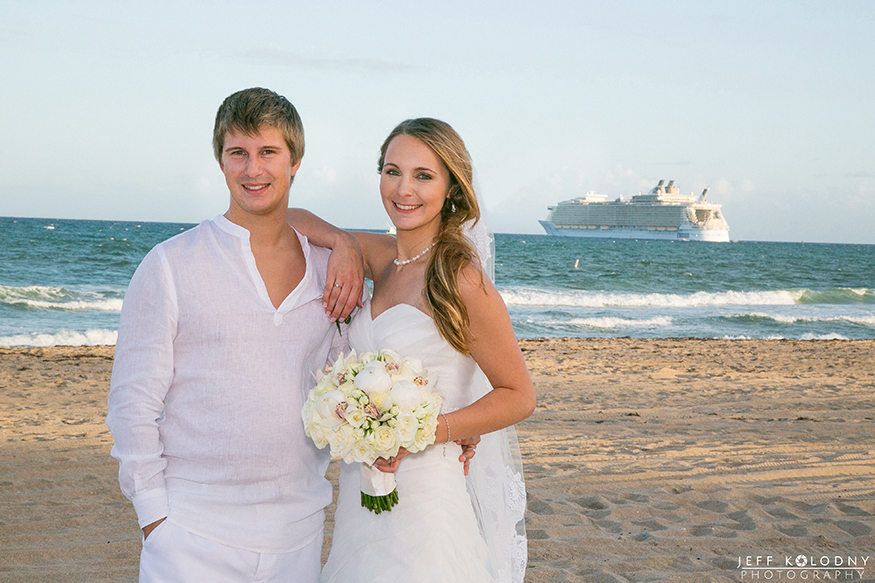 Tip #6: Hire a wedding planner who specializes in beach weddingsn
n
Destination weddings are very popular in South Florida – and BEACH destination weddings are especially requested by out of state couples planning weddings here. Some wedding planners actually specialize in producing beach weddings and know which beach locations and hotels are best. The can make great suggestions as to which vendors to use who can best manage a beach wedding and make the most of it for the bride and groom. An expert wedding planner can make a big difference in making sure that the experience of having a South Florida beach wedding is a memorable one and not one that is uncomfortable and haphazard. n
n
BELOW: Another windy beach photo. This photo was taken at a beach local to Boca Raton Resort and Club. For this photo the Bride, Groom and myself were dropped off at this location. We walked over to the beach for this shot. It was a very windy day but by having the bride face the ocean her hair and veil were blown back behind her keeping the hair out of her face. Since the groom had short hair he didn't have to worry about the wind as much. n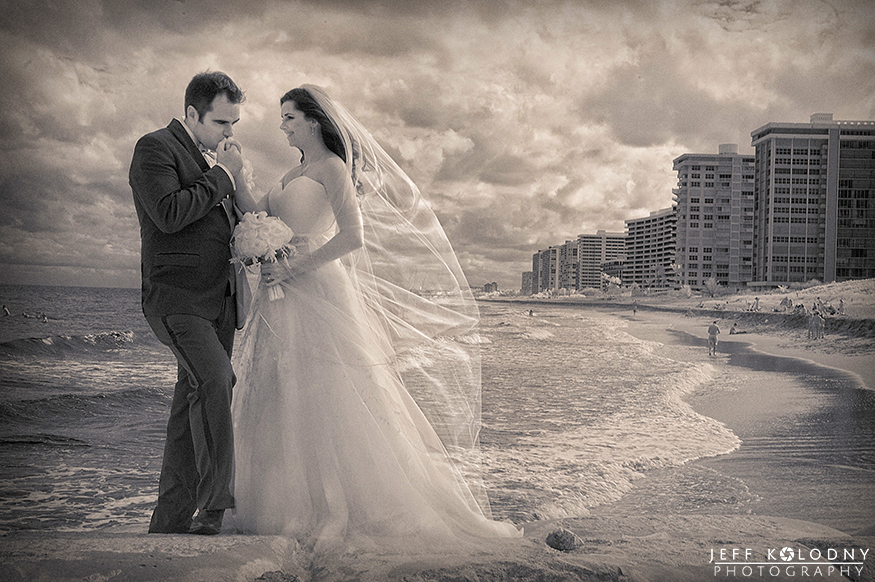 Tip #7: Bring sunglassesn
n
These are helpful for keeping your eyes comfortable and can also be use as beach props for photos. If your eyes are at all sensitive to the sun, definitely bring a pair of good sunglasses – there is always a glare at the beach. You can also possibly have these made as a "gift" for your guests with your wedding date and name imprinted on them. Other sun-protective items that you can use include hates and parasols. These are also excellent props for taking cool and fun wedding photos at the beach.n
n
BELOW: The photo below was taken at The Palm's Hotel in South Beach. The rocks that line the ocean waves made for a great multi level pedestal for the bridal party. This shot would also have worked great with the entire bridal party wearing sunglasses.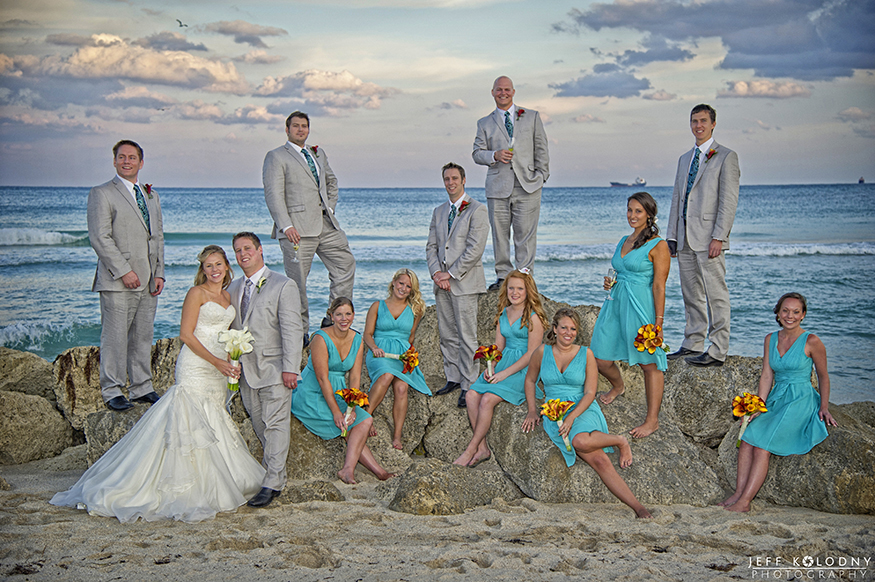 Tip #8: Hire a photographer who can handle beach lighting conditionsn
n
As a South Florida wedding photographer, I highly recommend that you select someone who has lot of experience photographing events at the beach. The lighting conditions may be harsh, so experience shooting in these conditions can be very helpful and make the difference between good usable photos and photos with bad lighting that are just plain unflattering. The beach is a beautiful place, but due to its all natural and open setting, the lighting (sun) can be directly overhead and a heavy back lit situation may occur. There could be soft lighting at dusk or really bad direct lighting right in your face. Our studio has a tremendous amount of experience shooting at the beach. First, in Southern California where the sun would set at the couples' back when facing the shore. Here, in South Florida, the sun tends to shine on peoples faces when facing the shore in the evening. Some beach lighting conditions are easier to deal with than others. Certain conditions are incredibly difficult and require a lot of professional photographic skill to be able to maneuver so that excellent photos are achieved. You'll need a photographer who is able to handle it all in stride.n
n
BELOW: This photo was taken at the private beach at The Ritz-Carlton, Bal Harbor. Shooting at a beach location means that in addition to ocean views there is a good chance that you will have beautiful landscape views in other directions. The scenery for this shot came courtesy of the Ritz Carlton hotel.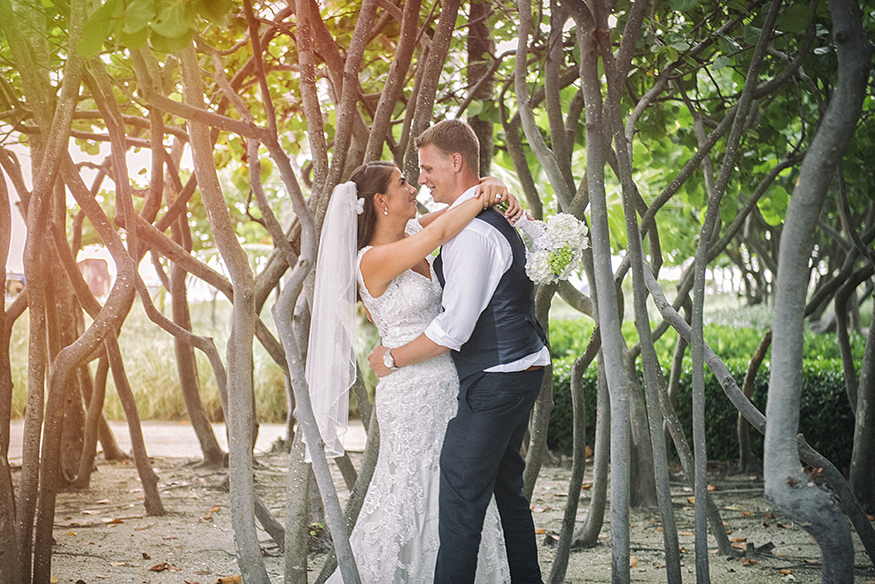 Tip #9: Hire a studio that is awesome at retouchingn
n
Given all the random beach elements, even the best photographer will have to retouch some images to enhance them to their maximum beauty. Such things as blowing hair, shine on faces, and indiscriminate sunbathers and beach walkers in the background will have to be retouched out in some photos. It is unreasonable to expect your photographer to remove and/or retouch out these items in every single photo, but certainly in key photos or photos that will be part of an album will require extra retouching. Some studios are better skilled than others at retouching. You want the retouching to look natural, simply removing elements that detract from the beauty of the images. Some enhancements may be added that render certain photos more dramatic, such as adding color or contrast to the sky etc., but again this type of retouching should really only be applied to certain key photos – not the entire batch. As a South Florida wedding photography studio, we spend many hours retouching as necessary each wedding that we photograph, within reason, to create images that are memorable and special to look at. There are always several key images that we spend extra time on to make them unique to our style, creating an extra special memory for the bride and groom.n
n
BELOW: This beach photo was taken at a Destination Wedding in Curacao. To add foreground interest I shot this through the beach landscape. When shooting beach photos I always try to make sure that the most flattering light hits the bride and grooms face. In this case the fact that the sun was behind the couple make for nice even facial lighting. I also added a little bit of on camera flash to ensure that the faces didn't go too dark. If the sun was hitting their faces in a less flattering way I would have used more flash power to fill in the harsh shadows making a flattering portrait.