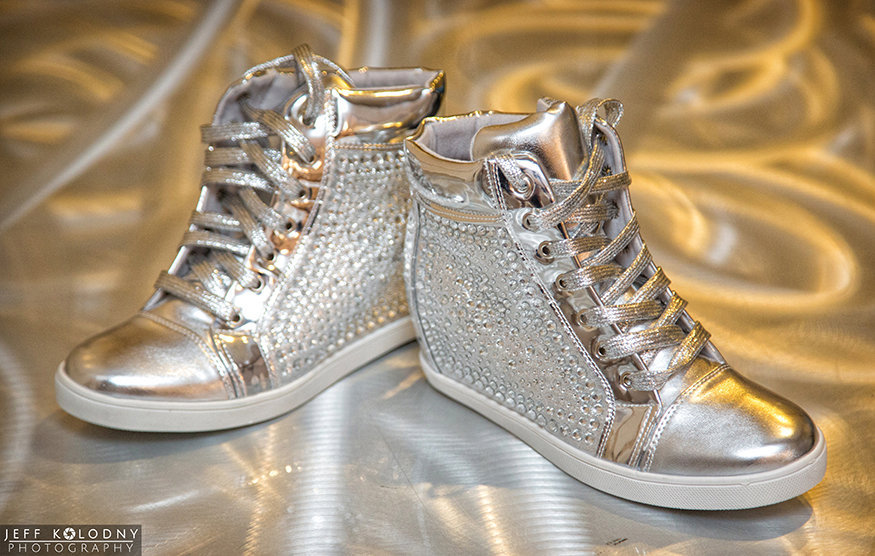 Written by staff writer Kayla Blood with photography comments by Jeff Kolodnyn
n
BELOW: Shot at The Breakers, Palm Beach. The Breakers Sea Food Restaurant has this very cool bar with a fish tank as a bar table. Always looking for a creative shot I just had to place the brides high heel shoes on the bar.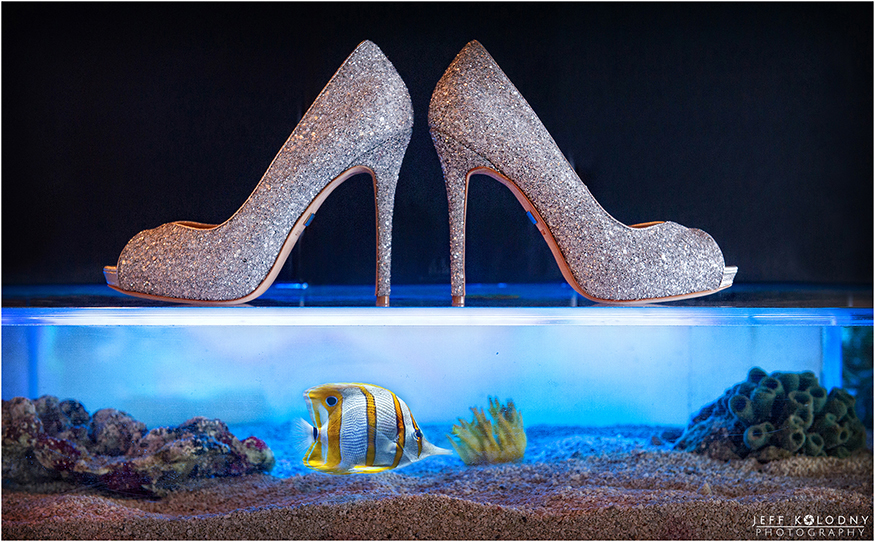 The wedding industry is constantly changing. There's always new and exciting trends brides are interested in implementing in their wedding—bird cage veils, two-piece wedding gowns, barn wedding venues.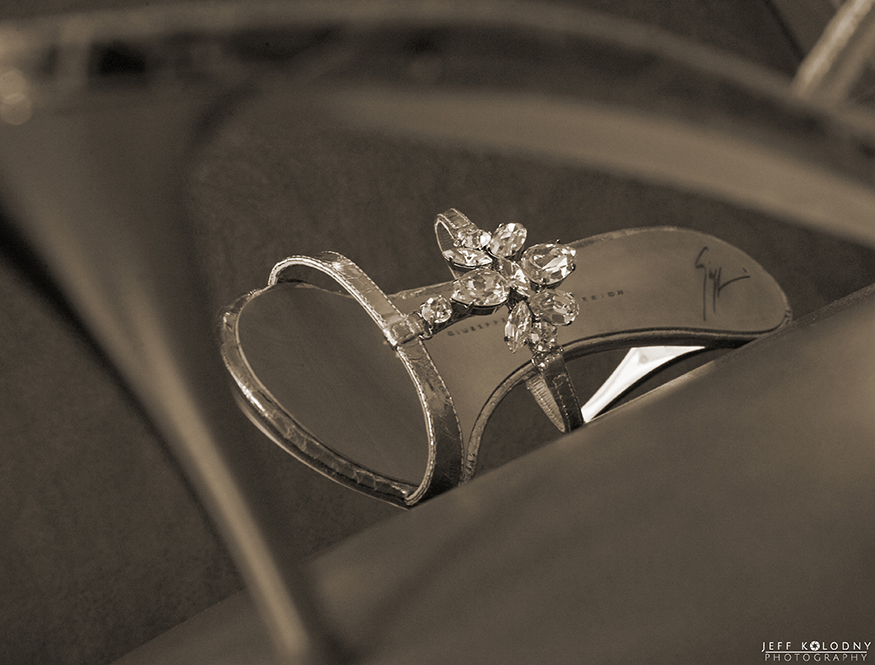 There's always something new happening in the world of weddings. While the veil and the gown are vital fashion pieces as a bride walks down the aisle, dances with her loved ones, and makes her dramatic exit, one could argue the most important piece is the shoes she has on her feet. In truth, shoes can make or break you.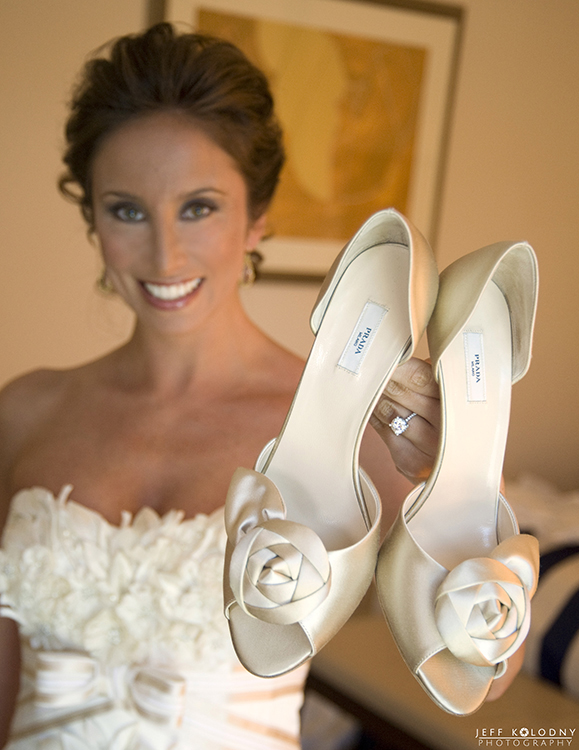 Personally, I don't think I have ever lasted an entire wedding with my high heels on as either a guest or bridesmaid. As a frequent flier at weddings, I am often on my feet for hours at a time and I ensure I am choosing shoes that are comfortable and won't have me writhing in pain as the wedding proceeds.n
n
BELOW: While shooting the Getting Ready portion of a wedding I noticed how these instant cameras matched the brides shoes. Actually there were not enough cameras to cover the background so I stacked the cameras in different sections behind the shoes and took a photo. When I was done I had several different photos with the cameras covering different background sections. During the edit / retouch session I stripped together the background photos making a complete photo.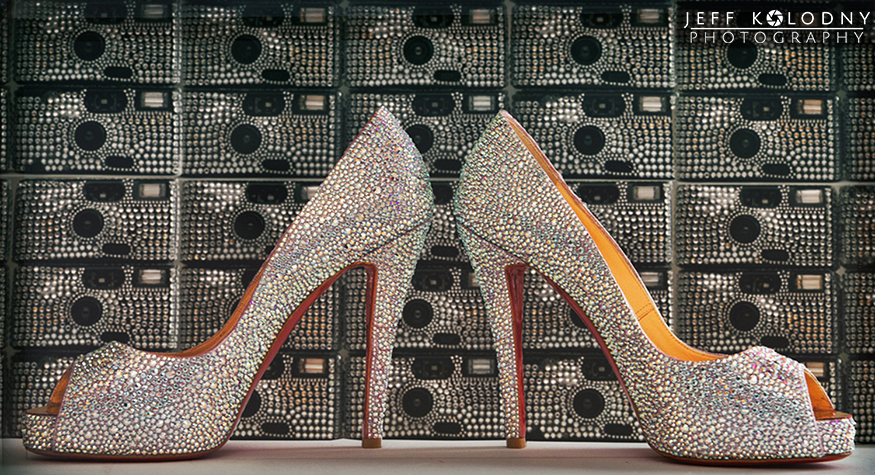 Photo sessions at weddings can take hours which can be torturous on your feet when you are stuck in eight inch stilettos with no arch support. I know Jeff, as a Florida wedding photographer, has seen the same thing with the brides and bridesmaids he photographs. However, we both understand the appeal of fancy Jimmy Choo's and they often make for great photos. Nice shoes can often be worn long after the wedding has ended so investing money in them isn't unwarranted. High-end high heels make for awesome props and back drops, especially for showing off wedding and engagement rings.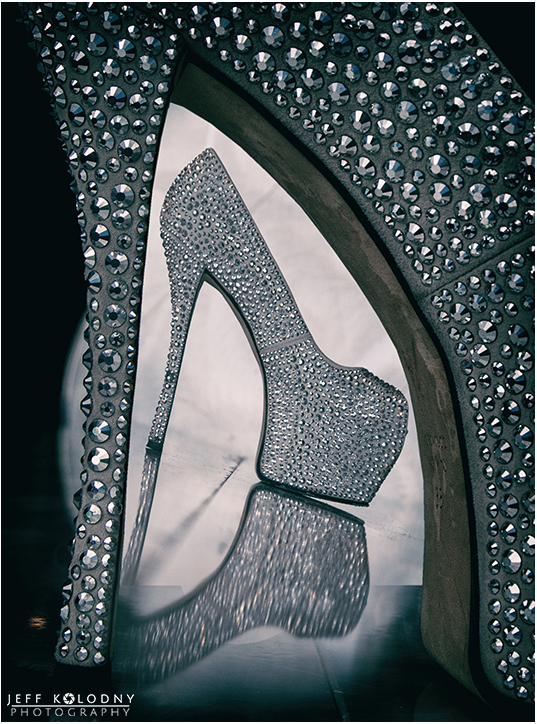 Wedding sneakers are slowly rising in popularity. They are often customizable and come in various colors or covered in sparkles. Toms and converse are both frequently featured in wedding parties as the groomsmen and bridesmaids can all wear them.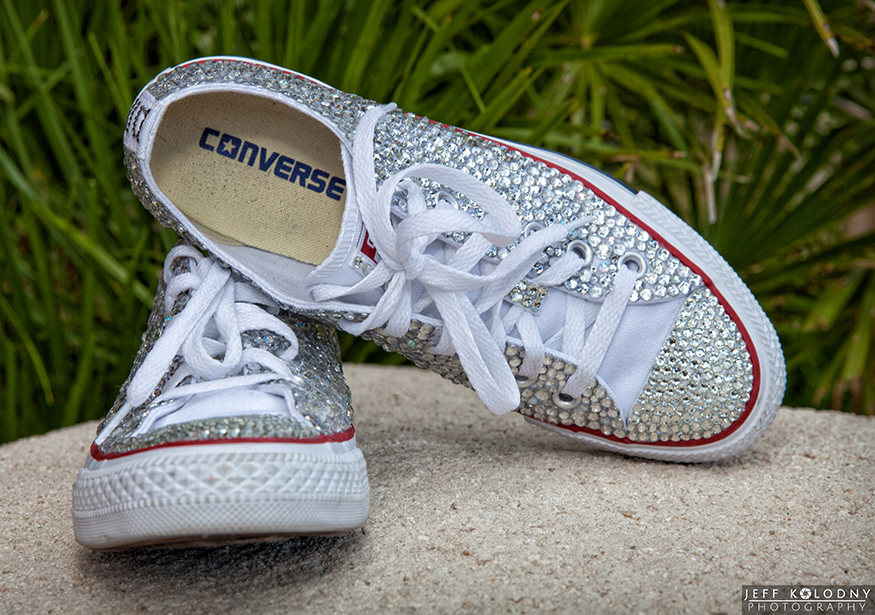 If you're getting married on the beaches of South Florida it's not unorthodox to forgo shoes entirely for bare feet or opt for sandals with beaded embellishments. While sparkly converse, bare feet, or fancy flats may not be every bride's choice in "I do" footwear there is always a solution to fit the needs of any bride. There's no shame in having more than one pair of shoes. Buy the Jimmy Choo's, wear them for the images that have your feet and legs displayed, and then have a second pair on hand for family portraits and dancing your butt off.n
n
BELOW: Getting these high heel shoes to sit on top of the champagne glasses was challenge. The last thing I wanted to do was knock over the glasses filled with champagne. These glasses were sitting on a bar with a lit countertop. Drama is created in glassware whenever the light passes through a glass item. It's because of this light passing through the champagne glasses that this photo is so dramatic.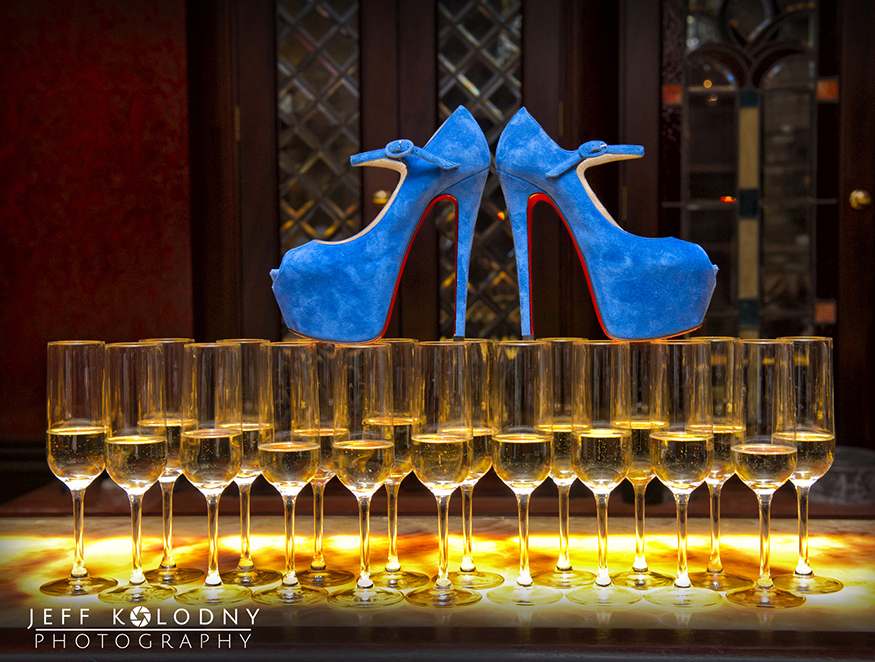 If two pairs of shoes feels like a hassle, there are companies and vendors that strive to offer both style and comfortn
n
Angela Nuran, a former dancer, designed a variety of styles and colors of shoes that attempt to provide a new bride with comfortable shoes that look as good as they feel. Her shoes are highly recommended by both Jeff and her former customers. You can check out Angela Nuran's shoes here: n
Nuran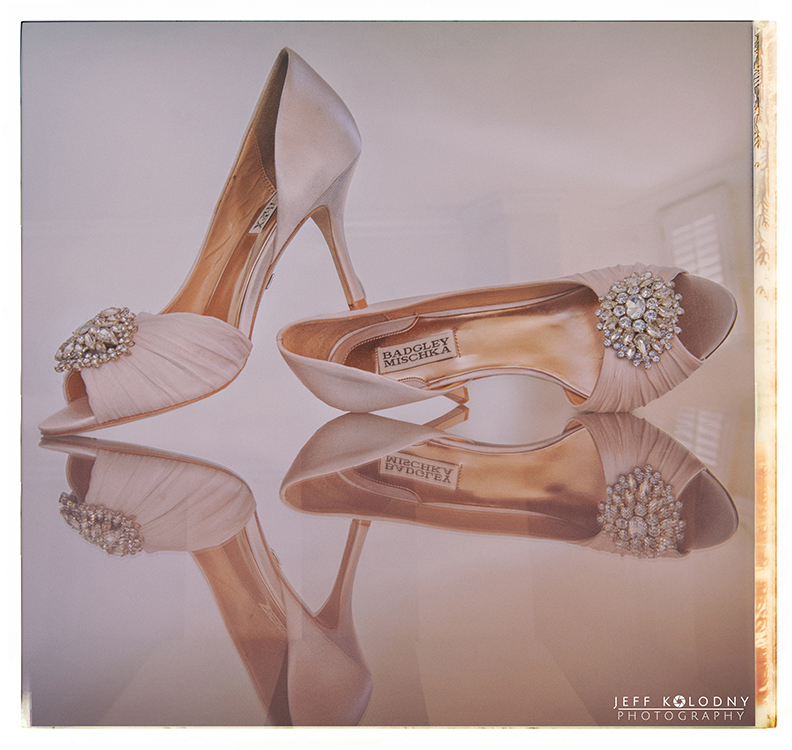 Your wedding day is important in so many ways; it's a celebration of love, the start to a new marriage, and a day to feel like royalty. It doesn't matter if you're getting married at the beach, in the mountains, in a church, or in a relative's backyard your wedding day should make you feel special and you should enjoy it from head to toe.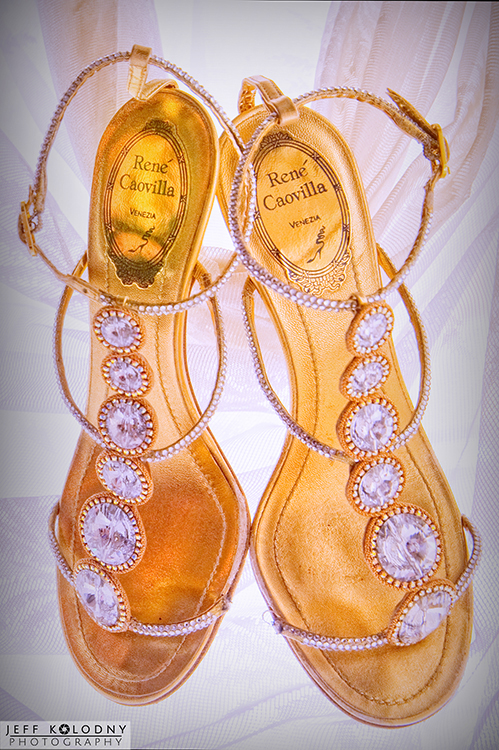 BELOW: Not a shoe shot, but this brides shoes made a great background for her wedding rings. Often when shooting wedding rings on a busy background the ring will get lost against the background. Because if this I made it a point to keep the background out of focus.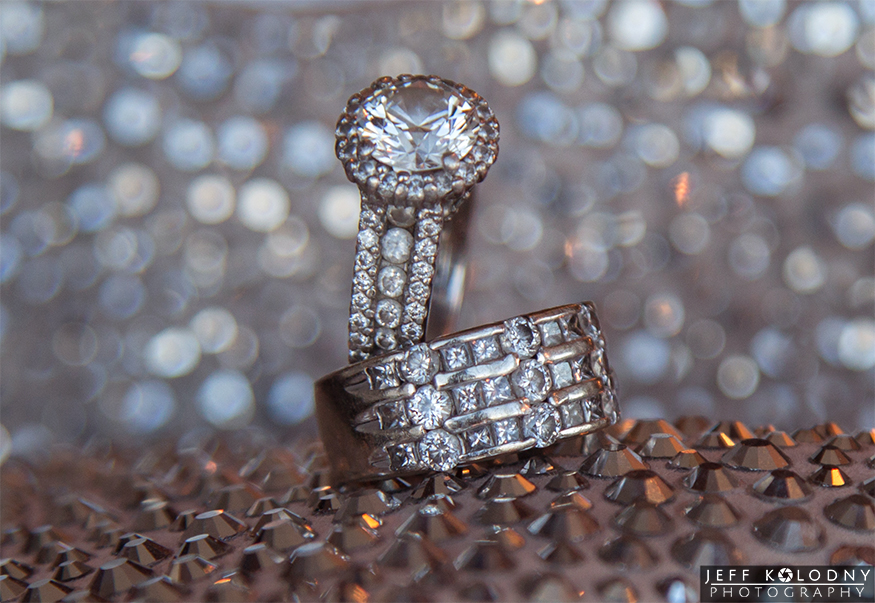 Wedding shoes should be a fashionable accessory that support you every step down the aisle.