Proposal Photographer in Florida
Ready to ask your girlfriend to become your wife? As an experienced Florida marriage proposal photographer, I can capture your surprise proposal in a way that conveys the emotion and thrill of your once in a lifetime moment.
Working as a photographer, I have been hired to photograph a wide range to assignments. These assignments range from weddings, to corporate events, Bat and Bar Mitzvahs, and more. Each of these jobs requires me to capture the moment with no second chances. At a wedding, when the bride walks down the aisle, it's up to me to get her walk, and the grooms expression as he watches her on her journey into marriage. At a corporate event, I'm expected to photograph a CEO or a famous speaker without fail. Often at a awards dinner, I'm hired to get that picture of each award recipient as the awards are handed out. During a Bat or Bar Mitzvah, there are events in which the boy, or girl are being lifted in a chair during an event called the horah. Sometimes the person, is facing the camera, other times the person in the chair is turned around, so their back is to the camera. No matter what the situation, I need faces, this means I need to move through a dancing crowd, getting my position, and capture the face and the excitement of the moment.
For a photographer, there are very, very few situations that require the skills needed photograph a Florida marriage proposal.
While all these event require the photographer to get the shot with out compromising the event, only a marriage proposal also requires the photographer to be hidden, and also shoot from a long distance. This means, everything having to do with the photography is more critical. The camera shutter speed needs to be faster, the lens cleaner, the photographer must be steady. In addition a marriage proposal photographer, must be able to move quickly and discreetly. I have almost never photographed a proposal in which the girlfriend, or the person proposing has faced the direction I expected. Sometimes, other people interfere at the last moment. In this proposal photo, a family of five arrived only a couple minutes before the special moment took place. This family was all over the background. Of course, the saw the beach set up, and they felt they just had to watch. While standing in the background of course. This called for some polite, quick and careful, persuasion in order to get them to move. When they did move it was in the wrong direction, so I had to move in order to get the shot with a clear ocean background. Sometimes the photographer, (Myself) has less control over the situation and some Photoshop help is needed.
After someone says YES, a marriage proposal usually turns into an engagement photo session.
Once the moment has happened, and someone has say "YES" then chances are the happy couple will want more "Recently Engaged" pictures taken. Almost every marriage proposal I have photographed in Florida has transformed into an engagement photo session. Here is a tip, plan the proposal in such a way that dressing up is required. Tell your girlfriend that a special dinner had been arranged, or that you are on your way to a special event. Recently I photographed a marriage proposal in Delray Beach at a special garden location, named the Morikami. This one was set up perfectly. The boyfriend told his girlfriend that he won a few portrait photo shoot. They had to get dressed up for this. When I arrived they were ready to take pictures. We started the portrait session and after about 20 minutes the "now fiancé," gave me a hand gesture that he was ready. I actually set this one up. I turned her so her back was away from him. Then her got on one knee. I asked her to turn around, saying something like, "I think the light is better if you turn this way." when she turned there is was. This one went perfectly, and I didn't even need to hide in the bushes.
One of my favorite marriage proposals took place at During sunrise, at a place called the Ocean Reef Club. This location happens to be one of my favorite resorts. I have photographed weddings, and all types of other events at The Ocean Reef Club.
This one was tricky because I wanted the sunrise and the guy proposing. We talked about what he had envisioned, and the location of the sunrise. When they arrived his girlfriend looked out at the sunrise and that determined which direction he decided to face. This meant I had to move. Being hidden from sight was not an issue because he proposed at a place called "The Point" which is popular spot at the resort. That morning other resort quests were also watching and photographing the sunrise. I was just another person shooting the sunrise. You can see this engagement session here: Sunrise marriage proposal.
Check out the picture below: After some quick moving, I was able to catch the moment with both faces clearly visible. While I was able to move and get the people out of the background this picture still required some retouching. Check out this video showing what this picture looked like before and after the retouching. Retouch Demo. In the video you can see I cleaned up the background and also fixed his jacket which flipped over. During a marriage proposal, it's not like the photographer can interrupt the couple and fix his jacket.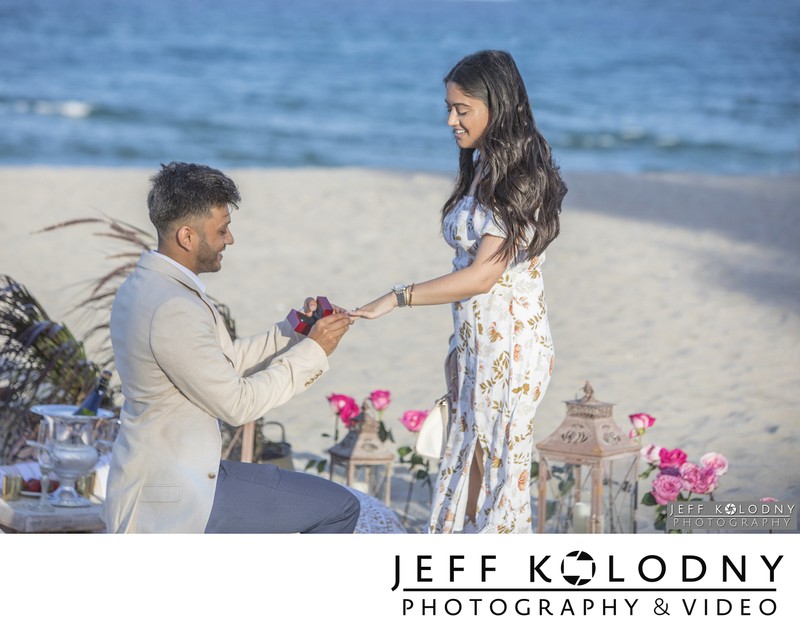 Once he proposed, I appeared with my camera. Next we shot a few pictures on the beach with this beautiful setting of pillows, roses, starfish, candles, wine, fresh strawberries and more. This setting was orchestrated by MJ Events and Production Planning this took some time due to the fact that the couple is outside of Florida. Actually, it was the (Now Groom's) sister who helped arrange this surprise marriage proposal.
As a Florida based proposal photographer, I get to shoot these romantic moments all over the state of Florida. In the past few months, I have photographed marriage proposals in Boca Raton, Delray Beach, Miami, Jupiter, and Fort Lauderdale. This only makes sense because South Florida is the perfect place to ask the big question. Most of the Florida marriage proposal photography I do is for out of state couples in the winter months. While to entire northern part of the country is cold, Florida is where people want to vacation. It's during the winter vacation that most future groom propose.
Once the she said YES, the surprise marriage proposal move on to become a South Florida photography engagement session!
This Florida proposal took place in Palm Beach just down the street from Worth Avenue. If you are not familiar with Worth Avenue, I'll clue you in. The area on and around Worth Avenue is one of my favorite places to take couple pictures. Worth Avenue and Palm Beach is considered to be one of the wealthiest areas in the country. Walking around in Palm Beach you will pass by, beautiful fountains, lush landscaping, beautiful artistic buildings. The area is a photographers playground. Check out this photo below: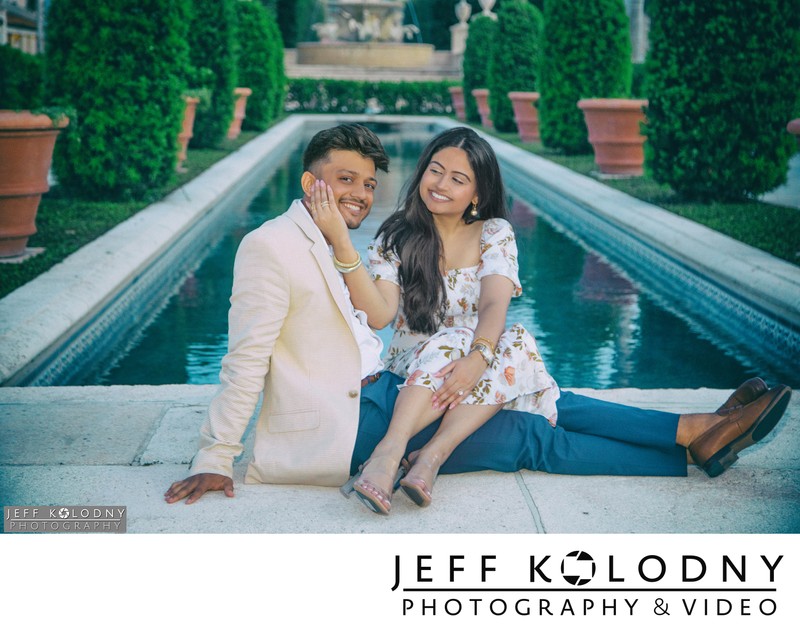 This picture was taken at just one of the beautiful locations that Palm Beach has to offer. I must have photographed at least 20 photo sessions in this neighborhood and I can tell you, every one is unique and beautiful.
Check out some of my Palm Beach engagement sessions here: Worth Avenue Engagement Session
I love this one: Alina and Rafael's Palm Beach engagement session
I hope you enjoyed this post!!
If you are thinking about proposing in South Florida, or if you are recently engaged and planning your wedding, call me. I would love to talk.
Jeff Kolodny Photography
(561) 737-5561
Location: Worth Avenue Beach, Palm Beach Florida..