Shot by a South Florida wedding photographer in Boca
Hi, I'm a South Florida wedding photographer who is based in Boca Raton.
I shot this image at a beautiful wedding venue named The Addison. If you are recently engaged and searching for the perfect wedding location then I would recommend you visit with the staff at The Addison. Even though there are many many options for venues in South Florida there are fewer choices in the Boca Raton area. Even though I consider myself a South Florida wedding photographer I do much of my work in the Boca Raton area. Because the Addison is so popular it only makes sense that I would end up working there are some point. There are a few things that stand out when considering a wedding at The Addison. First, the cuisine created by their culinary team is nothing shore of tasty. My mouth is watering just thinking about the food they create. Many years ago the Addison was a normal restaurant which was open to the public. They only closed the restaurant for weddings. I guess weddings became so popular that they had no choice but to close the restaurant for normal diners. If you are lucky enough to be a guest at an Addison wedding then bring your appetite because you will be rewarded with a incredible meal. In addition to awesome cuisine the Addison is a great place for wedding photography. Because I'm a South Florida Wedding photographer who is based in Boca Raton I get to take some very creative photos in and around this venue. The front of the building has these artistic pillars which provide a great old world feel.
Some of the best wedding venues are right here in Boca Raton!
As much as I LOVE shooting at The Addison I have shot many weddings are other fantastic Boca Raton wedding venues. Not far from the Addison is the Boca Raton Resort and Club, which is one of South Florida's most popular venues. Known as the Pink Hotel the venue is located in the intercostal waterway. I can't help being super excited whenever I get to photograph a Boca Raton Resort and Club Wedding !! I actually work at the Boca Resort more often than any other wedding venue. If you are interested in seeing more of my images from the Boca Raton Resort check out the links below:
Bride and Groom at hidden spot at the Boca Raton Resort. The Boca Resort has it's very popular photographic locations that photographers use again and again for their pictures. I also shoot at these locations but I also seek out the more hidden photo gems that are not so popular. This photo was taken in a hidden location at the hotels conference building.
Samantha & Arryn's South Florida Destination Wedding at Boca Raton Resort. This link takes you to a complete article that features a beautiful wedding at the Boca Resort. Visiting this article will show you much more of what this venue has to offer.
Another one of my favorite venues is The Club at Boca Pointe. Although not a elaborate as the Boca Resort this location is another great venue. Located in the heart of Boca Raton, this place also has great photo opportunities as well. The service at Boca Pointe Country Club is top notch and I really enjoy working there. As a South Florida wedding Photographer I have created some of my best images at the Club at Boca Pointe.
BELOW is a link to a wedding I shot at this beautiful Boca Raton wedding location.
A wedding at the Club at Boca Pointe Wedding. This wedding was one of the most memorable weddings ever. The bride and groom decided to have their ceremony outdoors event though there was a chance of rain. During the ceremony it was mostly dry with lot's of storm clouds. Then toward the end of the ceremony it rained. Although it didn't down-pour the bride and groom, myself and some guests got wet. Behind the last chair was a building overhang, so wedding guests that wanted to stay dry had the option of standing under the overhang.
Here is another picture from Boca Pointe. Infrared wedding photo taken in Boca Raton. This shot was taken with a special camera that has been modified to shoot infrared images. Infrared photos are totally unique. Here is another infrared photo I shot at the same venue. Wedding Gazebo in Infrared
I can't even think about Boca Raton Weddings without also telling you about Broken Sound Country Club. I'll start by telling you that the grounds around this location are also picturesque. One of the most photographed places on property is the clock tower, pictured below: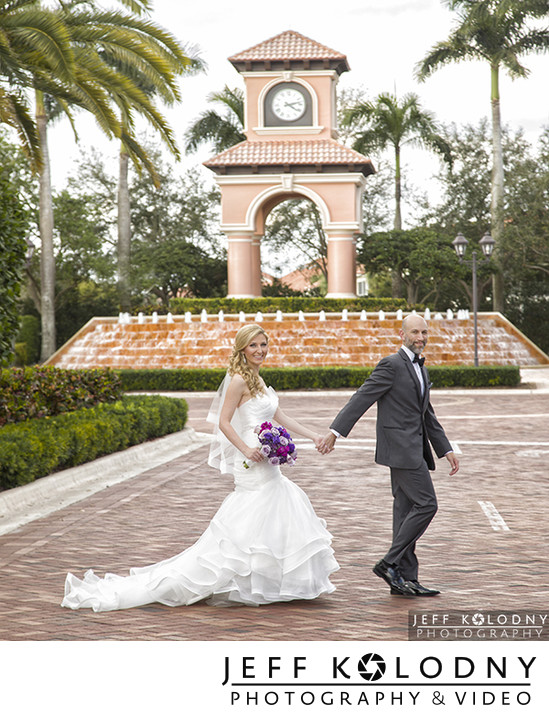 Most people who get married at Broken Sound Country Club want the Clock Tower Shot. However the grounds around the country club are so beautiful the clock tower is just one great photo background. If you want to see another great Broken Sound Country Club photo click this link: Bride and Groom in the Wild Flowers
February 2020 - If you are just reading this then you should know that this venue is starting a complete multi million dollar make over of the main clubhouse and ballroom. I've been told its going to take a year. One thing I could assure you. It's going be be beautiful and upscale. They currently have a video in the clubhouse lobby showing what the re-model will look like and it's amazing!!
Moving on to another Boca Raton Wedding Venue is The Polo Club of Boca Raton. I absolutely love this place. It was recently renovated and looks amazing!! The main clubhouse is decorated with white marble and surrounded with awesome fire enhanced sculptures. It's really incredible to look at. To see another wedding I shot here, click this link: A South Florida Destination Wedding at the Polo Club. Viewing this wedding post will take you on a bride and grooms wedding beautiful journey at The Polo Club.
These are just four of my favorite wedding venues in Boca Raton. Working at a South Florida wedding photographer I get to shoot awesome pictures at many of the best venues around. These four places are only a small sliver of the amazing places to tie the knot here in Southern Florida. Even in Boca Raton there are many more unique places to get married. Some of my other favorites are, Stonebridge Country Club, and Mizner Counrty Club,
I hope you enjoyed this tour of Boca Raton wedding venues. If you have any question regarding a wedding venue or wedding photography please give me a call at (561) 737-5561 I have been photographing weddings in South Florida for over 15 years and I'm familiar with all the great wedding venues this located in our warm weather wedding wonderland.
Location: 2 E Camino Real, Boca Raton, FL 33432.