Pre Bar Mitzvah Photography
Using your pre Bar Mitzvah photography to create decor with impact.
As a South Florida based Bar Mitzvah photographer, I consider the pre-Bar Mitzvah photo shoot as the best way to get awesome party decor. Any professional photographer loves seeing their pictures blown up huge and on display at a Bar Mitzvah party. From a business standpoint, when guests notice creative and unique photography on display at a party they are often compelled to ask, Who is the photographer? Many Mitzvah parents have hired me simply because they were blown away by my pre-mitzvah photography.
This photo was created for a tennis themed Bar Mitzvah. I shot a wide range of photos for this party. The party took place at the Delray Beach tennis center. The event planner Linzi (Linzi Events) arraigned to have the entire set of tennis courts tented with a huge see through tent. It looked amazing. If you breeze through my gallery you will find some pictures of the tented tennis courts.
As a skilled South Florida Bar Mitzvah photographer I work with the latest photo gear that produces the highest quality images. Knowing that my pictures will be blown up huge, I want them to be super sharp and clear.
For this shot I stood on a tall ladder and had the Bar Mitzvah boy serve the tennis ball toward the camera. I tried it several different ways until I got the image I needed. A little photoshop after the shoot completed the image. If you are planning a tennis theme Bar or Bat Mitzvah here in South Florida feel free to reach out to me for some creative ideas. I have also shot many other sport themed Bar and Bat Mitzvahs. Below are links to a few of my favorite Bat and Bar Mitzvahs.
A snow ski theme Bar Mitzvah Because I'm a avid snow skier I have a soft spot for ski theme Mitzvahs. Funny enough, ski theme mitzvahs are very popular here in South Florida. For a place that never sees snow and doesn't have any mountains ski theme mitzvahs are very popular. Here is another, Ski Erica a snow theme Bat Mitzvah. If you are planning a ski theme Bat or Bar Mitzvah and need a pre-shoot session on the slopes give me a call. I'm more than happy to shoot on the slopes. If you are planning a Basket Ball theme Bar Mitzvah check out this pre-shoot photo.
Creative Basket Ball theme Mitzvah For this South Florida Bar Mitzvah, the planner and the family decided to make the theme, not only basket ball but also orange. The asked all the party guests to wear white, then the family members wore one orange piece of clothes. For the pre-bar mitzvah photo I came up with the idea of shooting in color, then in photoshop, I converted the photo into sepia. Next I pasted in the color layer, swapped the layers so the the sepia was on top, then I cut out the parts I wanted in orange. In addition to being a skilled South Florida Mitzvah photographer, I'm equally as skilled at Photoshop. Below is a Photoshop screen grab. I love this stuff. In the photo below, you can see the main image that is a combo if sepia and orange. To the right are the thumbnails of both layers. If you look closely you can see the orange area of the image is cut out of the sepia thumbnail.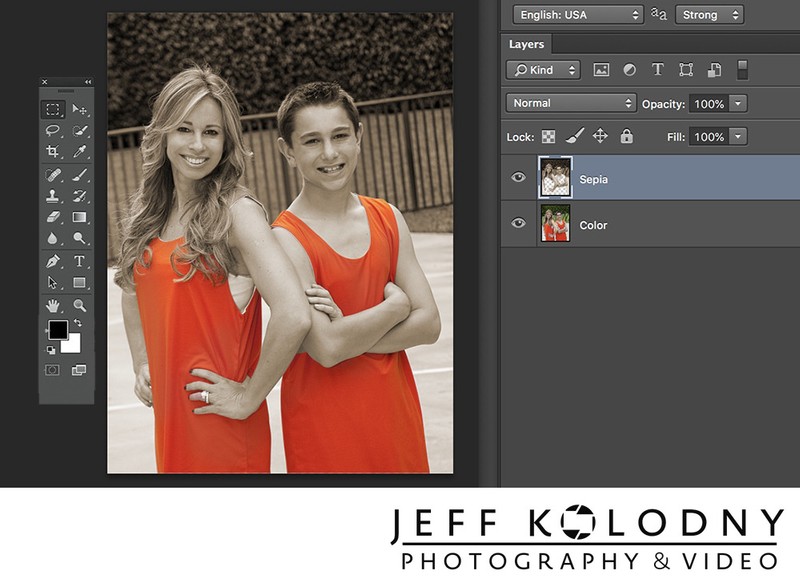 I did a similar thing with his brother tie here: Garret's Bar Mitzvah
BELOW: Here are more tennis themed photos taken at our Pre-Bar Mitzvah photo session. These pictures were displayed all over the party. Sports theme Mitzvahs are very popular and the finished pictures make awesome decor that shows to personality of the child. If you are planning a Bat or Bar Mitzvah anyplace in South Florida I would love to talk with you. In the past I have photographed events in Miami, South Beach, Miami Beach, Fort Lauderdale, Parkland, Delray Beach, Boca Raton, Palm Beach and Palm Beach County, as well as Jupiter, West Palm Beach and the Florida Keys. Planning a destination Bat of Bar Mitzvah in the Caribbean? I'll go there also. Did you know I recently shot a Bar Mitzvah in Toronto Canada. It's true!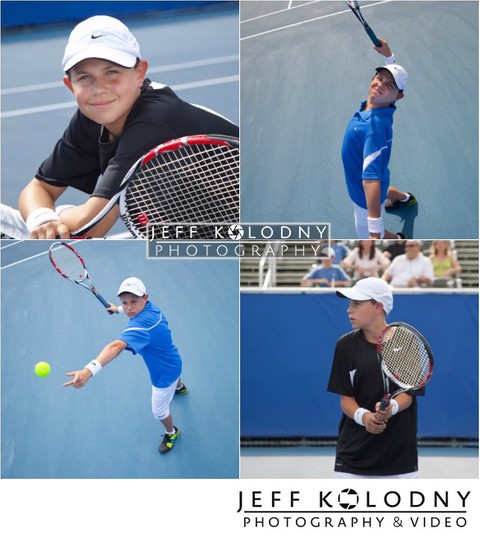 In addition to offering the photography, I'm also a talented album designer. Many of our Bat / Bar Mitzvah clients include an album along with the photography. Having an album made from a Mitzvah is a way to have you child remember one of the most special days of his or her life in a way that is elegant and emotional. Through album images your child will have beautiful pictures of the entire family in a way that everyone looks their best. There is a very good reason why our clients who include custom albums take the design and included retouching very seriously. For more on Albums and album design read this article I wrote on the topic. Custom Album Article. Even though this blog post is aimed toward wedding albums, all the information also relates to Bat and Bar Mitzvah albums as well. Enjoy!!
Location: Boca Raton, Florida.