Great South Florida engagement photo locations.
This canoe engagement photo was taken at a great South Florida engagement location.
Along with almost every bride and groom who hires me comes question about engagement photo shoots. Not every couple who hires me decided to include engagement photography to their wedding package, however many do. I happen to believe that an engagement session is the best way to learn about your hired wedding photographer. During an engagement photo session a couple will learn really quickly if they made the right choice. When looking for a wedding photographer, engaged couples will come across many photographers and see lots of awesome photos. Some photos will speak to the couple on an emotional level, other photos will grab a bride or grooms attention because of the beauty inherent in the photo. Other engaged couples will look at a photographers work online and be drawn to a photo-journalistic style. All of these photo concepts are valid reasons to love a single photograph or to enjoy a photographers work. Often couples will see a photo and ask, do you know of some great South Florida engagement photography locations? They often ask this because they see an engagement photograph that moved them in some way. I have been photographing weddings and engagement pictures here for over 16 years so the answer is YES, I know lot's of great locations. However, it's not the great location that makes or breaks a photo. Creating a great photo is often a combination of several factors. The factors that can make or break a wedding or engagement photo include, posing, lighting, lens selection, use of the proper F-stop. Sure the location plays a part in a creating great photo but it's the personality and skill set of the photographer that make a great photo. I can tell you I have shot some of my best engagement photos at some of the crappiest locations. I have even taken great engagement pictures in the rain.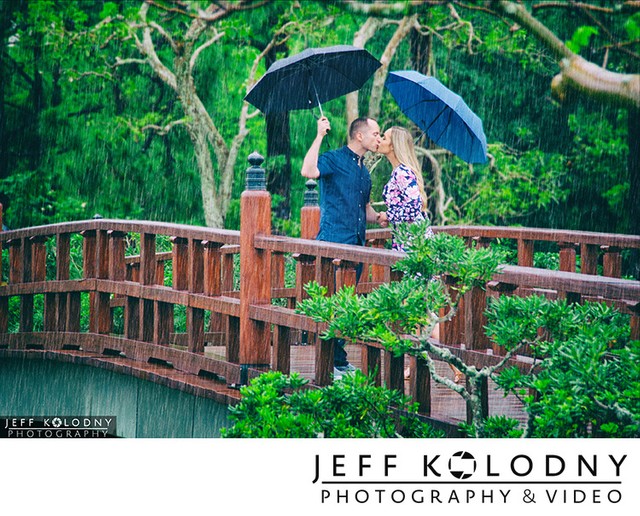 It was a beautiful sunny day when I set out for this engagement shoot. During the shoot storm clouds appeared followed by a downpour that just would not stop.
Doing an engagement shoot is the perfect way for an engaged couple to determine whether or not the photographer really has the goods. When I showed up at the Morikami and it started raining, I realized I had to make some awesome photos. The future bride had her hair and make-up done and she had planned to this shoot. We could not reschedule so the was it, I had to make it happen. Even though the groom (future groom was not happy about the wet situation, I couldn't let myself be or appear shaken.) The groom actually said, I'll be thrilled if we get one great shot. My reply was, not me, I expect lots of great shots. Then I relied on my years of experience and remembered all the really tough photo situations I had dealt with in the past. I smiled and said, lets make some awesome pictures. Yes, I got wet, my camera got wet, but I posed, directed, maintained a great attitude and used solid photographic techniques. As a result, I got a ton of great photos and my client was thrilled. The takeaway is simple, looking at a few great photos doesn't give a client any insight as to how a potential wedding photographer works.
Some of my favorite South Florida engagement picture locations.

I guess it should cut to the chase. Here are some links and pictures taken at some of my favorite locations for engagement photo shoots.

Engagement shoot in Palm Beach. Here is a great link to check out. This link takes you to an article that features an engagement shoot I did on Palm Beach, We shot these pictures along Worth Avenue. If you are interested in visiting Palm Beach, shooting around Worth Avenue is awesome. This is one of the most expensive locations in the country. The area is filled with park like settings and buildings that are simply architecturally wonderful. In addition to endless picturesque backgrounds there is the bonus of a beach located at the end of Worth Avenue. There is no question, this is a wonderful place to take engagement pictures.

BELOW: Another great place for Beach engagement photos is located at the end of Palmetto Park Road in Boca Raton.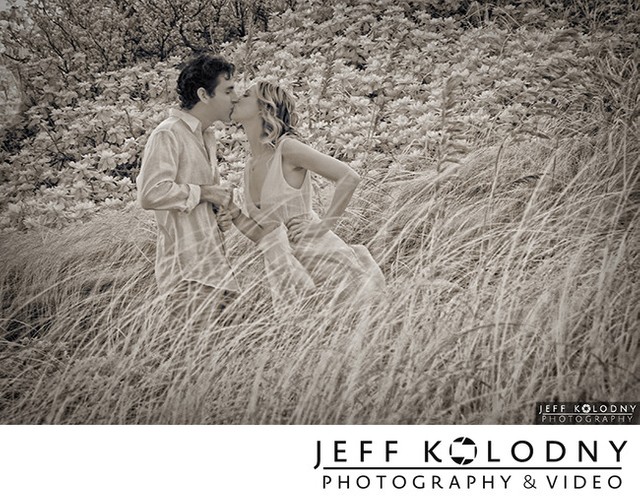 I love this location because there is a beach as well as a wooded path with lots of nature type backgrounds. This engagement photo doesn't show the ocean, but looking in the opposite direction is a fantastic beach and ocean. I shot this photo using a camera modified for infrared photography. Here is the link to the park where I shot this unique photo.
Another amazing place for engagement pictures is Vizcaya Museum and Gardens. Located in Miami, Vizcaya is a wonderland of opportunity for engagement photography. I could spend the entire day taking pictures at this South Florida dream location. The photo below was taken at Vizcaya.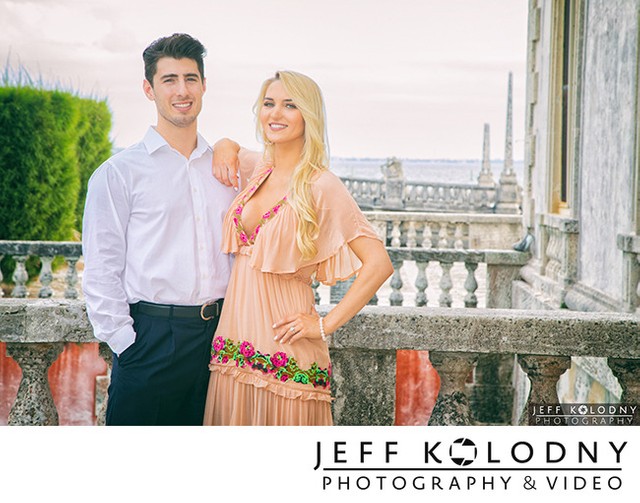 The photo above was taken at the top one of the beautiful patios which overlooks the water. The structure in the background is what you could expect at Vizcaya. Vizcaya charges a small fee to take engagement pictures on the grounds. Trust me the small fee is money well spent. This is one of the most beautiful places in Miami. Trust me, a visit to Vizcaya won't leave you disappointed.
The picture at the top of this article was taken at Hugh Taylor Birch State Park. This is a place that really was not on my radar but the couple loved this place and really wanted to shoot here. In normal Jeff Kolodny fashion I arrived early and did a walk around. When they arrived I took them to a few spots I picked out for pictures. While we were walking around we came across this canoe by a pond. I don't think we were allowed to take this canoe for a joy ride, but this sun was in the perfect location and the couple was willing to jump inside the canoe so we made this picture. It took some serious maneuvering of the canoe to get this shot but the results were well worth it.
I could write much much more and name may other fantastic locations for South Florida engagement photography but enough for now. If you are engaged and looking for a wedding photographer or looking for someone to take your engagement photos feel free to give me a call at (561) 737-5561
Location: 3109 E Sunrise Blvd, Fort Lauderdale, FL 33304.