South Florida Headshot Photography
Looking for South Florida headshot photography?
I guarantee you will look your best.
Having photographed hundreds of headshots I'm highly skilled at making people look their best. Indoors or outdoors, you will look your best once I photograph your headshot. As a photographer I have over 20 years of experience making people look great. It doesn't matter if you need a headshot for your website, business cards, Linkedin, actor or actress portfolio, model headshot, dating website, social media, real estate or any other purpose. I'm your best choice when it comes to South Florida headshot photography not only because I have been doing this for many years, but also because I'm highly educated in the skills of portrait, fashion, wedding, and corporate photography. I don't do cookie cutter images in which everyone looks to same. My photography skills bring out the best looks and everyone. Many photographers have learned their craft by reading books, watching videos, maybe even by taking some classes. My career as a photographer goes much deeper. I received a BA in communications / photography and was actually a working photographer all through high school and college. After college, I moved from New York to Los Angeles where I worked and learned from the most famous photographers in the world. During my time in LA I produced photography for a wide range of extremely high end clientele. I produced images for movie studios such as Warner Brothers, Universal Studios and cosmetic companies including Redken, Sebastian, Dermalogica, OPI and many others. I was also a skilled photographer making girls look awesome for Playboy as well. In addition to working in the commercial photography industry, I'm also a skilled wedding photographer. Of course everyone want to look their best on their wedding day. Wedding photography is considered by brides and groom to be the most important day of a couples life and looking their best in pictures is the reason they hire a photographer.
The person in this picture is Michelle from Fox Public Insurance Adjusters. Michelle and her husband Todd both one the business and are experts at handling property damage claims. In addition to taking their headshots I also handle their SEO digital marketing. If a homeowner has a roof leak or a broke plumbing pipe that causes a flood or water leakage they will help the homeowner by working with the insurance company to arrive at a settlement amount that will cover the full cost of the damage.
This headshot was taken against a grey colored muslin backdrop which is great for a wide range of headshots. In addition to taking her headshot indoors against this backdrop I also took pictures outdoors as well. Whenever I shoot headshots I give my clients a wide range of pictures to choose from. Everyone has there own personal opinion as to how they feel they should look. Once the client picks their favorites, I then do the retouching. In the retouch process I offer a wide range of adjustments. Headshot retouching could include everything from softening face wrinkles to fixing teeth, hair, and eyes. I can also thin and contour body parts as well. The couple photo below is not a headshot but a couple portrait photo which was taken outdoors during the headshot photo session.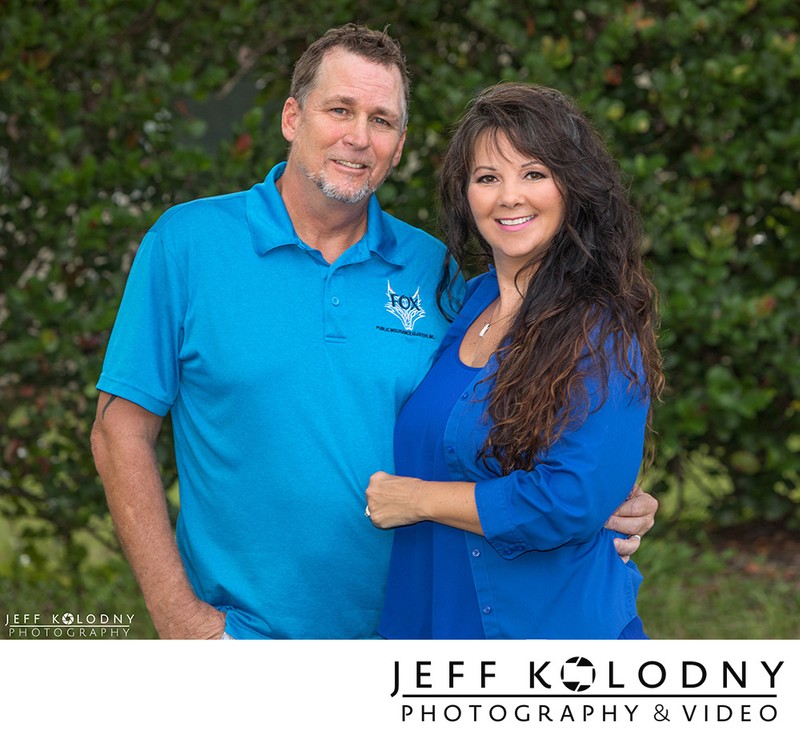 Because I photograph such a wide range if images types I often get asked to produce South Florida headshot photography along with many other types of images. Most common is real estate agents need both pictures of homes and headshots. The photo above is more of a couples business picture with Todd and Michelle could always use since they own the business together.
Headshot photography is a very personal type of imagery and I have found that everyone expects something unique. This is true because every face is different. While most people appreciate the obvious needed retouching, such as enhancing eyes, maybe fixing teeth, many people prefer a minimum about of face retouch. I always as how much retouch is wanted. I also retouch on two duplicate images. By retouching on two duplicate images I could scale back the retouch if the client feels that the retouching is too heavy. In addition I have found that people want to look the way they normally look. Years ago there was a type of photography called glamour shots. In a glamour shot the entire image was softened and all the lines and wrinkles were removed. Some people liked that, however many people didn't. The biggest complaint was that people felt that they didn't look like themselves. A good headshot is supposed to look this the person being photographed, but on their best day. While people expect some retouch, many people don't want their South Florida headshot to look retouched.
Another big part of headshot photography has to do with the person being photographed being prepared for the photo session. I have written some blog article to help people prepare for their headshot photo shoot. Guide to Headshot Photography In this article I talk about the different types of headshots that can be taken and the differences between each type of photo session. I also talk about how to get the best smile and what to wear for your headshot photo session. In addition to this article I wrote another article that covers other aspects of headshot photography. Headshot photography in South Florida. In this post I talk about the equipment I use and also retouching and some posing. If you want to see more of my creative headshots you could check out both of these blog articles.
Working as a photographer, I have found that some people have a difficult time smiling for the camera. I understand the camera can be intimidating if it's something you are not accustom to. Some people just don't like the camera. For those people I wrote this article on how to smile easily for the camera. How to smile easily. This article is filled with all kinds of great information for those that are camera shy.
If you are camera shy or a total ham in front of the camera, if you need a headshot call me at (561) 737-5561. I would make sure you have a headshot that makes you happy to share your picture with everyone.
Location: Boynton Beach, Florida 33473.