South Florida Corporate Photography
South Florida corporate photography requires a wide range of specialized skills.
This corporate photograph was taken as part of a multi day assignment for Everglades University. For this job I was required to photograph the interaction between students and teacher and staff members. Because the university has several campuses located all over Southern Florida I had the pleasure of traveling to every different location. Everglades University has campuses in Boca Raton, Orlando, Tampa, Miami, and Sarasota. I was required to produce a wide range of images at each location. This meant I had to allow enough time at each location to produce plenty images for use in their company website, printed sales materials, and a host of other media type events.
In order to be good at corporate photography it's important to master a wide range to skills. These skills include journalistic photography, staged action photography, headshot photography, room photography, building photographs, still life photography and drone photography. Being well rounded in all these skill-sets means that a single photographer can produce a wide range of images. When hiring a South Florida corporate photographer it's a good idea to look through your potential photographers portfolio to see each of these image types.
Journalistic Photography - Often during a corporate assignment the photographer will be required to photograph sporting, team-building, and other live action photography. As part of a recent corporate assignment I was hired to photograph a company soccer game. As a way of reducing stress among the employees, this company allowed the staff to form some outside sporting activities. The pictures were included in the company marketing materials. Other times I was hired to photograph corporate team building events. For a company, team building events are a great way for employees to form work environment bonds. These types of events require the photographer to shoot fast and capture the action.
Staged Action Photography - The photo in this article is an example of staged action. The teacher is writing information to share with his students while the camera lens is located against the writing board. Isn't the angle of the photo artistic yet still professional? By the way, when this was taken there were no students in the classroom. This shot was staged, actually a staged action shot.
Headshot Photography - Every corporate employee or executive should have a professional headshot available. When doing business people love to put a face to a name. If it is someone they have not met, people often feel more comfortable having a visual image with the voice on the other side of the phone. Having a headshot taken is a easy way to post an appearance in a wide range of media forms with the benefit of looking your best. Most people accept the fact that your headshot has been retouched even if they don't think about it. Having a great headshot is the single best way to put your best foot forward. In my years working to create South Florida corporate photography I have taken hundreds of headshots. If you need one, call me.
Room Photography - Photographing empty rooms is very common when it comes to showing conference rooms, office lobbies, service areas, call centers and any work place environment. Photographing rooms requires your photographer to have to ability to use studio lighting to balance the highlights and shadows in a room. If your South Florida corporate photographer can't balance the lighting the picture will look like anyone shot it and it won't be a pleasing photo to look at. When I photograph rooms with windows I often use a tripod and take two images from the same location with the same lens settings. However, I expose one shot for the room and the next shot for the window scenery. Then in photoshop I could strip both images together. Of course there is more to it that just shooting two images, my point is that there is a clear technique for producing professional images.
Building Photography - Most corporations are located in some type of building. Making making these buildings look great is important for a corporate image. Just like headshots, people assume that a nice looking building shot has been retouched. By having retouching skills your corporate photographer can remove ugly powerlines, clean up marks on a building, enhance signage, and clean up parking areas. Check out this image of the Diplomat Hotel below. Doesn't it look awesome.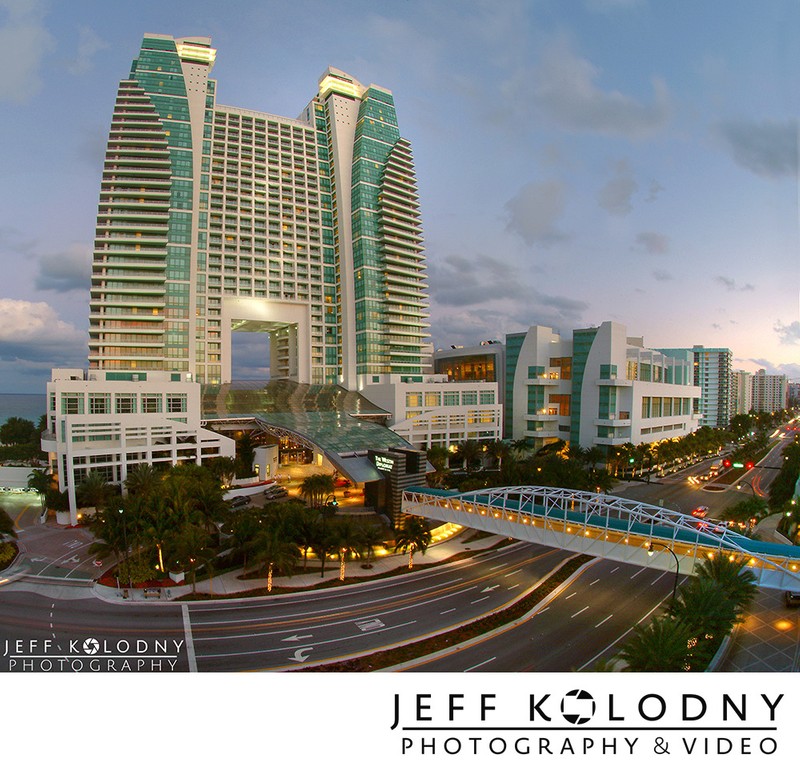 For many corporations a building shot is similar to a headshot for a person. Companies can look more impressive by featuring a nice attractive building shot on their website or brochure.
Still Life Photography - If your company produces a product, then having a picture of that product is very important. If you look through the Special Event & Commercial category of my website you will see many photos of products shown in different images in different types of settings. If you have been looking through this website I'm sure you figured out that in addition to being a South Florida corporate photographer I also photograph weddings. One of reasons I love shooting weddings as well as corporate images has to do with the fact that many of the same skills are required. Shooting a close up of a wedding ring requires the ability to photograph a product, (A ring in this case) and make it look awesome. Both types of photography requires many of the same skills.
Drone Photography - OK I must admit I think I'm a pretty good drone pilot. Getting a great drone shot requires putting the drone in the perfect place to get that perfect shot. This is a skill I happen to possess. Safety always comes first when it comes to flying the drone. Using a drone to get the perfect shot is a great way to show a building from angles that a photographer on the ground could never get. A drone could be used to shoot all types of images, large products like cars convention rooms for elevated angles. For a unique perspective a drone sure comes in handy. Check out this video from this Everglades University project. You must admit the building shot from my drone is pretty cool. If you need a South Florida corporate photographer call me at 561 - 737-5561
Location: 5002 T-Rex Ave #100, Boca Raton, FL 33431.