Headshot photo taken for Admit Jewlery in South Florida
Great headshot photography in South Florida will help you build your personal brand by enhancing your visual image as well as communicate confidence, personality and approachability.
In addition a flattering portrait or headshot conveys your good looks making the viewer want to meet and greet you. Given today's digital age, a great headshot is a necessary tool that will get you noticed. If you are ready to make an impression that will get you the positive attention you deserve and need, a great headshot will be your best asset.
If you have been searching for headshot photography in South Florida, look no further. As a highly skilled photographer, I will take headshot pictures that will make you look fantastic! I have been taking pictures since the age of 16 and I have the talent and experience to make anyone in front of my camera look their best. By combining my artistic vision with years of technical skill, as well complete knowledge of photo retouch and enhancement, I can create pictures that will leave you in awe. In addition I understand the importance if having a great headshot. While on the surface, a great headshot may not seem like a big deal, A great headshot could result in landing that dream job, making a sale, landing an acting job, finding a date, or a husband / wife for that matter. There is no end to the impact that having a great headshot could have in your life. If you live in Boynton Beach, Boca Raton, Delray Beach, Palm Beach, Jupiter, Parkland, Wellington, Pompano Beach, Coral Springs or any place in Palm Beach County or Broward County and need a headshot give me a call, I will make sure you look better than you have ever looked in a photograph.
The photo included in this article was taken for the Admit jewelry company in Boca Raton Florida, while the purpose of this picture is to sell a beautiful necklace, this picture also makes a beautiful headshot. Selling woman's jewelry by showing a headshot is a special way of pushing headshot creativity to the extreme. The pictures taken during this photo-shoot include headshots that focus in on the jewelry as well as overall beauty. Below is the close up photo of the beautiful necklace this model is wearing.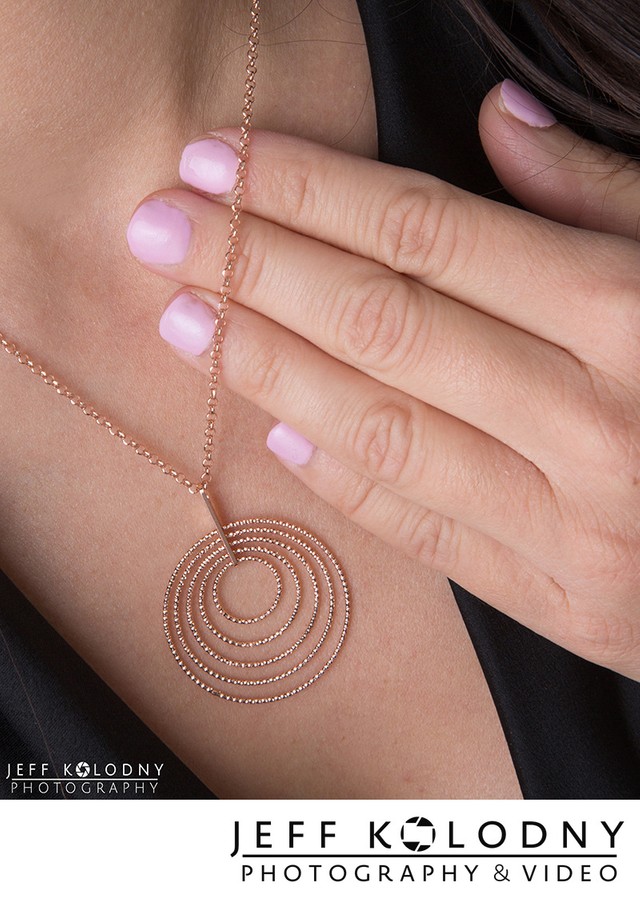 If you are looking for a beautiful gift for your Girlfriend, Wife, Sister, Mother, Best Friend or The Bride, visit the Admit website and order something special. In addition to owning Admit Jewelry, Jacqueline also owns and operates J Morgan Flowers. If you are looking for the best floral designer in South Florida give her a call. As a designer of luxury items and flowers Jacqueline is the best around.
As a producer of headshot photography South Florida, I find that there are plenty of ways to shoot creative and unique looking headshots. Headshots and lifestyle portraits are similar because they convey the personality of the person being photographed. Creative personal photographs can be taken from a high angle, low angle, while walking, drinking coffee, or holding a pen. I even shot a headshot / portrait for a employee at Publix Supermarkets, Check this one out. Need a pineapple? Pictures that show beauty and personality, are some of my favorite pictures to create.
Because I'm based in Boynton Beach Florida, I work in the entire South Florida area. If you have a new business, website, business cards, new job, need a picture for Linkedin, your Facebook page or for a dating website such as Match, OkCupid, E Harmony, let me take your headshot. I know you will LOVE the results!
Since there is so much to know when it comes to headshot photography in South Florida. I wrote several different articles on the topic. Many people are sometimes nervous about having their headshot taken. They are afraid that they won't look great, smile correctly, wear the right thing. This is why it's helpful to hire a photographer who will guide you through the process. One the surface, it's simple, under the surface there there is a lot to know. Most of what makes a great headshot or portrait comes from the photographer. The photographer needs to use the correct lens, determine the correct lighting, provide the best retouching that is effective, but also does not look fake. This article. South Florida Headshot Help covers a wide range of topics including, different types of headshots, how to smile easily, retouching, and more. Over the past few months we have been creating more and more headshots, for a variety of reasons, people changing job, joining dating website, creating a new social media platform, creating a new website. These are all reasons why someone would need a new headshot. Check out this picture of Michelle from Fox Public Insurance Adjusters. Her headshot was taken along with a group of other business professionals who belong to a networking group that needed headshots. Our pricing for headshots is flexible and depends on several different factors such as, where are we shooting the headshot, how many headshots are needed? It's more cost effective if I am shooting headshots for several people in one sitting, as opposed to shooting individual headshots. This doesn't mean that headshot photography is expensive, generally headshot photography is very cost effective, especially when you consider how many different uses you get from a single headshot.
If you are searching for headshot photography in South Florida, I'm here to make your headshot experience easy. I can come to you, or you could visit with me in my Boynton Beach location. In the past, I have taken headshots in all the following places. Palm Beach, Delray Beach, West Palm Beach, Fort Lauderdale, Jupiter, Parkland, Deerfield Beach, Lake Worth, Pompano Beach and other local places. I basically cover all of Palm Beach County, Broward County. For more valuable information on headshot photography here is another article, More South Florida headshot information. The header picture in this article was taken for a bridal shop in Boca Raton, Boca Raton Bridal. When Jan the owner needed new headshots for her entire staff she reached out to me. I visited her store and photographed every employee with a unique background. Then I photographed her entire staff in one large group picture. If you visit her website you can see most of the pictures were taken by me. In this headshot photo I provided a Black and White image. If needed I can provide both color and black and white photography. Many actors and actresses need both color and black and white images based on the agents requirements. If you are planning a wedding or event and need flowers, call Jacqueline at (561) 394-3591
If you are in South Florida and need a beautiful headshot call me at (561) 737-5561. I will make sure you receive a finished headshot that is beautifully captured, looks fantastic and conveys your personality in the best visual form. I look forward to hearing from you!
Location: 7955 Emerald Winds Circle, Boynton Beach FL 33473.