Event photographer based in South Florida.
Jay Leno at a special event, photo taken by Jeff Kolodny South Florida Event photographer.
Over the years I have found myself in the unique position to photograph many famous people. Currently I'm based in South Florida, However when I was a younger photographer my dream was to live and work in Los Angeles. My dream came true once I finished college and loaded up my old piece of crap Ford Mustang and made the 3000 mile drive. Everyone thought I was crazy, I had no family (well actually I did, have relatives in Beverly Hills but that thought never crossed my mind.) Actually that's another story. Trust me I have many stories. Anyway, I made the drive and found myself living in a party house with 5 guys in Canoga Park. It was a very very long and twisty road trying to make it as an Los Angeles photographer. After, being an LA based photographer my wife and I decided to make the move to South Florida. I had a good business in Los Angeles, Actually I opened a photography studio in Woodland Hills on Victory Blvd. We had a ton of friends in LA but no family and we figured if I could re-start my business in Florida we could be closer to family. Now 15 years later, I'm a South Florida based photographer who photographs everything from weddings to special events, corporate events, food and product photography and of course headshots. While I lived in Los Angeles I shot film, there was no digital. I also shot a lot of interesting people, now that I'm stuck home due to the Coronavirus pandemic I have extra time to pour through some of my old images. This photo of Jay Leno is one of the images I found. You see, when I lived in LA between 1986 and 2004 I shot film, Digital didn't make it's debut until around the year 2000. Actually my first digital camera was the Fuji Finepix S1. I purchased it used in 2001. I actually used it for Realestate and commercial, everything I shot with it was backed up with film because it was an expensive crappy camera, well by todays standard. When the Fuji S2 came out it was a game changer and that camera was the beginning of digital cameras actually being taken seriously, I mention this because before digital, photographers only had one negative, and for commercial and special event photography the client usually got the negs. Today with digital it's a completely different story, and a different photography world. While in LA I shot many celebrities and famous people, however I had to give up the negs so I don't have too much to show from my years shooting movie stars. I printed some of my favorites and I have really cool photographs around my home. I used to see Jay Leno somewhat often when I lived and worked in LA. I shot this photo of Jay when I was hired to shoot a car event for Galpin Motors This was the unveiling of a new Jaguar Car. As usual Jay Leno was easy to photograph as he usually is. I have shot pictures of Jay Leno a few times because he often attends charity and special events. However one of my most memorable experiences is when I ran into him in a elevator. Heres my Jay Leno story.
My Jay Leno Story
While living in Los Angeles I was a photographer on the preferred vendor list at the Sheraton Universal Hotel, at the top of the hotel was a larger ballroom that took up most of the floor. This ballroom had floor to ceiling glass windows that gave guests an amazing 360 degree view of the entire San Fernando Valley around to the Hollywood Hills and a terrific view of the 101 freeway. I spent a lot of time working in this ballroom. The hotel had three elevators lined together however, If I remember correctly, only one went all the way to the Starview Ballroom. Remember, this was in 1995ish. It's been a long time and I have not been back since my last Starview ballroom wedding. That one elevator was slow, and I guess the other two were also slow because everyone complained about how long the wait was for an elevator.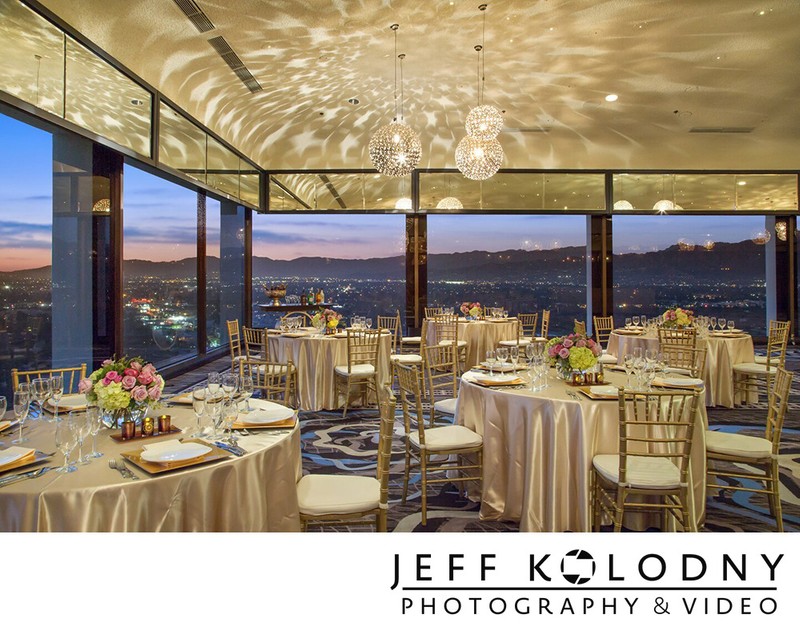 I just finished shooting an event in the Starview room and was taking the elevator back down to the lobby. It was a long wait first for the elevator then lots of stops back to the lobby I just finished shooting an event in the Starview room and I was taking the elevator back down to the lobby. It was a long wait first for the elevator then lots of stops back to the lobby. When the elevator doors opened Jay Leno was standing there. He looked at me, then looked at my camera and said, I guy with a Hasselblad must be an awesome photographer and a great guy. I always remembered that about Jay Leno
Above photo of the Starview ballroom was provided by Shaadi Shop
Now I'm a South Florida event photographer.
Since I moved to South Florida I have photographed over two hundred corporate, charity, commercial and special events. I'm very experienced at covering these types of events. South Florida is a haven for companies and charities who want to hold special events. The fact that we have great weather and so many venues makes this a great place to hold you special event. I would not have moved here if I didn't think there was business for a South Florida event photographer
Why is South Florida a great place for Special Events?
There are so many reasons why a charity, company or organization would want to hold their event here. Whether you are planning a Sales event or a Awards event or a Charity event, this is the place to be. South Florida is home to over 1500 miles of beautiful beach. In addition there are over 20,000 luxury hotels in South Florida and the Florida Keys. As a photographer I find myself working at a new hotel every few months. Some of there South Florida venues are beach hotels, convention hotels, Resorts and Hotels, Golf related hotels. In addition to the hotels South Florida is home to a wide range of event planners and other special event related support.
My favorite South Florida event venues.
I guess it would not be fair for me to talk about all the great venues we have here without mentioning which are my favorite. Let's get to it.
I'm going to start here with this incredible event that took place at The Breakers in Palm Beach. If you have never heard of The Breakers you should check out this awesome event venue. The grounds are amazing and Palm Beach is one of the most upscale towns in the United States. This hotel has several very large ballrooms and many smaller break out rooms. It's the perfect place for a Charity Event, or a Corporate event, Conference, or any other type of function including weddings. Here is another photo from a charity event which featured Kool and the Gang at The Breakers. Here is another Kool and the Gang photo.
Another very cool South Florida venue for events is The Boca Raton Resort and Club. Located a few miles South from Palm Beach you will arrive at another huge beautiful hotel and Resort. I have shot more special events at this venue than any other place. Check out this photo of Astronaut Scott Kelly taken at a multi day corporate event which took place at The Boca Raton Resort. By the way, Scott Kelly has written a new book. You can get his new book here: INFINITE WONDER
On my website I have written several blog articles on Event Photography in South Florida one of these posts is on Questions to ask you photographer. In this article I cover a wide range of topics such as photo turnaround times, back up photography gear and business insurance. Here is the link: Questions to ask your South Florida photographer
If you are planning to have your event in Fort Lauderdale then the Harbor Beach Marriott is a fantastic choice. This is not a small little Marriott, it's a very sizable venue that sits on one of the most pristine beaches in South Florida. I have shot many corporate event, Conferences, and Trade shows at this venue. In addition to being on the beach, the city of Fort Lauderdale has so much fun stuff to offer it's impossible for anyone to visit Fort Lauderdale and not have a great time.


Location: 7955 Emerald Winds Circle, Boynton Beach FL.