Wedding photographer in Boca Raton
Looking for the best wedding photographer in Boca Raton? Look no further because, you found him!
If you have been searching for The best wedding photographer in Boca Raton, than guess what? You are looking at his website. Welcome to Jeff Kolodny photography, I know that this article is very forward, but hey, it's posted online and if you are not out there, no one will find you. Sure I receive lots of wedding photography assignments through word of mouth, other people in the wedding industry, past clients and friend, however cracking the WWW requires lot's of creative writing and the delivery of great helpful information. Further down in this article, I'll explain what makes me the best wedding photographer in Boca Raton, and why you should hire me. I'll also talk about where this picture was taken, and include other links to this wonderful location. I'll also include tips that you could use to determine if you are evaluating wedding photographers.
About this Boca Raton wedding picture.
I find that the beginning of every wedding I photograph to be the most exciting part of any wedding day. For me, arriving to see the bride, in the make-up chair and all the wedding details waiting for me to arrange and photograph signals the start of what is going to be a day filled with creativity, fun and action. This wedding took place at The Broken Sound Country Club which is one of my favorite South Florida wedding venues for so many different reasons. First, the grounds are beautifully manicured, and there are an unlimited amount of places to capture awesome wedding pictures. Driving in through the long brick drive, you will see picturesque palm trees lining the entrance. Here is a picture taken along that long picturesque driveway.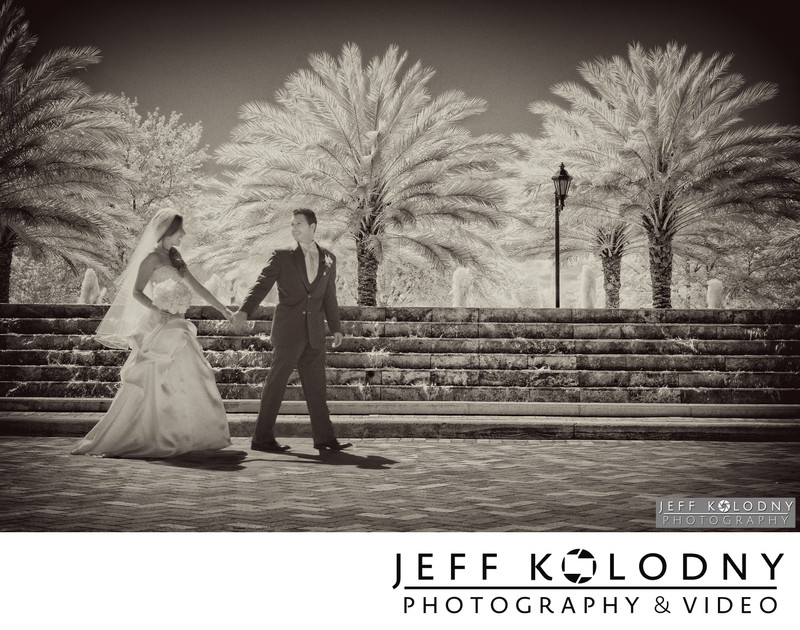 Driving into Broken Sound Country Club, guests can't help be in awe as they drive up the very long entrance. The palm trees, the fountain that runs along the center. It all makes for an experience that screams this place is special. One of the biggest problems with photographing weddings at this Boca Raton wedding venue, is the fact that, there is never enough time to take pictures at all the best locations. Unless you leave 2 or 3 hours and rally hustle, you simply are not going to get to every Kodak photo spot. This picture was taken using a special infrared camera that captures images with this artsy look. I always start each wedding at the main clubhouse, then move to different locations. Some times we use one of Broken Sounds golf carts to get from place to place. Further down this article, I'll include lots of links to other pictures taken at this glorious wedding venue.
The featured picture in this article, was taken during the getting ready portion of the wedding photography, When I arrived the brides gown was still in the wrapping from the bridal shop. I unwrapped the gown, and posed the bride in front of the window. I'm a huge fan of bouncing the light from my flash off the walls and ceiling. I wanted the light to hit the bride with very soft flat lighting, so I bounced my flash off the wall behind me.
Working as a wedding photographer in Boca Raton, my goal is to produce beautiful creative images that are unique. Once I saw the shape of the window, I had the idea to set up a styled posed using the window.
Since I moved to South Florida 17 years ago, I have worked at Broken Sound Country Club many many times. Here are some links to a few of my favorite pictures from this Boca Raton wedding venue.
Infrared wedding picture captured at Broken Sound Country Club. Both the picture with the palm trees and this one were photographed using a camera that has been modified to shoot infrared photography. I love shooting infrared because it's unique and not easy to do. When photographing a wedding, I always ask my couples if the like my infrared pictures, Infrared is not everyones taste, however lot's of brides and grooms love it because I often get picked as pictures to be used in wedding albums. Here is the same picture, in color. Broken Sound Club wedding picture.
Below is another wedding picture from the Broken Sound Club.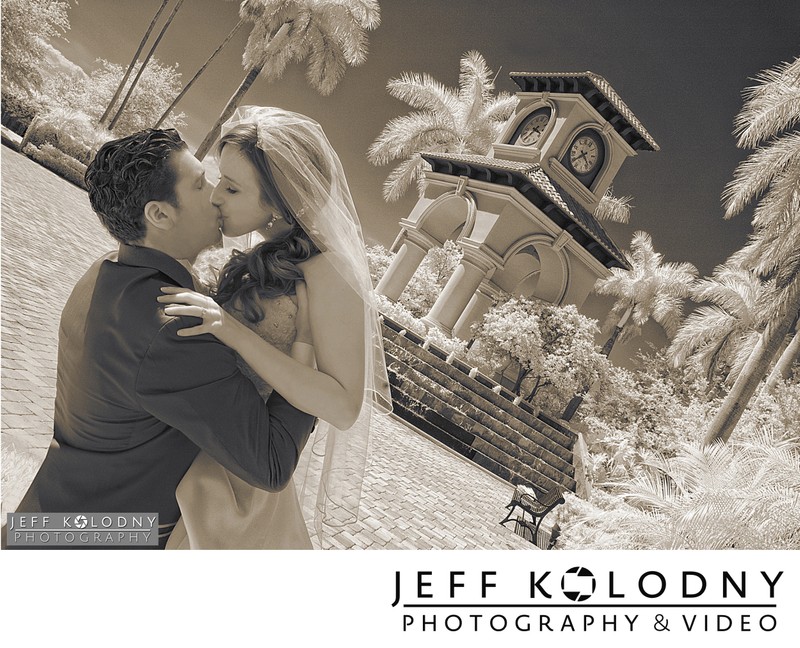 The clock tower is one of the most photographed locations at Broken Sound Club. When I get a list of must take wedding pictures from a couple, the clock tower is often on the list. Yes, this is another infrared wedding picture.

Click this link and you will see pictures of a bride and groom's "first look" along with a very nice thank you note from the couple. Wedding photography is not just about capturing nice pictures, it's also about making the bride and groom feel comfortable in front of the lens. The is done by casually posing and directing the couple. However, their personalities still must be conveyed in the pictures. A photo session with me, (Jeff) not only results in great pictures, the process is also fun and enjoyable. Don't believe me? Call me at (561) 737-5561 and let's set up a photo session. Even a simple, 15 minute portrait shoot will result in beautiful imagery.
Bride and groom by the pond a Broken Sound Club - This is a very cool picture which I had fun taking at the club. I had this idea, and since the groom was open to sitting in the grass with his legs hanging over the water I get this shot. I actually had to run a long distance around the pond to get the right angle. I coached them in advance, since they would never be able to hear me from across the pond.
Brides excited face just before the "First Look" - Photographing the first look is one of my favorite parts of being a wedding photographer in Boca Raton. Once I have positioned the couple, I make sure to photograph the bride waiting in anticipation for her groom to turn around. Once I got that shot, I move to capture his face as her sees her in her bridal gown for the first time. This wedding moment has everything a wedding photographer could want, beauty, excitement, action, all wrapped into a few short moments.
So how do you determine who is the best wedding photographer in Boca Raton?

This is a question that is not so easily answered. Honestly, part of it is personal choice on part of the bride and groom or other family members. However, there are also some solid facts that should be considered when choosing a wedding photographer. Also, by digging deep into certain aspect of a photographer you can get closer to making the right decision. For example, you could and should check reviews, not just on sites like Wedding Wire, but also other websites such as google reviews. I get thank you notes from lots of my couples. I post these at the bottom of my websites home page, and at the bottom of my wedding gallery page. Another way to check if you are considering the right photographer, is to view the photographers proofing gallery. Almost every wedding photographer, needs to have some way to show or share the finished pictures. This is done by posting all the pictures on a proofing gallery. In my business I post the finished pictures online and couples are required to enter a special password, in order to enter the gallery. This is the most candid way a potential wedding photography couple can see a full job. You can also arrange a test photo session with your potential photographer. I love doing test photo sessions for several reasons. First, the couple gets to experience my wonderful personality. They also learn first hand how I casually pose, do the lighting, and how the pictures look. One of my favorite clients wrote me the note: A note from a bride. When this couple considered hiring me, the groom did not want wedding pictures taken at all. From past experience the groom hated the though of having to take pictures. After doing a engagement session with me as the photographer, he felt ok. Then when he saw the finished pictures he was hooked. At the wedding he looked great, and was perfectly comfortable in front of my camera.

These are just three solid ways you can double check your photographers skills at photography and running a wedding photography business that delivers high quality work and also created a great user experience.

If you are in South Florida, especially in Boca Raton, please consider hiring me as your Boca Raton wedding photography. If course, in following my own advise, I'm happy to do a test photo session or an engagement shoot so you can experience my photography taking abilities and judge the pictures for yourself. My number is (561) 737-5561 call me!

Location: 2401 Willow Springs Dr, Boca Raton, FL 33496.