Vizcaya Wedding
Everyone loves a Vizcaya wedding! Even famous NFL football players!
Recently, I photographed Jenny and Eric's amazing wedding at Vizcaya in Miami. If you're into football, Eric might look familiar to you – he plays football for the Houston Texans (yes NFL!!) The first thing that Jenny told me when I arrived was that Eric would be the biggest guy in the room! I had never met Eric in person before, and when I did everything made sense! He definitely looked like a football player! Jenny, on the other hand, was much more dainty in stature and was simply aglow on her wedding day. Jenny and Eric's Vizcaya wedding was truly one to remember!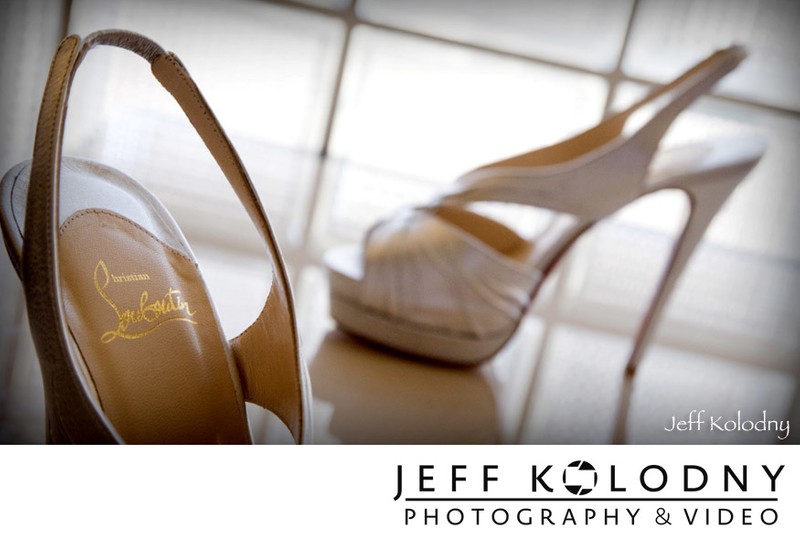 When I arrived to photograph the wedding, I started with Jenny and her girls getting ready. Most of the time the getting ready pictures consist of shooting all the wedding details. I bridal items such as the gown, her wedding ring, and of course her shoes, all get photographed. When I got to photographing Jenny's shoes, she told me; Wait until you meet the groom, that will explain why I have such high heels. She wasn't kidding, Eric is a big guy, not fat, big and tough, but also very nice and warm. He was great to photograph.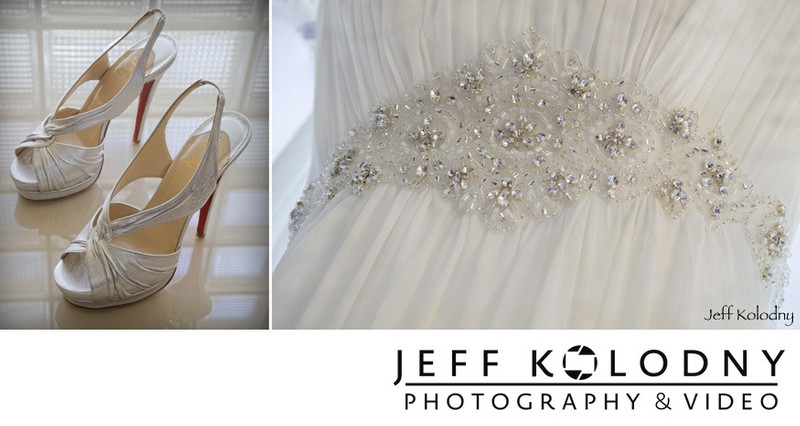 Her bridal gown was unique and featured lots of strategically placed stones. Her hair was already finished when I arrived and it look fantastic and with a very creative styled updo. The back of her sweat shirt had the writing, "Sexy Little Bride" Compared to Eric's little fits nicely.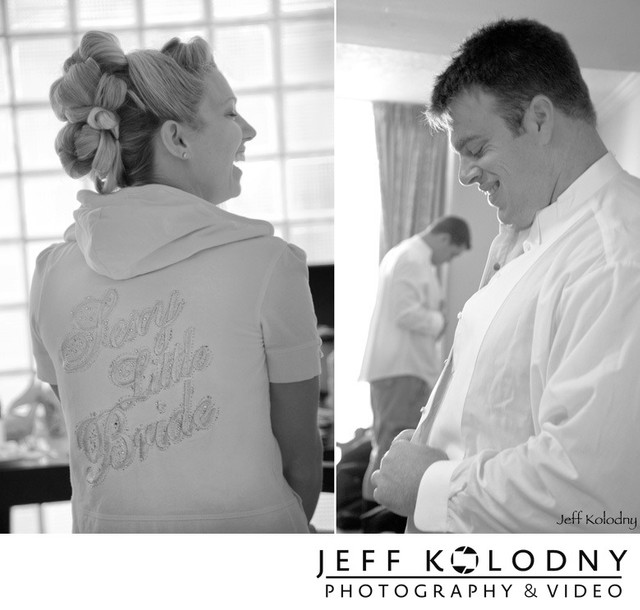 This magical Vizcaya wedding was perfectly planned by Leslie and Rudy Rowe of One Moment in Time, Inc., Miami's premier Design and Décor company. The food was expertly prepared by the renowned Miami caterer, Bill Hansen Catering, The spectacular wedding cake was the work of Ana Paz, a leading cake creator and designer in South Florida.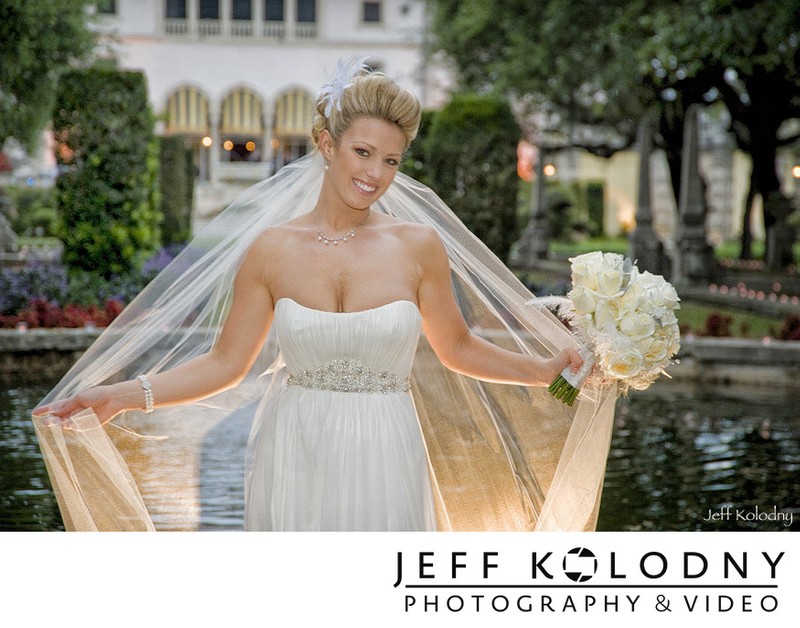 If you have never visited Vizcaya, then you owe it to yourself to visit. As a South Florida photographer, I think Vizcaya is the most beautiful scenic location in Miami.
For those who aren't familiar with Vizcaya, it was built in 1916 by agricultural industrialist James Deering. Vizcaya Museum & Gardens features a main house, ten acres of formal gardens, a hardwood hammock and, according to their website, a soon to be restored a historic village. As a South Florida wedding photographer, I think Vizcaya is one of the most unique and beautiful places to photograph a wedding. Even for engagement shoots, Vizcaya has so many really amazing areas to shoot against, there is never enough time to capture it all. Vizcaya's strong European feel really gives one the sense that you are in a country like France or Italy. The elaborate gardens and unique architecture render Vizcaya a one of a kind location for wedding photography.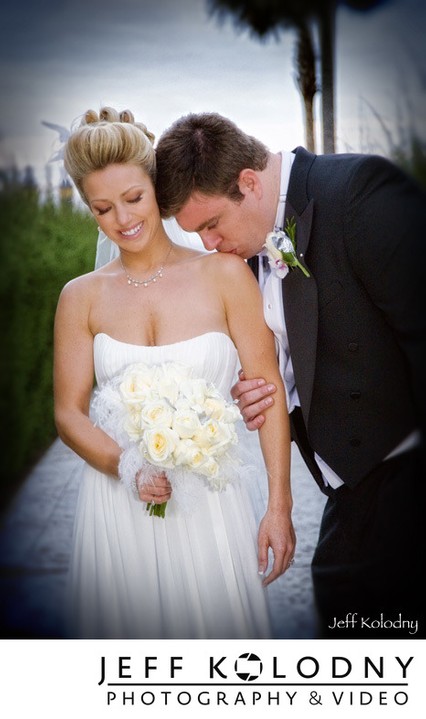 This wedding is also notable as the groom is a well-known pro football player for the NFL. After playing college football for the Miami Hurricanes, Eric was drafted in the third round of the 2006 NFL draft by the Houston Texans. He played in 12 games as a rookie and then in 2007 he started all 16 games for Houston. Eric is entering his 4th season in the league this year. He is listed at 6'7" and 310 pounds (big player!)
This is one of many weddings I have photographed at Vizcaya. However, I must tell you, it's not just a great place to have a wedding, I have shot lots of engagement photo sessions, Maternity Sessions, Corporate events and even Bat and Bar Mitzvahs at Vizcaya as well. I'm telling you, the place is awesome. Even if you are not planning a wedding or event, you should consider walking visiting and walking around the grounds. The view of the Bay is tremendous, the stone work is exquisite, and the gardens are tranquil and picturesque. All through my website you will find pictures taken at Vizcaya, I'll provide links to some of my favorite photos and events that happened here.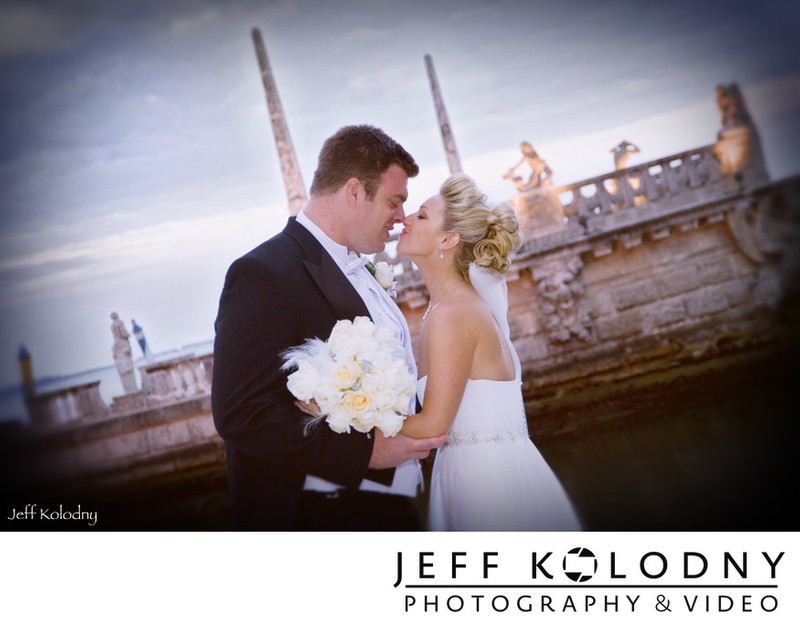 ABOVE: The Barge is one of the best known scenic background at Vizcaya. Many Vizcaya wedding pictures have been taken in front of The Barge. In it's younger days The Vizcaya Barge was built to look like a party boat with fountains, statues, exotic trees & a tea house. Raging parties took place on The Barge and it was a great place to hold a Gatsby-style event. Actually the real purpose of The Barge was to provide a stone breakwater barrier to prevent the waves from crashing into Vizcaya boat slips. Some of my favorite wedding and engagement pictures were taken in front of The Barge.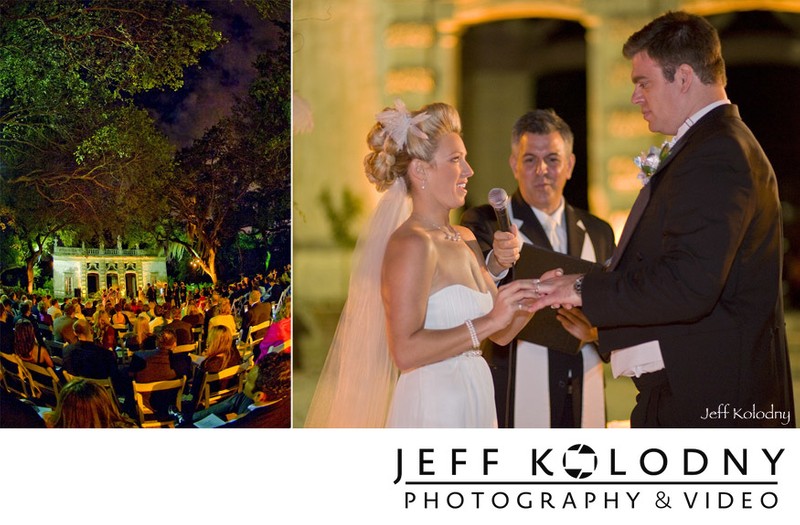 The wedding ceremony happened at the top of Vizcaya's mound. The Mound is a hill with very unique steps leading up one two sides. There is a third set of two sets of steps that leads to the top of The mound in the front. Check out this picture to see what I'm talking about. Engagement picture taken in front of the steps leading up to The Mound.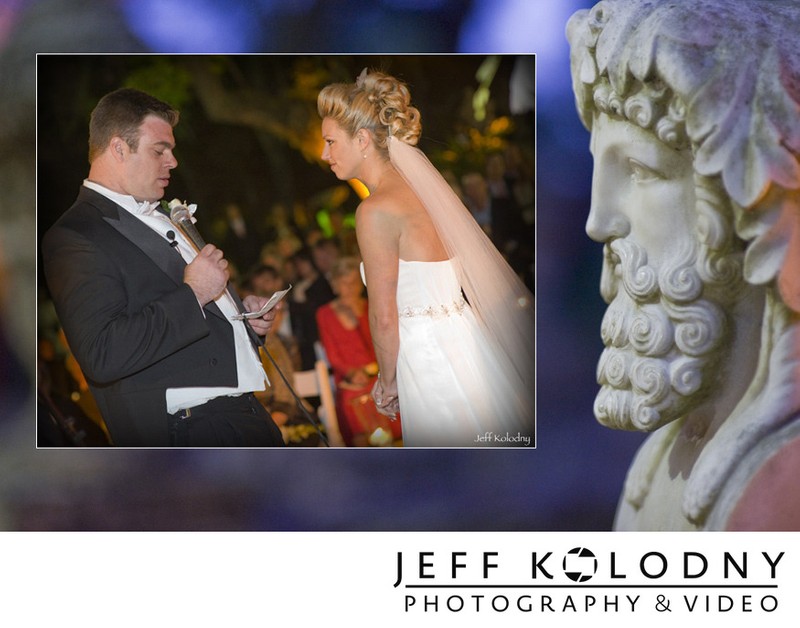 Check out the statue on the above right, this is typical of what you will see walking around Vizcaya. Awesome statues like this are all over the grounds. However, there is so much more to see at Vizcaya than just statues. Here are some links to a few of my favorite Vizcaya wedding pictures.
Girls having fun - This is from the first wedding I shot at Vizcaya. It's almost 15 years old. However, given that Vizcaya is a historic venue, it has not changed at all since I shot this photo. You could stand in the same place and see the same background. For this picture, I did a drop in color affect, the flowers are the original color and the remainder of the picture has a sepia effect.
Bride and groom in the secret garden. - One of my favorite places to take pictures at Vizcaya is the Secret Garden. This location is hidden between the main house, the bay and the gardens. Enclosed on all sides the Secret Garden is great for pictures because you have beautiful backgrounds in all directions. You also have great lighting in at least one, if not all directions as well. For a wedding photographer, this is a great Kodak picture spot!
Bride and groom rejected in one of Vizcaya's ponds. - As a South Florida wedding and event photographer, I like to think people hire me because of my very creative work. On the job, I look for, back-lit situations, cool natural frames, reflective surfaces, and other cool elements that I can use to breath life and creativity into my pictures. I hope you think this one hits the mark.
Want to see an entire wedding from Vizcaya? Click the link above. Lauren and Aaron had a exquisite wedding at Vizcaya. The reception took place in a tent over looking to bay, and the ceremony on the mound. Looking at this blog post will really give you a feel for a Vizcaya wedding.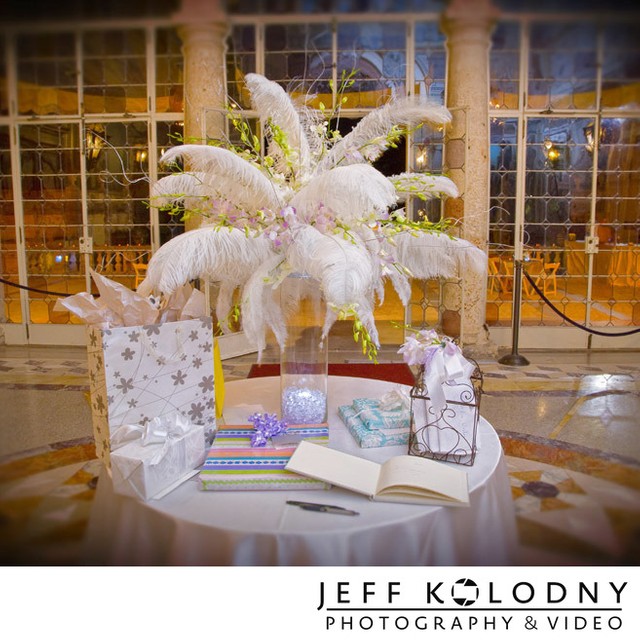 There's no doubt that as a South Florida wedding venue, Vizcaya is one of the grandest and most picturesque sites. A big thank you to Jenny and Eric for having me there to photograph their special day at this amazing location.
More of my favorite Vizcaya pictures.
Last year, I did a maternity photo session in Vizcaya, I think this one speaks for itself. Check it out here: Jessica's having a baby!
Pictures from Vizcaya on Instagram.
With so many different social media sites available, keeping my wedding content updated on all social media sites is a challenge. I have made Instagram my social site of choice. Sure I post to Facebook, Pinterest and others, but I post to Instagram almost every day. Below are my Vizcaya wedding instagram posts.
Wedding infrared picture captured behind the house on the mound
This picture was taken at one of the more hidden places at Vizcaya. If you have ever seen the movie Bad Boys 2, this spot was used for the bad guys (Jordi Mollà's) house.
Engagement picture taken on the Stairs leading to The Mound.
Looking at this picture you can see just how unique the stairs leading up the mound look. Talk about unique, I think anyone in South Florida would be hard pressed to find a set of rock stairs that looks as unique and interesting as these stone steps.
This posed engagement picture, features a view of the main house in the background. You can see just how beautiful the house, grounds and water looks at Vizcaya. It's it easy to see why Vizcaya weddings are my favorite?
Location: 3251 S Miami Ave, Miami, FL 33129.