South Florida Creative Photography
Here are some ideas which will get you some extra South Florida creative photography images.
Every time I pack my gear for a wedding I think to myself, what additional camera great will help me be more creative. The truth is there is some great camera gear that is helpful. In addition most of the creativity comes from the photographers creative mind. By combining both the mental creativity with some additional camera gear a photographer can create some very unique and interesting images. Here are some South Florida creative photography tips which any photographer can use to get those additional creative photos.
In this photo I placed the total emphasis on the brides eyes. This could be done several different ways. Having the eyes peak out from the flowers is the most common way. However, you could also use the brides veil to cover her face, then use selective focus and keep the eyes sharp while letting the veil fall out of focus. The photo below is another shot that places the emphasis on the eyes. This time it's eyelashes. For get this shot I stood on a ladder while the bride stayed seated I shot this with a shallow f-Stop of 2.8 If you concentrate on just the eyes you can produce a huge amount of creative images.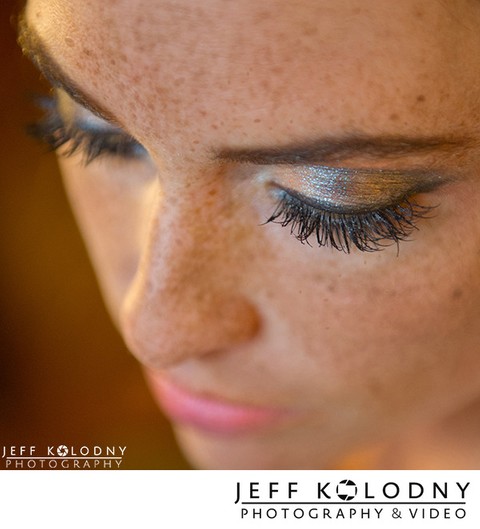 Notice how only the eyelashes are in focus. By shooting at 2.8 this lens created what is known as a shallow Lens Bokeh By using the selective focus method a photographer can create a variety of unique image. In addition the focus could be shifted to lips only, or with a change of angle, earrings or other pieces of jewelry. To create even a different look the F-stop could be changed to a smaller opening such as F16. This will produce an image that is completely in focus. When I shot this I used a combination of natural light and flash which I bounced of a white wall which was located behind me. Another really cool trick is to shoot through items and use the Bokeh to enhance the fact that you are shooting through an item. Look at this shot Romance through the hotel candles. Here is another cool shot taken at The Ocean Reef Club in which I shot through the lattice wall. If you have never heard of the Ocean Reef Club, you should check out their website. Its a really cool place and a great place for a Florida Keys wedding. Being creative at a wedding or corporate event requires the act of seeing the world through your imagine. Laying on the ground or looking down from a very high angle both will change the perspective of an image.
Another creative photography idea.
Another I technique I use as a South Florida creative photographer is the idea is of using a cross filter to create a very cool look to candles and spot lights. This is a totally old school idea. When I was a much younger photographer I used to play with these filters often. In a wedding reception ballroom or during a bride and grooms first dance this type of filter can create a very cool look. I used this filter for Rebecca and David's Broward County wedding. Check out the reception lights and the bride and grooms first dance pictures. You can purchase one of there filters here: Star filter available here: When you purchase one make sure you get the right size. Also, be careful when screwing theses filter into your lens, the can easily fall off when you adjust them, the good ones are made of fine glass and they WILL break when they hit the ground.
Try this creative photography Idea.
When I'm at a South Florida photo shoot and I see a black piano, I think, "Double Reflection". I love using pianos to produce cool double reflection shots. Check out this shot from the Harbor Beach Marriott in Broward County. During the wedding reception I saw this really cool wall sculpture with a reflective table next to the sculpture, During the reception I cleared the table, then got the bride and groom to make this shot. Bride and groom getting close at the Marriott Harbor Beach. During this wedding at the St Regis, I couldn't help but notice the black reflective floor. I had to move some furniture and use photoshop to remove other items from the hotel floor. Check out this photo here: Bride at the St Regis hotel in Bar Harbour
How about using mirrors to create something cool?
I love using mirrors to create special photos. Whenever I'm at a South Florida wedding I use mirrors when possible to produce new creative Photography. Check out this bride and the mirror photo. Taken at the Eau Hotel in Palm Beach. Inside this hotel is a restaurant called Angle. Angle has some very cool features that are very helpful when it comes to creating creative wedding pictures. This picture of a "Bride in a Mirror" was taken at Angle. Speaking of brides in mirrors, during the bridal shoot at the St Regis, Bal Harbour, I also came across this really unique huge mirror. It took some creative problem solving, such as placing another makeup mirror on a table in front of the camera lens. but I was able to make this shot. St Regis Bride in Mirror shot. I think it's cool, I hope you do also.
Last but certainly not least is one of my favorite creative techniques.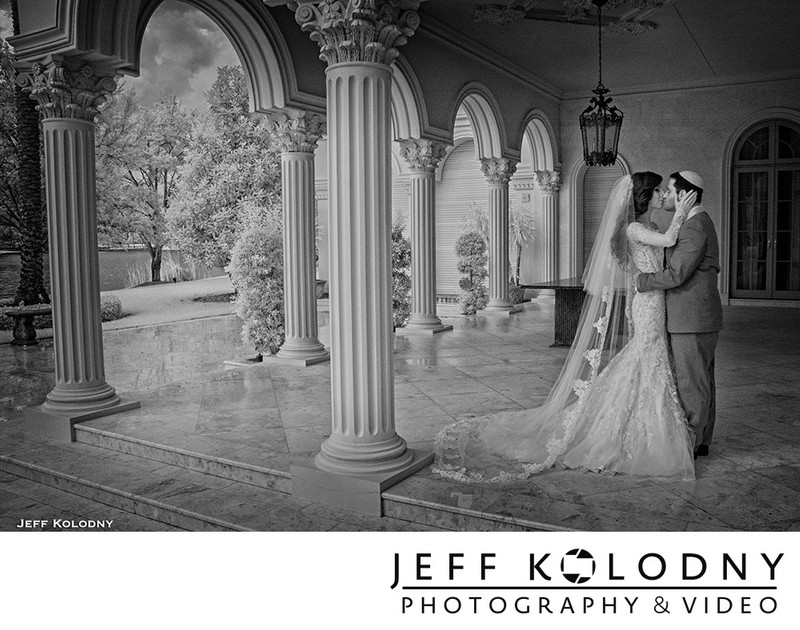 Does this image look unique? I hope it does because it was taken with a unique camera.
Have you ever head of Infrared photography? Infrared photography is done with a camera that has been modified for infrared. Infrared images see light different than the human eye. They are sensitive to light and heat coming off the subject. The result is a look that is certainly different. I would never photograph an entire wedding in infrared. However as a South Florida creative photographer I'm always looking for something to give me an extra edge. You can see more of my infrared pictures here-1, here-2 and here-3. Enjoy.
A little about me: I have been doing photography since I was 15 years old. By the time I finished high school I was starting to make money with my camera. I have a BA in communications and a minor in photography. After college I moved to Los Angeles where I worked at a photographer before moving to South Florida 15 years ago. As a South Florida creative photographer I cover the entire area. If you are planning a wedding or a corporate event in Miami, The Florida Keys, Anyplace in Broward County or Dade County I'm happy to take pictures for you there. I also cover, Boca Raton, Palm Beach and all of Jupiter. I have shot weddings, corporate and special events on the west coast of South Florida as well. If you need a creative photographer in Naples, Sarasota, Marco Island, give me a call. I can be reached at (561) 737-5561.
Jeff
Location: 1 Lincoln Rd, Miami Beach, FL 33139.