Photographer South Florida
Bridal Photographer South Florida | Bride's portrait taken the W Hotel in Miami.
If you are looking for a bridal photographer in South Florida you just found the best one. This bridal portrait was taken at the W Hotel Miami. As a skilled photographer one of my main goals is the make the people I photograph look their best while creating interest. While shooting Erika's pictures for publication I wanted to show off some unique aspects of the W hotel while making a flattering portrait. During our shoot I noticed this interesting floor and figured it would make a nice background. From experience I also know that girls look best when shot from a high angle. Because I wanted to show the workmanship of the floor I had Erika crouch down low and I shot this photo from a high angle.
The W Miami is a very unique hotel which is located on Brickell in Miami. It's not a beach hotel but more of a downtown city hotel. It the perfect venue for anyone looking for a city vibe. It's also a great hotel if you are planning a corporate event or function. The top floor of this venue features the most amazing view of Miami and the Miami Bay. There is also a fantastic roof top pool. If you would like to know more about this great location you can visit the hotel website here: W Miami
If you are planning a wedding or elopement here in South Florida I would love the opportunity to chat with you. I have been photographing weddings and portraits in the Miami area for over 15 years. I'm familiar with all the wedding venues and have worked at most of them. If you are considering getting married in The Florida Keys, Coral Gables, South Beach, Miami Beach or even Fort Lauderdale, Delray Beach, Boca Raton or Palm Beach let's chat.
Obviously someone thinks this picture is quality because it was recently published in Lavishly Style magazine. It's always great to see my photography in print.
I also would live to thank Erika Baldwin for posing for this photo. If you are planning a Miami fashion shoot and are searching for a beautiful talents and dependable model I would reach out to Erika. You can visit her website here: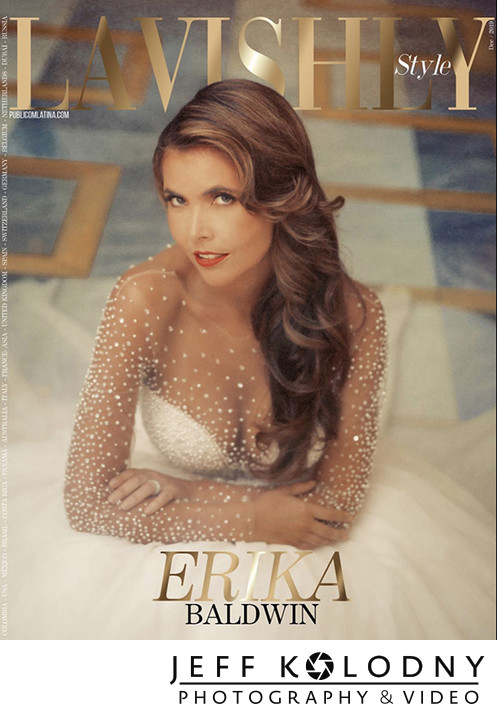 Location: 485 Brickell Ave, Miami, FL 33131.