Ocean Reef Club Wedding Photo at the Fishing Village
Bride and Groom Kissing at The Ocean Reef Club, Key Largo FL
This wedding photo is from my first wedding at the Ocean Reef Club. When we started photos with the bride and groom, I was told that the Fishing Village was one of their favorite places. When we arrived at the fishing village I couldn't help but notice the pattern of the trees against the ocean. Whenever I'm looking to create an interesting photo I tend to look for interesting patterns with an opening spot to place the bride and groom. I found this in this scene. One of the problems with this scene was the fact that there was a ton of other unwanted stuff that had to be removed from the background in order to create a clean looking photos. Using Adobe Photoshop I removed some power lines, railings and other stuff. This is actually one of my oldest wedding photos in this wedding gallery. I actually re-mastered this photos in 2019 when I post this photo.
If you are in the process of planning a destination wedding in the Florida Keys then if would be worth your time to check out the Ocean Reef Club. The Ocean Reef Club is a private Club that sits on a beautiful part of Key Largo. It features it's own Airport, Church, Hotel, Golf Course, Fishing facilities and much, much, more. Photographing weddings at the Ocean Reef Club is always a treat because of all the different locations for photography.
Here are some more photos, which I have taken at The Ocean Reef Club.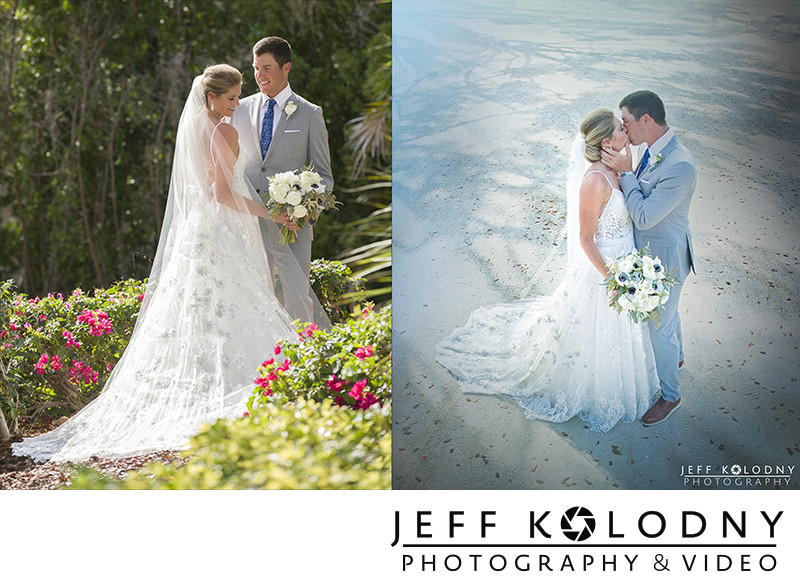 ABOVE AND BELOW: Both of these photos were taken at a different Ocean Reef Club wedding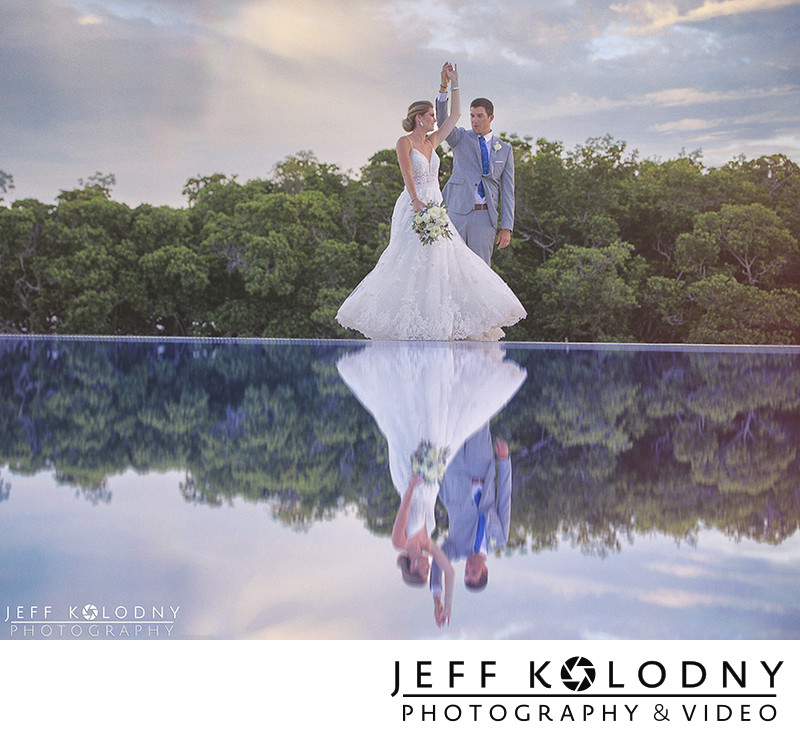 As the best wedding photographer in South Florida I have photographed wedding all over the Florida Keys, If you are planning a wedding in the Florida Keys below is a list of other wedding venues you should consider investigating. I have included the venue name and link to the venue website.
Courtyard by Marriott Marathon Florida Keys
Audubon House & Tropical Gardens
Ernest Hemingway Home and Museum
Most Florida Keys weddings are of the smaller size and are based around the vibe that is unique to the Florida Keys, this vibe is one that includes, the Beaches, Fishing, Snorkeling, Drinking, and of course casual dining on some really awesome seafood. This doesn't mean that all weddings in they Keys are small laid back affairs. I have shot my share of elegant high-end weddings in the Keys as well. In the Florida Keys it's totally possible to have a large elegant wedding out doors by the water. Venues such as the Ocean Reef Club could accommodate larger weddings; I recently photographed a 200 person wedding at the Ocean Reef Club.
When planning a wedding in the Florida Keys there are a few things you should consider. For one, it could rain. So choose a location that offers an indoor option as well as an outdoor option. Many of the more upscale wedding venues have either an indoor ballroom or a very nice large tented area just incase it happens to rain. While rain is always a possibility usually the rain doesn't last. Often it may only rain for a few minutes only. This is common and after a quick dash indoors or under the tent you often will find your wedding will soon become an outdoor affair once again.
In addition it's always a good idea to give your wedding guests plenty of time to prepare them selves for a trip to the keys. Most of the weddings in the Florida Keys are Destination weddings. This means guests will have to plan air travel into the Keys. Sometimes it's less expensive for your wedding guests to fly into one of South Florida's major airports then rent a car and drive to the Keys.
Since weddings in the Florida Keys are so unique hiring a wedding planner may also be a good idea. There are several wedding planners who specialize in weddings in the Keys. If you need names of some Florida Keys Wedding planners feel free to call us and we will be happy to provide a list of talented wedding planners in the Florida Keys area.
Choosing your best photographer, Photographing weddings in the Florida Keys requires your wedding photographer to be skilled at shooting in all kinds of light.
Since many of the keys wedding venues are located on a beach the photographer has limited choices in regards to lighting. Because of this your photographer must have really good professional gear which includes the best lighting equipment.
While I consider myself the best wedding photographer in the Florida Keys I'm not always available to photograph every Florida Keys Wedding. Therefore when choosing a photographer, I always recommend that you either do an engagement shoot or at least ask your potential photographer for a link to all the photos from several recent weddings. NOTE: This document is written to give valuable and useful information to Brides and Grooms who are planning a Florida Keys Wedding. It's also written to help with my website marketing. Some of the wording in this post is aimed to target certain words that will generate search results.
Location: 201 Ocean Reef Dr, Key Largo, FL 33037.