Bridal fun before a Fort Lauderdale Wedding
A bride having fun jumping on the bed before her Fort Lauderdale Wedding.
Jumping on the bed, reading a note from the groom, laughing with your bridesmaids, a group hug, a confetti toss are all great ideas when it comes to taking pre-wedding pictures. As the hired South Florida wedding photographer, I kicked off the photography with jumping on the bed pictures. This one was tricky because the bride had a lovely collection of props to work with. As a photographer, I love it when I have props to work with. If you are looking for a great way to add excitement to your getting ready wedding pictures try adding some props. One of my favorite places to purchase wedding and engagement picture props is Etsy. For this picture I had to do some creative prop placement so that our bride could do her, on the bed spin, yet not block the bride or the balloon props.
This wedding took place in Fort Lauderdale at the Bahia Mar Fort Lauderdale Beach Hotel. This is one of my favorite places for a Fort Lauderdale wedding. The hotel features a sky bridge that crosses over to the beach. On the other side of the hotel is a lovely garden which features a view of the Intercoastal waterway. The main ballroom is large and there is a secondary ballroom which has windows all around. When you walk into the hotel lobby your are greeted with a modern vibe. If course there is a wonderful large pool as well.
When I started the photography we began taking pictures in the bridal suite. The fact that the hair and makeup was finished, or almost finished, meant that I was able to take a few getting ready makeup pictures before doing the bridal fun shots. Check out this confetti picture below: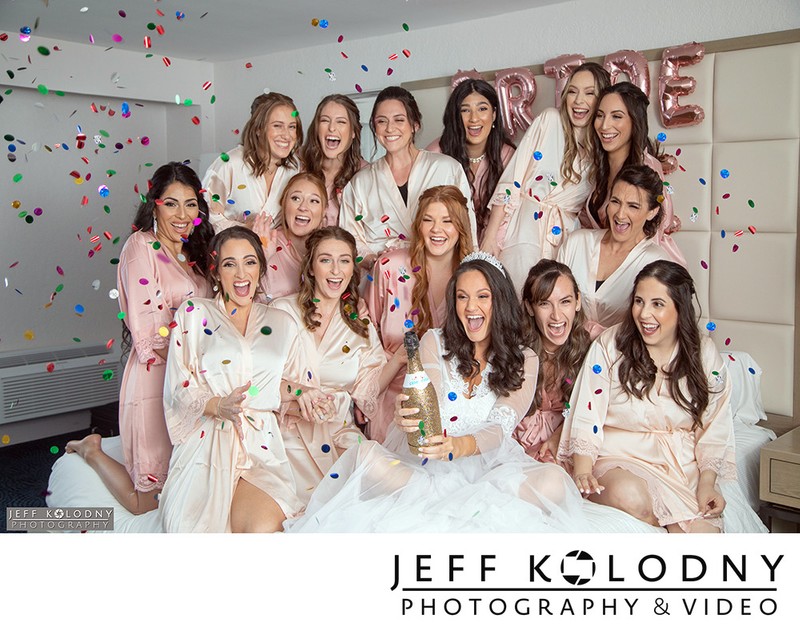 Notice how there is not confetti over any vital part of any of the bridesmaids faces. As a wedding photographer, I hate it when there is a picture like this, and something blocks an eye, or covers a nose and mouth in a distracting way. By using photoshop I will simply remove the distracting piece of confetti. During an action shot like this, my camera is set to take high speed pictures. This makes it very easy for me to replace a head that has confetti covering a vital pice of a face.
Once we finished the getting ready pictures, I set up the "First Look". For those not familiar with the first look, it's a special time when the groom gets to see his bride, for the first time in her wedding gown. Not every Fort Lauderdale wedding couple does a first look, however when a couple does a first look, I love it. Read more about first looks here: Read about the "First Look" here.
Once we did the First Look, we traveled to the garden setting that features that wonderful view of the Intercoastal. As you could imagine the there is a bit of a distance between the hotel lobby and the garden at the Intercoastal. In order to make things go faster, Michelle, the hotel event planner, provided transportation via golf carts. Once we got to the Garden I shot this picture below.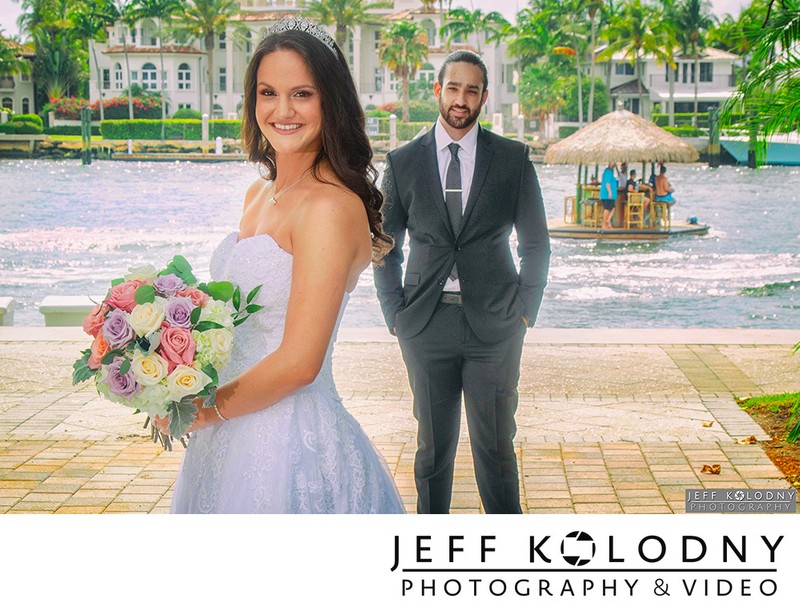 Don't you just love that floating Tiki Hut Bar, traveling down the Intercoastal waterway! People in South Florida are so creative! We spend about 30 minutes taking pictures in this area before we jumped back into the gulf carts and headed back to the main hotel.
If you are recently engaged and planning a wedding in Fort Lauderdale, call me. I have been shooting weddings here in South Florida for over 16 years. I can be reached at (561) 737-5561
Jeff