Florida beach wedding photographer
Working in Florida as a beach wedding photographer means that I get to take pictures of the most wonderful couples while capturing their most cherished moments.
This beach wedding photo was taken at one of my most favorite venues in Florida. If you are planning a wedding and searching for a beach hotel then my I suggest visiting the Fort Lauderdale Harbor Beach Marriott. There are lots of great reasons why this location is a must see if you are planning a wedding. First and foremost the beach is the most beautiful and picturesque beaches in Fort Lauderdale Florida. You may be wondering, Why would I write that? I write this because the beach at the Marriott is private. Almost all of the beach wedding venues in Fort Lauderdale are located across Fort Lauderdale Beach Blvd. This means that while these hotels feature an amazing view of the Atlantic Ocean, hotel guests need to cross the street to get onto the beach. Because the beach in Fort Lauderdale is public most of the beach if filled with visitors to Florida. Taking bride and groom pictures on a very crowded beach could sometimes be challenging. Because I'm very skilled at Photoshop I am capable of removing some of these beach goers from the background. Even though I could photoshop people and items out of many pictures, that doesn't mean that I offer beach retouching on every photo. When couples choose the Marriott for their Florida beach wedding as their photographer I'm thrilled. Unlike most of Fort Lauderdale beach the beach at the Harbor Beach Marriott is private. The only people you will find on the beach at this hotel are other guests. The beach at this section of Fort Lauderdale is huge giving me plenty of room for pictures. I can always find a beautiful part of the beach that isn't crowded. In addition to a picturesque stretch of beach, the lighting on the beach changes as the day progresses. Some parts of the beach are sunny at one time, and later the shadow, which is cast from the hotel, covers the sandy beach. Since there is such a wide range of lighting conditions at this beach, I could take a wide variety of pictures. I recently wrote an entire article which includes pictures from several weddings which took place at the Marriott Harbor Beach. Here is the link: Wedding pictures from the Harbor Beach Marriott.
While the Marriott in Fort Lauderdale is one of my favorite Florida beach wedding venues it's not to only wonderful hotel. This beach wedding picture was taken at The Palms Hotel in Miami Beach. The Palms also has a beautiful picturesque beach. While the beach isn't private, its' still a great beach. actually Miami Beach has an even wider stretch of sand than the beach at the Harbor Beach Marriott. In addition certain parts of the beach have rocks that create a barrier of crashing waves which make a pleasing backdrop against the blue ocean. In addition the beach does this very unique curve which creates sort of an inlet. Check out this picture! Bride and Groom at The Palms Hotel. That curved part of the beach allowed me the take a picture of the bride and groom with ocean in the background as well as a great view of South Beach.
As a Florida beach wedding photographer I have found that the beaches in Florida are completely different when you compare the east coast of Florida to the west coast of Southern Florida. The east coast has sand that is larger or more granny than the west coast. In addition the east coast has much larger waves. The west coast of Florida has very fine, almost powder like sand. The sand clumps together and creates a wavy formation which I think looks so cool. Because the west coast of Florida is, well, west I can get the most amazing sunset beach wedding shots. Check out this one. Bride and Groom photo taken on Florida's west coast. Did you check out the link? Isn't this a beautiful beach scene? Ok so which part of Florida is better? That depends, The east coast is where the action is. Areas such at South Beach, Fort Lauderdale Beach, Delray Beach, and Miami Beach are packed with clubs and excitement. The west coast of Florida is laid back and calm. There are great restaurants and party spots on both coasts.
When planning a Beach wedding here in South Florida or at any other beach there are a few things you should consider. The first one is wind. If you are a bride with long hair then take into account how windy it is at the beach you are going to. Wind during your wedding pictures is a double edge sword. On one hand the wind blowing a bride veil can really make a picture come alive. However, it the wind is blowing hair into the brides face then that won't look so good. By bringing along some hair clips it's easy to keep the hair out of a brides face. Another great tip is to try and shoot during the photographer's golden hour. The golden hour is the hour before sunset when the sun is low in the sky. What make this time so enticing is the fact that the lighting is directional. By working with directional lighting a photographer can turn the couple to get a wide range of lighting variations. For example, the couple can face the light, creating what is known as short lighting. Short lighting is very flattering and has the potential the create drama in a photo. Here is more information about "Short Lighting" Short Lighting for portraits. Short lighting combined with golden hour lighting if done correctly with result in some stunning images. Below is a sample of short lighting. Notice how the light is hitting the short side of her face.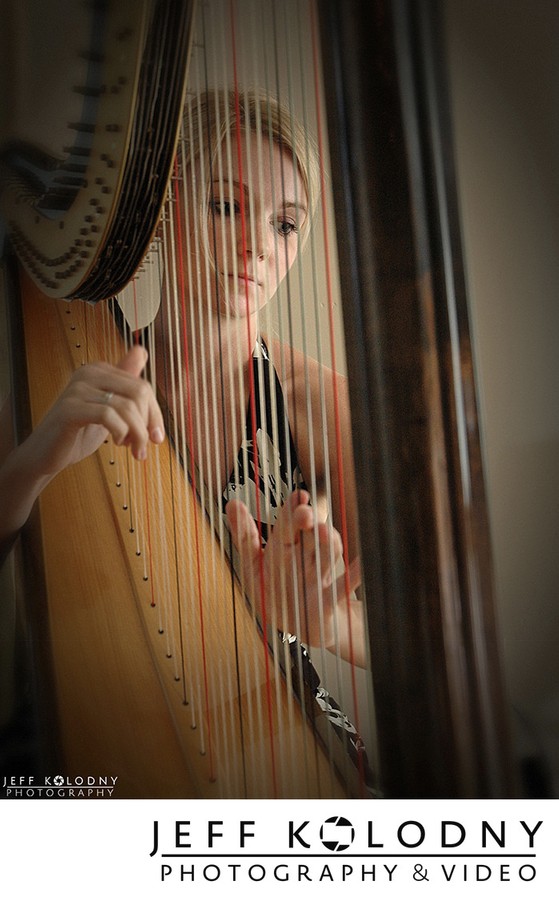 I know this is not a beach wedding picture but it does demonstrate soft lighting. If you want to hire a Florida beach wedding photographer with lots of experience I'm your guy. Check out these wedding pictures I captured along our beaches. Beach wedding action photo. I shot this one in Delray Beach. Capturing movement during a photo shoot is always fun. Indian wedding portrait taken in Fort Lauderdale. Once the beach crowd left and I had a clear beach I shot this lovely photo at an Indian wedding. Bride and her girls running on the beach. This is one of my favorite Florida beach wedding pictures. This one was taken at a private beach in Palm Beach. Here is another bride and groom photo which was taken directly on the Harbor Beach Marriott's private beach. Bride and Groom at the Harbor Beach Marriott. I hope you enjoyed these pictures. If you would like to see more, or if you need help planning your South Florida beach wedding, feel free to give me a call at (561) 737-5561
Jeff
Location: 3030 Holiday Dr, Fort Lauderdale, FL 33316.