Fisher Island Club Weddings and events.
One of my favorite places to work is the Fisher Island Club which is located on an island smack in the middle of a Miami waterway.
Just getting to the Fisher Island Club is an experience. For me getting there means driving down hwy 95 and taking the 395 exit. Once in 395 I drive post the port of Miami and get to see all the cruise ships lined up and waiting to take thousands of vacationers on an adventure in the Caribbean. Well most will be cruising the Caribbean. I'm sure others will be going through the Panama Canal or across the Atlantic Ocean. Once I past the cruise terminal I come to another very small terminal called the Fisher Island Terminal. When you pull your car in there is a guard directing traffic and making sure you are clear to enter. The guard will then check you in and tell you which line to enter. 1-4, I believe, then a ferry boat arrives and car after car drives off the boat. Now it's your turn, they run the entire process very effectively and the trip to Fisher Island is unique, picturesque and interesting. Once you arrive at the Island the very nice Fisher Island information guard is more than happy to point you in the right direction. As a South Florida based photographer I find the trip to Fisher Island delightful.
Whenever I shoot a job in Fisher Island I always know I'm going to get some incredible pictures. Trust me when I say, no one is having a lame event on Fisher Island. The events I have photographed over the years have ranged from weddings, to holiday parties, to anniversary parties and more. I have also photographed several family portrait sessions on Fisher Island as well.
I'm sure you are here to see the pictures so let me start here: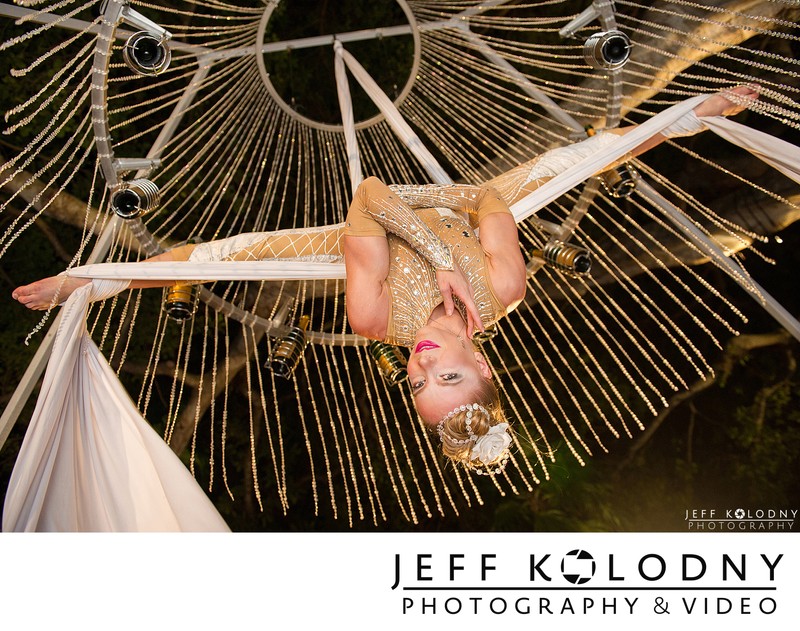 This picture was taken during an event at the Fisher Island Club. I believe this was from a holiday party or an elaborate anniversary party. The girl in the photo is a aerialist who had the unique job of swing around upside down and greeting quests as they entered the party. However he performance didn't stop there. She also asked each guest if they prefer wine or champagne, then she would swing or flip her way to the top of the display where the different bottles were located. Next she would swoop down and pour the guest a glass of their choice. Entertaining visually appealing and interactive, all wrapped into one!!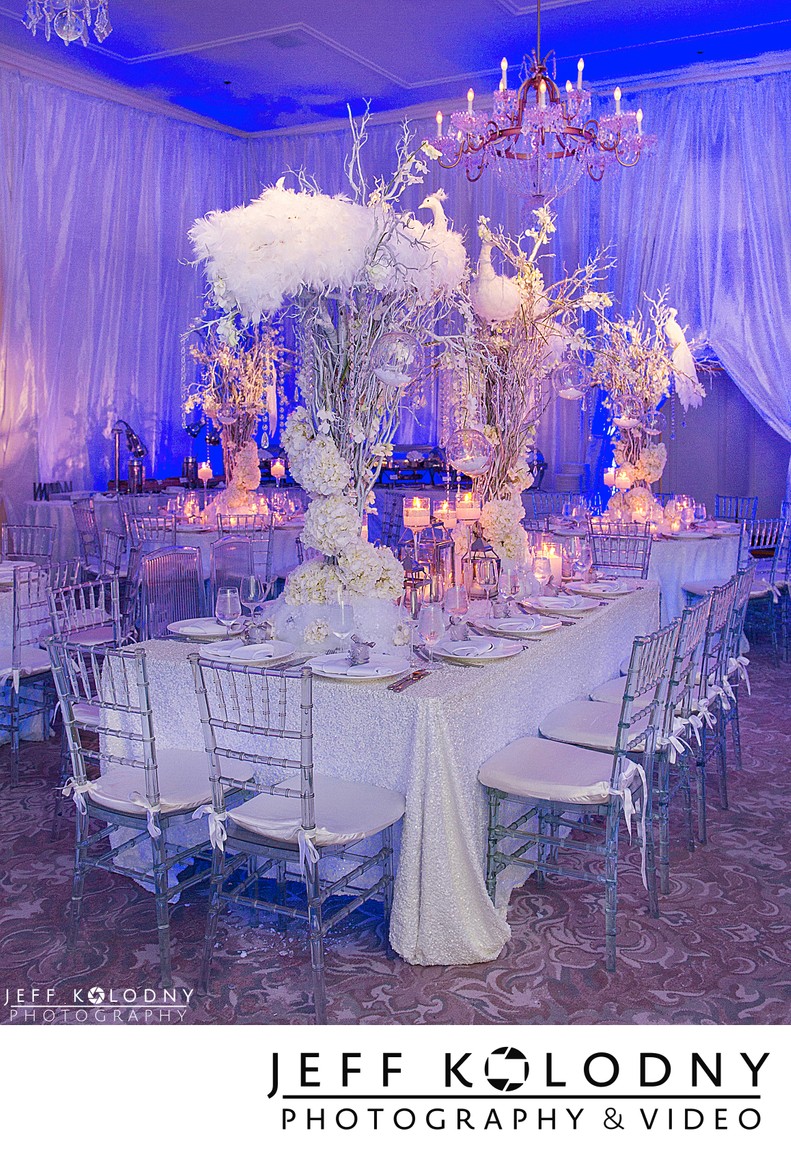 This table decor shot was taken at an a Fisher Island holiday party. This party was a once a year event that went on for about 5 years in a row. The ballroom at The Fisher Island Club is beautiful empty, however one it's party ready it is really a sight to behold. This type of decor would work perfectly for a wedding or winter themed Bat Mitzvah. The ballroom is located inside the Vanderbilt Mansion which is a fantastic building with no decor.