Creative Vizcaya wedding photography
If you have been searching for the most creative Vizcaya wedding pictures, check out this article.
In this article I will include a selection of my favorite pictures from Vizcaya Museum and Gardens. Throughout this article, some of my pictures will be included within the text, other pictures will be connected with links to my gallery and some will direct you to my Instagram feed. I hope that once you read and look at the pictures in this article you will fall in love with both Vizcaya and my photography.
What is so special about Vizcaya and why is it such a great place for wedding photography?
For any photographer a trip to Vizcaya is a must. A photographers visual wonderland, Vizcaya offers views of historic buildings, lush unique landscapes, stone formations, water views and wonderful inviting paths and walkways. There is a reason why this location has been used for movies, tv shows and other productions including print ads. Walking the grounds requires at least several hours of exploring time because there is so much to see. Whenever, I'm shooting people my number one concern is lighting. It's important that the lighting is flattering and makes the person who is being photographed look their best. This means no ugly shadows, nice backlighting, and great scenery to complete the shot. At Vizcaya, these requirements are easy to find. Because this place is so large and attractive I can find awesome lighting in every direction.
My favorite Vizcaya wedding pictures.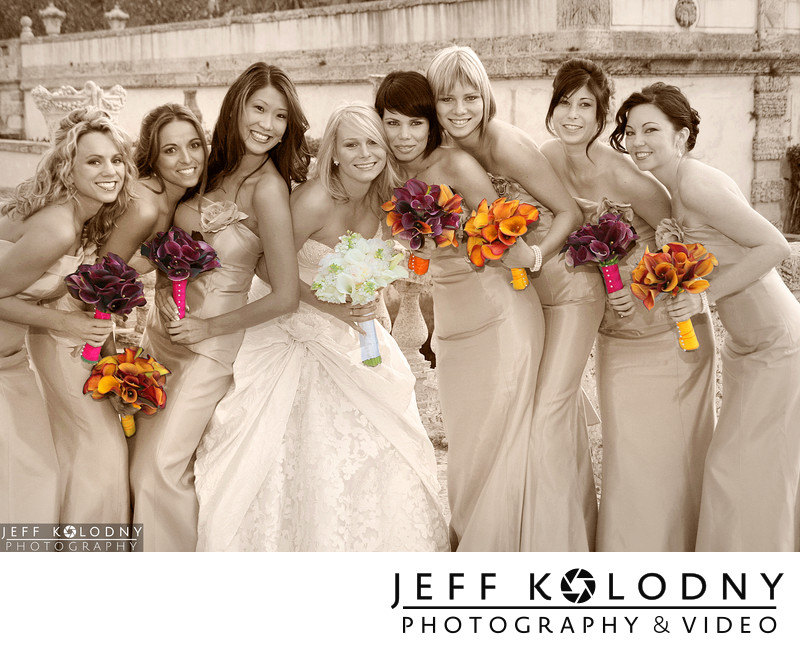 This is one of the very first pictures I shot at Vizcaya. I gave this image a unique twist by keeping the flowers colored and making the remainder of the picture sepia. While this picture must be about 14 years old, it's still timeless and one of my favorites.

Links to some of my favorite Vizcaya pictures featured in my instagram feed.
As a busy photographer, I don't always get to postt my favorite pictures on my website. For those than don't make my website many get posted on Instagram or Facebook. Here are some links to my favorites on Instagram.
Jessica and Michael walking through Vizcaya. This Maternity picture was taken at one of most unique parts of Vizcaya Miami. At the top of a hill on the South most part of the property you will find a open space with a building at one end. The lighting is always perfect in this location and sometimes when the sun peaks through the trees you can find a patch of sunlight. For this shot I used the sunlight to back light Jessica's dress.
Vizcaya infrared wedding picture. As a photographer, I'm always looking to push the limits and create imagery that is unique. One way I can achieve this is through the use of infrared photography. Infrared photography is different because what the camera records is based in heat and infrared radiation. Pictures taken in infrared have a unique snow scene like feel. You can learn more about infrared here: More on infrared photography
.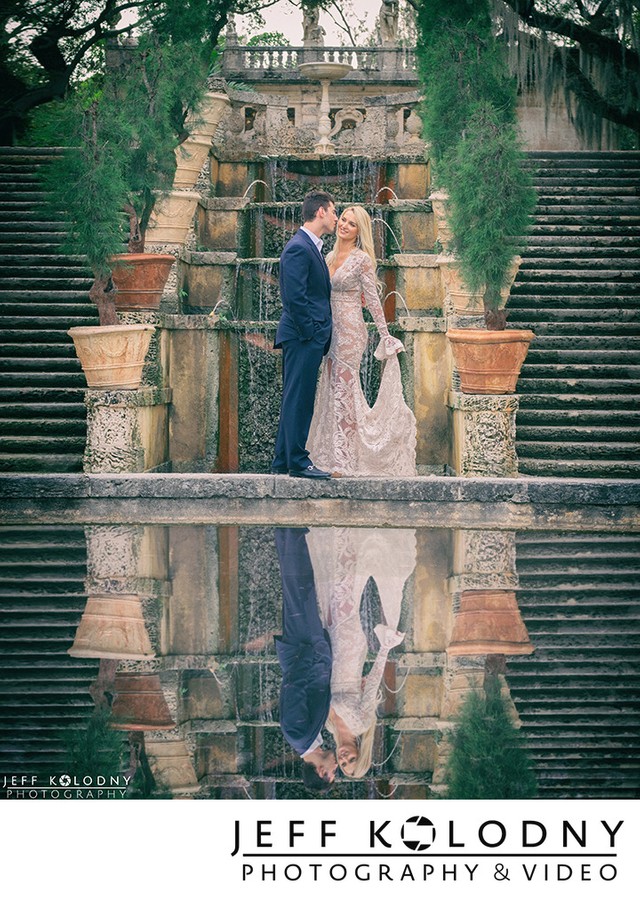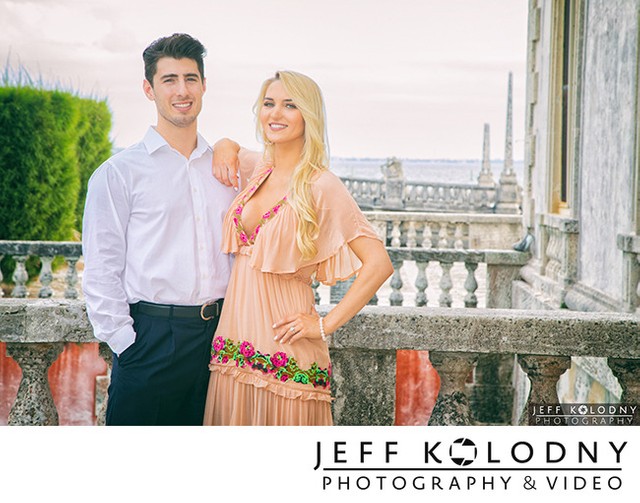 ABOVE: These two photos were taken during an engagement photo session at Vizcaya. In addition to being a fantastic wedding location, Vizcaya is awesome for engagement photo sessions. Because the grounds at Vizcaya are so large a photographer could spend hours shooting around the grounds. In have shot several Vizcaya engagement sessions and I could easily spend two to 4 hours shooting in different locations.
The picture on the above left was taken at the COURTYARD BY THE MAIN STAIRCASE
Standing at the bottom of the main staircase is the courtyard which includes a small pond. This pond is in the perfect location to enhance the beauty of Vizcaya's grounds. This unique location features beautiful archways, rock coves and ornate designs. At the top of the stairs is a vintage looking building that features a unique glass ceiling and a balcony with a view of a stone staircase. This is the perfect area to hold a cocktail hour after a wedding ceremony. While the wedding party and family finish pictures at the top of the stairs.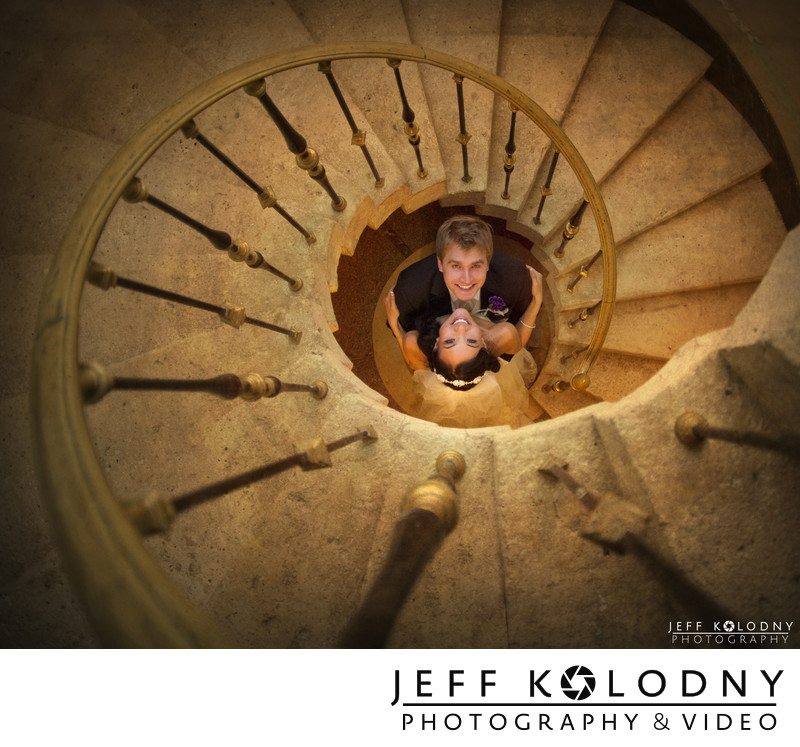 Hidden staircase at Vizcaya, In addition to Vizcaya's beautiful grounds, there are lots of hidden places that are perfect for photography. Inside the buildings there are picture perfect hallways and hidden areas that are very unique. This picture of a bride and groom looking up was taken at a secret location inside the main building. By the way, the main building at Vizcaya was used in the move Bad Boys 2.
All about Vizcaya weddings
Built by James Deering in 1922 Vizcaya Museum and Gardens was built as a winter getaway. When you consider the sheer size of Vizcaya it's hard not to think, this is a nice place to get hang out during the winter months. While most of Miami is lined with buildings shopping and busy roads, a visit to Vizcaya feels like you have traveled to a land far away.
If you are considering Vizcaya for your South Florida wedding you are certainly making a fantastic choice. One of the most popular ceremony locations is the lush garden. During the day the gardens offer the most picturesque views of fountains, carved walls, stone archways, and stairs. The nature that surrounds the gardens makes the perfect backdrop for any wedding ceremony. As the day progresses the lighting around Vizcaya changes creating fantastic photo-shoot opportunities.
The perfect place for a wedding reception with a view.
Check out this blog post from one of our beautiful Vizcaya weddings.
LAUREN AND AARON'S LUXURY VIZCAYA WEDDING
If you are looking for a water view reception, check out the area behind to main house. This area features a wonderful view of Biscayne Bay. Located on Vizcaya's east terrace this area is perfect for a wedding reception. Over the years I have photographed wedding receptions against the open night sky and with a see through tent just incase of rain.
Reason to hire me for your Vizcaya wedding photography.
If you are interested in visiting Vizcaya here is some helpful information
3251 SOUTH MIAMI AVENUE
MIAMI, FLORIDA 33129
To plan a Vizcaya wedding, contact Adrienne Kaiser at adrienne.kaiser@vizcaya.org or call her at 305-860-8448
Location: 3251 South Miami Avenue, Miami, Florida 33129.