Boca Raton Resort Wedding Photography
This Boca Raton Resort wedding is one of my favorite pictures take from this amazing venue.
One of the most popular wedding venues in South Florida is the Boca Raton Resort and Club. I think it's a safe bet to say that every wedding photographer enjoys working at this picturesque hotel and resort. There is a good reason why this incredible venue is so well known. First the property is huge, there are so many places were bridal couples can take photos around the resort it's a South Florida photographer's dream shooting location. While there are some very popular places around the resort that most photographers use for their pictures, I prefer to shoot images at the places are not not as popular in addition to hitting the more popular locations. For example this photo BELOW was taken at a place on the resort that most wedding couples and photographers never get to.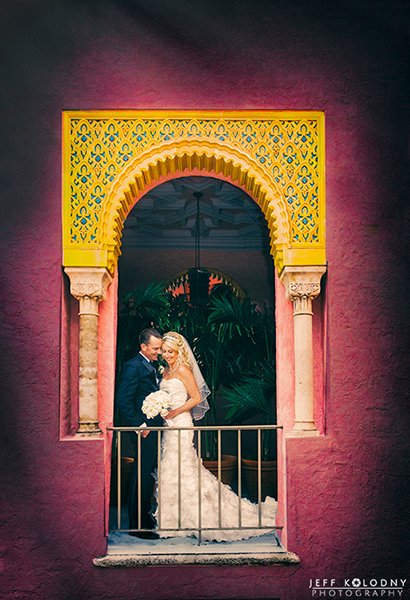 While I love shooting at the popular places I have found that there are so many other places around Boca Resort at are worth a couples time seeking out.
Because the resort is so large I recommend that brides and grooms choose getting ready rooms that are in the same building. When you wedding photographer arrives often your photographer will want to go from the bridal suite to the grooms hotel room so that pictures can be taken in both rooms. Also, when I set up the first look between the bride and groom I usually start by moving the groom to the first look location then I go and get the bride. If the bride is in the pink tower and the groom is in the yacht club that walk can tack on and extra 15 minutes especially if the tower hotel elevator is busy.
When I create a wedding timeline for a Boca Raton Resort wedding I usually allow at least an hour to take bride and groom photos. It's also important to take into account the wind when taking wedding pictures at the Boca Raton Resort. Some parts of the hotel get windy. Fortunately this wedding venue has so many great places for photography that you would never be stuck at just one location. If the walk along the intercostal waterway is too windy than you could shoot at the beach club to the croquet field. In addition their is an entire additional part of the resort which is also great for wedding pictures. A walk to the conference center will open up many additional unique photo taking opportunities.
Some of my favorite places to take pictures around the hotel include, the front fountain, the cloisters court yard, the yacht club, the large tree along the croquet course, and the conference center. There is also an open area between the main hotel and the conference center which is an awesome photo spot. If you would like to see another blog post from another wedding at the Boca Raton Resort click this link Arryn and Samantha had a beautiful wedding at the resort. This link shows pictures from all around the resort.
Samantha & Arryn's Boca Raton Resort Wedding
If you are engaged and planning your South Florida wedding, I would love to help. I have been shooting weddings in South Florida for over 15 years and have worked at almost every wedding venue. I'm happy to offer advise and tips for planning your wedding.
I can be reached at (561) 737-5561
Jeff
Location: 501 E Camino Real, Boca Raton, FL 33432.