Jeff Kolodny Photography & Video
South Florida Maternity Photographer
South Florida Maternity Photographer created this beautiful black and white image at The Bonnet House in Fort Lauderdale, Florida
It's been a very long time since I worked at the Bonnet House in Fort Lauderdale. When I first became a South Florida wedding photographer, I used to work there often, until a hurricane Katrina and Wilma damaged this beautiful event location. After that the Bonnet House sat vacant for a while until it was restored. Once this historic estate was reopened the entire staff had changed. I also relocated from Fort Lauderdale to Palm Beach County so I never worked there again. I was thrilled when Amanda told me she wanted to do her maternity pictures there. Talk about a blast from the past.
I photographed Amanda and Steven's engagement pictures and wedding several years ago. I remember their engagement shoot like it was yesterday. We make plans to photograph her engagement pictures at the Morikami Museum and Gardens at 3:30PM. At 1:00PM it was a beautiful sunny day. Then at 2:30PM those South Florida clouds appeared. I called Amanda and said, it's looking a bit like rain. At that point Amanda said,My hair and Make-up are already done. When we arrived the Morikami Museum and Gardens it was starting to rain. I started shooting right away because the Morikami closes at 5:00PM. Then it started to downpour. We shot a few pictures indoors until I suggested we grab some umbrellas and shoot in the rain. Needless to say, it was a wet experience. Getting used to the South Florida weather took some time, having moved here from LA I didn't realize that the rain can happen quickly with out much advance notice. You also can't really go by the weather forecast 100% because I have seen the weather report say rain and only have it actually rain for only a few minutes in isolated locations. Anyway, I'm always up to make the best of any photographic situation and this proved to be a challenge that I actually really enjoyed, even though I got soaked. Below are 2 photos from our engagement shoot in the rain.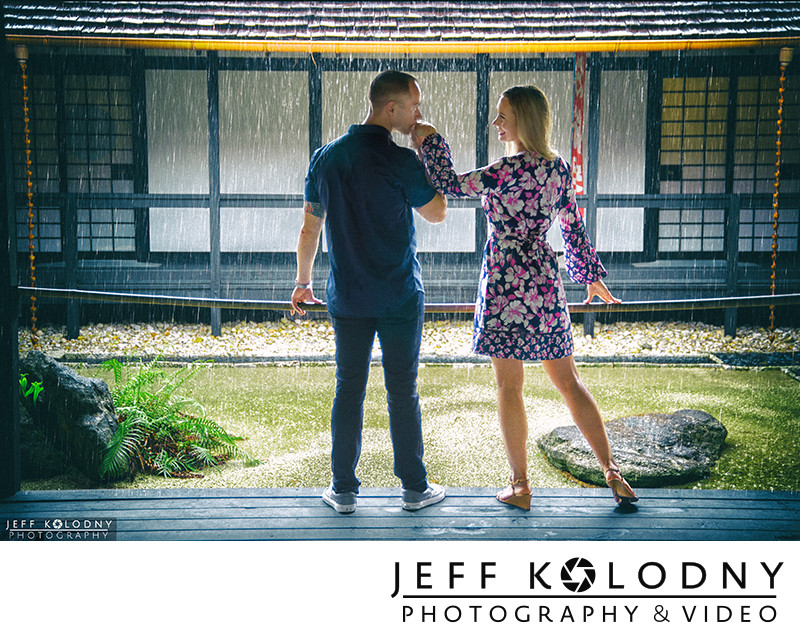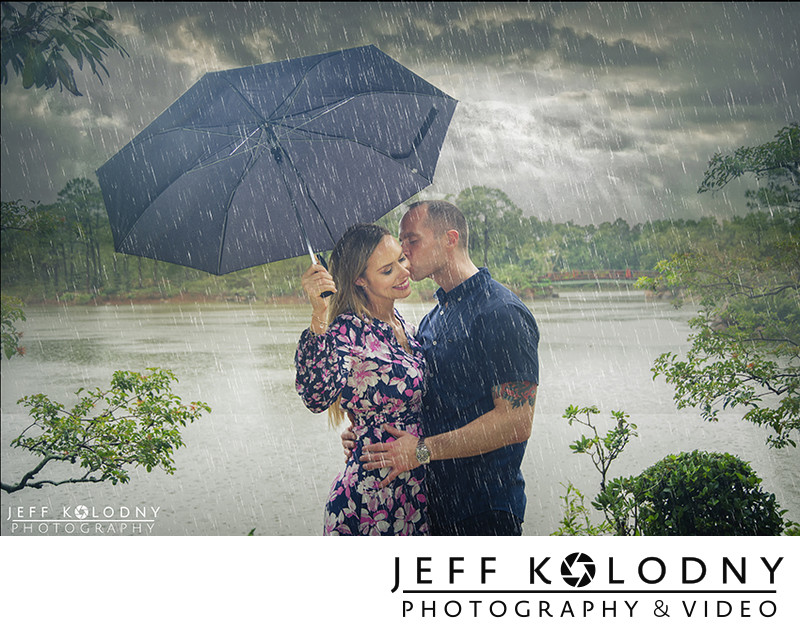 Amanda and Steve's wedding was held at the Hilton Fort Lauderdale Beach Resort which is a great wedding venue. Located across the street for Fort Lauderdale beach, the Hilton features a unique ceremony location. The ceremony site is a circular balcony that jets out and provides a fantastic view of the Atlantic Ocean. Talk about good luck, they say if it rains on your wedding day, it's good luck. Well it rained. However, the rain didn't last long and once the rain stopped the groom and the groom's men grabbed some towels and dried the ceremony chairs for the wedding guests.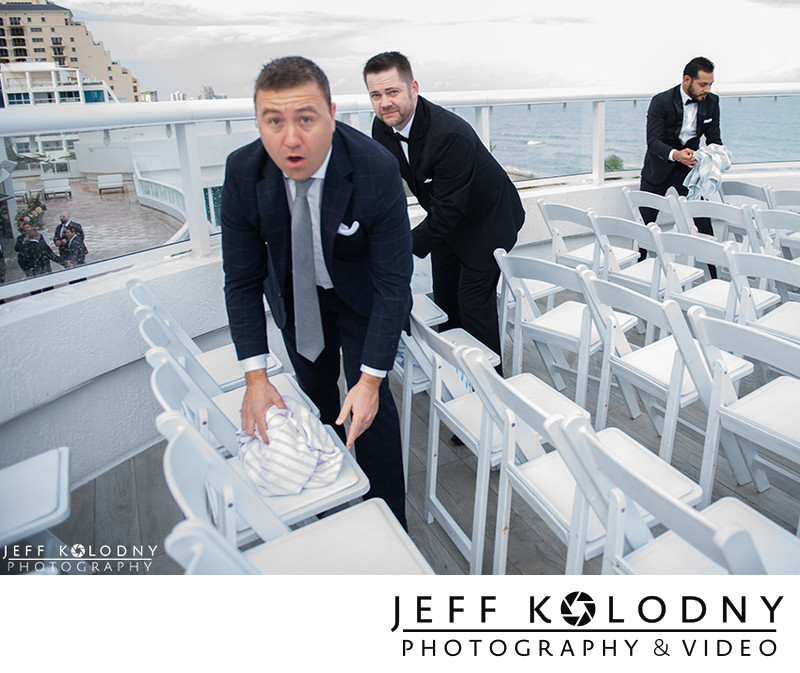 They say rain on your wedding day is good luck. Well the rain didn't last and their Fort Lauderdale Hilton wedding ceremony was picture perfect.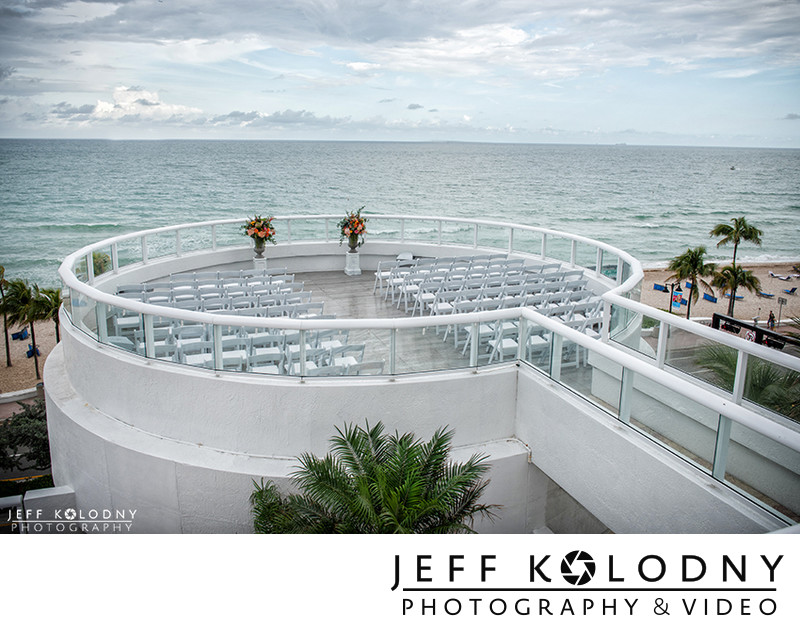 The Hilton on Fort Lauderdale Beach is the only hotel that has such a cool ceremony site with a amazing ocean view.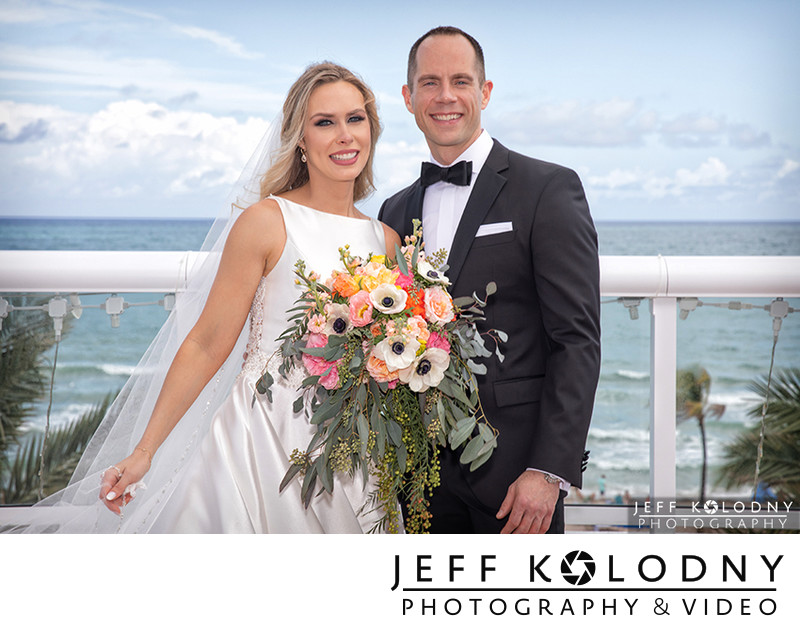 Amanda and Steven looking great on their wedding day.
I'm really thrilled that I got to be Amanda and Steven's South Florida maternity photographer. The fact that I photographed their engagement pictures and wedding photo and now their maternity photos gives me the change to get to know them better. I don't really get to shoot to maternity photos as often as I would like. I guess that's because most people consider me a South Florida wedding photographer. However, shooting other types of photographer makes life much more interesting. In this post are just a few of the maternity photos from their photo session. I also enjoyed revisiting the Bonnet House. It's been years since I last worked there. Even though is doesn't look completely like it did many years ago, it still has a very unique South Florida feel. It's really a great photography location for someone who is planning a wedding or event and wants a beautiful location with both an indoor section and also an outdoor option as well.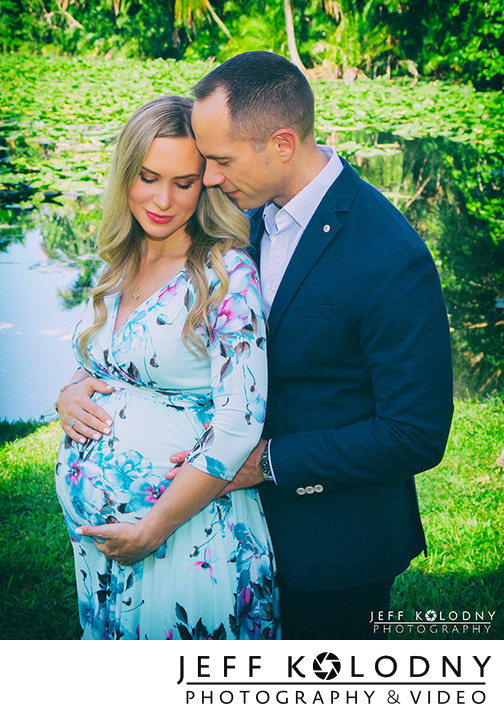 Behind the main building is a picturesque pond with a great view. Even though the photo above is a maternity pose this background would also work well for a South Florida wedding or a simple portrait. If you are looking for a photographer to photograph your maternity pictures please give me a call. I would love to shoot more these. If you are in Miami and looking for a photographer who can produce a nice Miami Maternity photo I would love to shoot for you. Even though I'm based in Boynton Beach I cover the entire South Florida region. In the past I have photographed weddings, elopements, engagement shoots and special events in Miami, Fort Lauderdale, The Florida Keys, Boca Raton and Palm Beach so feel free to reach out to me anytime.
Location: 900 N Birch Rd, Fort Lauderdale, FL 33304.