Jeff Kolodny Photography & Video
South Florida Family Photographer Vacation Portraits
If you are visiting South Florida, this could be the perfect time to have that alway wanted family portrait taken.
South Florida, one of the most beautiful and popular vacation destinations, is home to some of the most beautiful beaches in America. It's wonderful blue water and ocean waves make the perfect background for any family portrait. In addition to the blue water and sparkling waves, some of South Florida beaches offer many additional picturesque elements. For example, some of the beaches in South Florida are adorned with rocky vistas, that enhance the background and create cause splashes of ocean waves. Other beaches feature. dunes with blowing grass which make awesome foregrounds as well as backgrounds. One particular beach, in South Florida offers rock formations that cause the ocean water to crash and travel skyward, making exciting backgrounds. While the beaches in area's such as Boca Raton, Palm Beach, Fort Lauderdale, and Miami, provide a beautiful blue ocean background, the ocean turns emerald green and turquoise as you south. In the Florida Keys the ocean takes on a very unique Caribbean look. "Yes, you can get that Caribbean looking family portrait, without traveling to an island!
As a South Florida family photographer, I have captured beautiful and cherished family portraits all over the Florida Keys, Miami, Fort Lauderdale, Boca Raton, Palm Beach, Jupiter and beyond.
I started taking pictures at the young age of 13. Actually, my first camera was purchased while on a Caribbean cruise. As my brother and I wandered thought our first cruise, we passed to ship casino. Of course kids were not welcome in the casino. However, that didn't stop us. We approached the first slot machine, and in went the only quarter I had in my pocket. Suddenly, the slot machine decided to draw as much attention to itself as possible! The clanging of the quarters falling into the steel pan, the digging of the bell and flashing lights drew the attention of everyone in the area, including cruise ship security! After being reprimanded for a while, the question became, "The Money?" The winnings were given to my parents, and my father decided, both my brother and I could make a single purchase. My choice, "a camera". Since my dad was an serious amateur photographer, no argument there.
3 decades later and I have taken family portraits all over South Florida, and the Florida Keys. Of course as a South Florida photographer, I photograph much more than just South Florida family portraits. I shoot weddings, which, by the way, require family photography, and often family photography on the beach. I also photograph elopements, engagement sessions, Bat and Bar Mitzvahs, and even commercial assignments.
Working as a South Florida Family Photographer, doesn't mean I'm only shooting at the beach.
Of course the beach is very popular, however there are plenty of other places in South Florida in which family portraits could be taken. Below is a family portrait I shot at one of my favorite locations, the Boca Raton Resort and Club.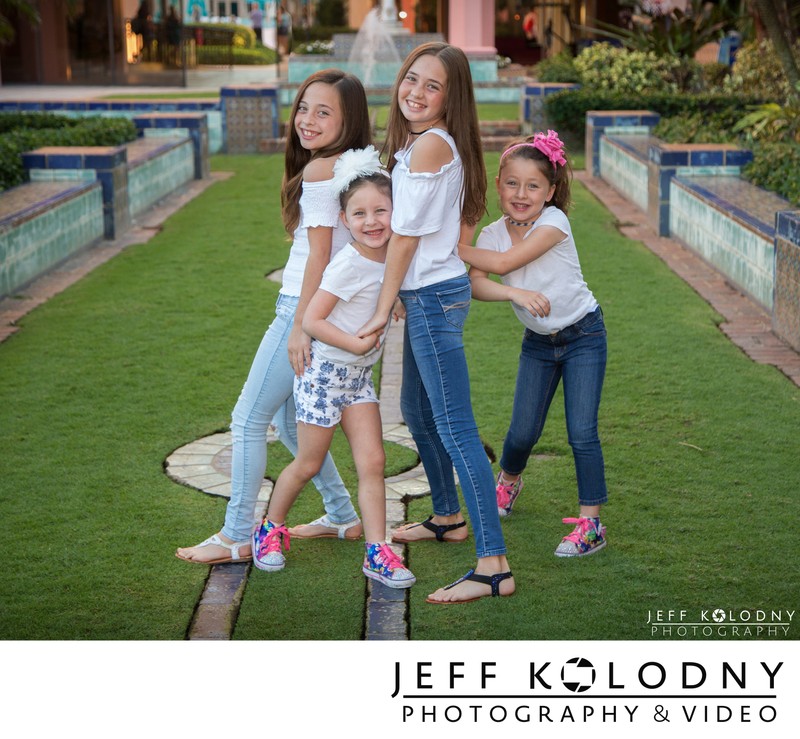 This South Florida luxury resort includes two beautiful venues. One is considered the main resort, the second is the Beach Club. The main picture in this post was taken at the Boca Resort Beach Club. Another fantastic off the beach location is The Morikami Japanese Gardens. If you love nature, flowers, and Japanese scenic landscapes, the Morikami and a great place to have a family portrait taken. I have taken many of my favorite pictures at the Morikami, here are a few: Mom and Dad at The Morikami This shot was taken during their family portrait session. Here is a Morikami Engagement Picture which is only one of the hundreds of pictures I have taken at this location.
If you are here in South Florida and have decided to have a family picture taken by a professional photographer there are a few things to consider. Of course portrait packages is one consideration, then there is how to prepare. When If comes to packaging, most South Florida family photographers offer several different options. One option includes, the photography and all the finished digital files. The other option is to have the photographer take the pictures, and then order single pictures, or packages of pictures as needed. As a South Florida family photographer, one of the largest factors that affects to pricing is retouching, For me, the retouching takes more time than the actual photography. Consider this, in a beach environment, the subjects,(You and your family) and your photographer are facing a wide range of obstacles which affect the pictures. First is wind, while somedays at the beach are calm, other days are breezy, and some days are so windy that beach photography is almost not possible. Almost every beach photo session, requires some stray or wind blown hair removal. When it comes to photo retouching of beach portraits, I always find myself doing the following: Skin retouch, which means removing shine and sweat, eye retouching, which means making sure eye color is clearly visible, some body contouring, (Of course, we don't talk about that, I just do it.). Fixing sunburn, this is very common, especially since so many vacationers spend too much time in the sun. Considering the time spent on retouching, it doesn't make sense to retouch all the pictures. Maybe just the purchased pictures or a selection of pictures. For me, I often include a package that includes a selection of retouched pictures.
Here in South Florida, most of the really great family portrait photographers are also wedding and event photographers. This means that many will not be available for shoot portraits on the weekend. This makes weekday photo sessions more common. In addition, it's important to remember that some of the beaches in South Florida get really crowded, so you should work with your photographer, (Hopefully Me) to pick a time and location, in which fewer people will be on the beach.
South Florida Family Photographer, tips for getting great photos.
If you are vacationing here in South Florida, you have a great opportunity to get priceless, family portraits that can adorn your homes walls for generations. Considering the opportunity, why not do everything possible to get the best pictures? For women, I would recommend hair and makeup. While many women have been applying their own makeup for years and are good at it, there is something special about using an experienced makeup artist. All of the makeup artist I work with have extensive experience applying makeup for photography. Shooting on the beach, means changing lighting, humidity. As an experienced South Florida family photographer, I can tell you to wrong makeup, could result in additional shiny skin, and eyes that get lost in the elements. Every time, I take family pictures in which the family enlisted to help of a makeup artist, I'm happy they did. Does this mean I'm disappointed every time a family doesn't use a makeup artist? Certainly not, however, I have shot plenty of family pictures in which I wished they did.
Be prepared for wind, Here in South Florida, we have our share of windy days. When you are vacationing here, you don't always get to pick the day with the least amount of wind. However, you can always check the wind forecast and pick the day with the least wind. Managing hair is a major factor, when it comes to Family beach photos. This means, bring hair clips, hair spray, a really cute hat could also make for some nice pictures. Of course having a really great photographer, helps. I happen to be really fast so when there is a quick moment of less wind I can shoot quickly. Another technique I use is to have my subject move in a direction that minimizes the effect of the wind. Finally, I'm a really skilled photo-shop expert. Moving stray hairs and replacing wind blown hair is a regular part of photo retouch.
If you are searching for a South Florida family photographer, call me and let's talk. Over the past 17 years working at a South Florida photographer, I have taken pictures at every beach in the area. I have also shot pictures at South Florida's best parks, museums, country clubs, and hotels.
My number is (561) 737-5561.
Jeff
Location: 7955 Emerald Winds Circle, Boynton Beach, FL 33473.