Jeff Kolodny Photography & Video
Marriage Proposal Photographer
Being hired as South Florida proposal photographer, means I'm in for an exciting, anything can happen experience.
When someone is planning on asking "Will you marry me?" it's a once in a lifetime endeavor. Will she (or he) say yes? Will it go as planned? Does the person being proposed to have a clue this moment is in the future. Then comes, the creating memory part. For some people proposing is an event that must be captured, and they are willing to plan carefully, and hire the best possible photographer. Of course I would love to be that special photographer. Having photographed a wide range of events, ranging from weddings, to corporate events to sports, I'm experienced in that, hide in the bushes type of photography assignment. Actually hiding in the bushes is not always required. Many times a marriage proposal takes place in a beautiful location, in which I only makes sense another photographer would be present. Take for example, this marriage proposal, Sunrise Marriage Proposal. This one happened at the Ocean Reef Club at a location named The Point, It's appropriately named "The Point" because is is a peninsula that points east to the sunrise. This one happened on Easter morning and there were plenty of people hanging around enjoying the beautiful sunrise. When they arrived they were not surprised to see a person with a camera taking pictures, what the unsuspecting girlfriend didn't realize was that I was there to catch her expression at the moment her boyfriend, now fiancé, proposes.
Over the past 17 years, I have captured marriage proposals all over South Florida. Some have taken place in Miami, others have happened in Palm Beach, Boca Raton, Fort Lauderdale, Delray Beach, and even Jupiter. While the concept is the same, girlfriend and boyfriend arrive, then he drops to a knee and proposes, the actual moment is unique all the time. This marriage proposal took place in Palm Beach, Florida. The florist / event planner set up a beautiful arraignment of blankets, pillows, flowers and champagne. The groom told his future bride they were taking a sunset boat ride that leaves from the beach. Little did she know, there was no dock at the beach and no boats leave from the beach. When they arrived she was confused about the boat trip arraignment. Then he suggested they take a walk down the beach. When she saw the set up she knew. You can see their marriage proposal pictures here: Proposal photography on the beach. If you scroll down the page, you will see more of the pictures from this Florida Proposal. Further in this post, I'll have links to other South Florida Marriage Proposals.
About this South Florida proposal photograph.

The proposal here took place at the wonderful and very beautiful, The Boca Raton, Beach Club. This luxury hotel is famous for hosting awesome weddings, corporate events, wild bat & bar Mitzvahs, and of course, marriage proposals, so many other activities, I'll never be able to mention everything this hotel offers.

This proposal was set up by the staff at the hotel. I was told what time to be on the beach, and where the boyfriend was going to propose. The hotel set up a "Will you marry me" sign which was designed to look like roses in the sand. I arrived at the set location and found the best position to capture the proposal at it happened, or would have happened. I waited, and waited, and waited. Since the wooden walkway to the beach was at a higher elevation, I decided I needed to be raised up. So I gathered some unused beach chairs and stacked them. This gave me enough height to get my marriage proposal shot. Then the couple appeared; However, they didn't arrive at the planned location. They advised far down the beach, at another wooden walking path. Not knowing what to do, I trained my long lens on them all the way down the beach. Had the boyfriend proposed at that point, I would have been too far away to get the best shot. Then they proceeded down the beach, heading south toward me. I knew they would come to the will you marry me? sign at some point, however the sign was turned the wrong way. So I quickly jumped off my perch made of stacked beach chairs, and went to work turning the "Will you marry me sign. so it pointed in a better position. Then I moved down to the water and acted like I was taking pictures of surfers.

When she arrived and he dropped to a knee, I turned and got these shots. They are not from the angle I intended, however I didn't have other options. I Was hoping I could get him proposing with the ocean in the background. Still I caught the moments. Below: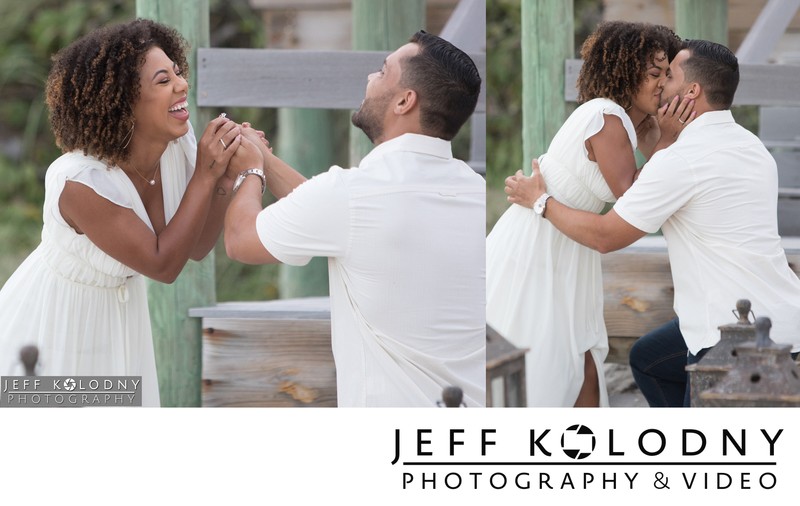 Once I got the pictures, I introduced myself and took more pictures. Whenever, I'm hired at a South Florida proposal photographer, I also include some engagement pictures as well. There is a tip, make sure your girlfriend dresses up before your propose. I have seen other proposal pictures in which the girlfriend had no idea she was about to get asked the question. If you are hiring a skilled photographer to capture your marriage proposal, you really should make sure she looks her best. This means, lie! Only this once. Tell her, you are going to a fancy dinner, a boat ride something that would require your girlfriend (or boyfriend) to dress the part.
South Florida is the best place to ask the big question.
What are the best ways to set up a surprise marriage proposal?
In the past, I have photographed a wide range of interesting South Florida proposals. One included an airplane carrying a sign saying, Marc has a question for you?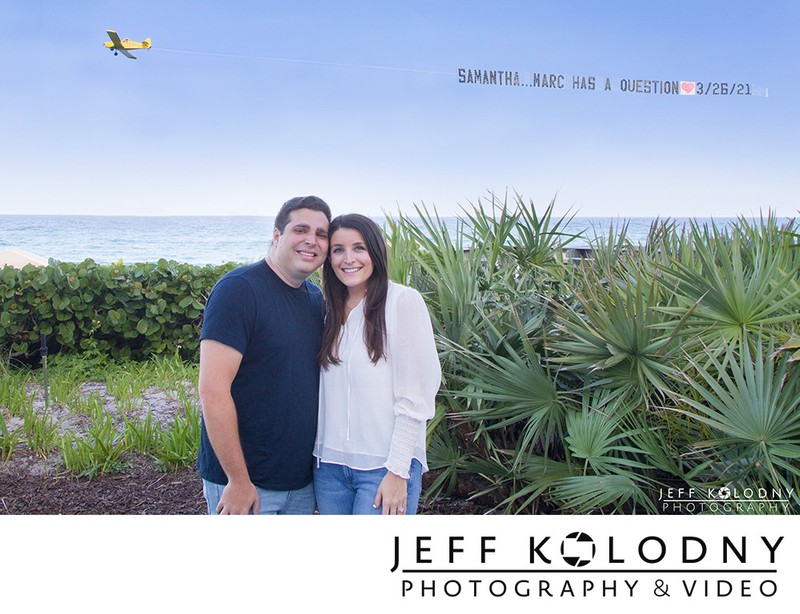 This South Florida proposal took place at The Boca Raton, Beach Club. Marc had arranged to for himself and his girlfriend to have a drink by the beach before their dinner at the hotel. We were all sitting by the beach with out cameras waiting for the plane to arrive. Every time a plane flew by, we pulled out our cameras, then it happened, as Marc dropped to his knee you could hear the crowd by the pool cheering. You can see their pictures and others here: South Florida marriage proposals.
This one was not quite the surprise that Marc had for. Here is why; Marc had arranged a family cocktail hour to take place after the proposal. When the family arrived at The Boca Raton all the family members hid in other parts of the hotel. One of the grandparents decided, he was not going to hide, instead he was going to have a drink in the lobby. When Marc and Samantha arrived, Samantha noticed her grandfather sitting in the lobby. That ended the surprise, She played along, and acted surprised, but the secret was out. With that said, she had no idea that Marc had hired a plane to fly over with the sign. Actually this entire thing was arranged by the staff at The Boca Raton.
Hiring a South Florida proposal photographer also gives couples the opportunity to take engagement pictures.
Once the question has been asked, and the answer is YES. Having engagement pictures taken is a great idea. Most newly engaged couples don't consider the fact that they will need pictures for their Save the Date cards, wedding announcements and for a possible guest book. Getting back to the proposal in this post, I spent about an hour shooting this couple on the beach after she said yes.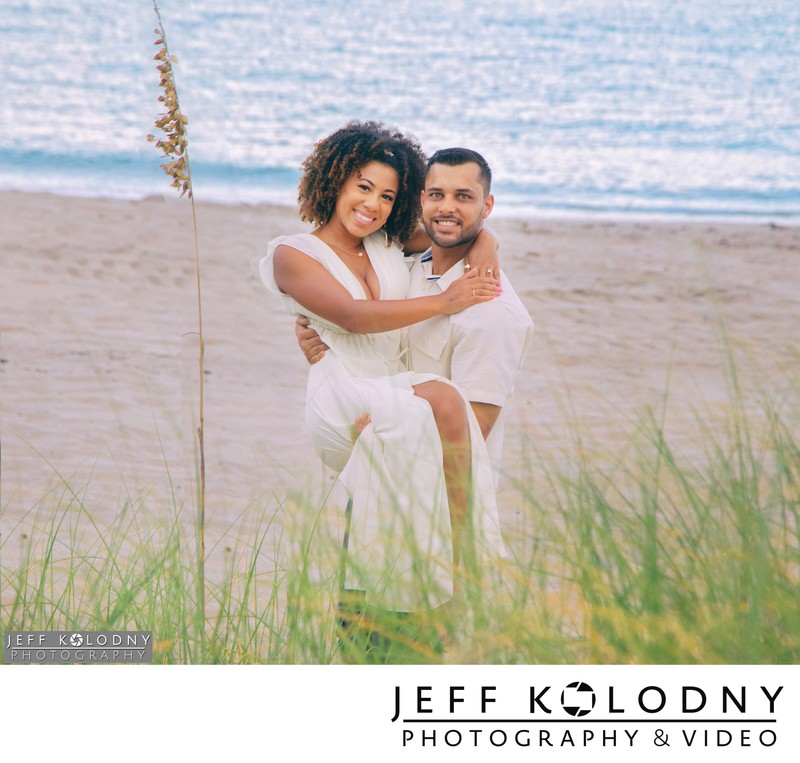 Picture taken at The Boca Raton, Beach Club.
ABOVE: As a South Florida wedding photographer, I always recommend engaged couples have engagement pictures taken. Why? It's a great way to determine whether or not you have hired the right wedding photographer. Having been a wedding photographer for over 20 years, I have had a number of couples hire after having engagement pictures taken by a different photographer. The main reason to the change of heart? The other photographer gave no direction. This is one of the hidden problems that is not apparent when viewing many photographers websites. You see, people love spontaneous, un-posed action type pictures. Often referred to as wedding photo-journalism. I love these types of pictures as well. However, a skilled professional photographer, must also be able to pose, understand lighting, and know how to make people look great. By doing engagement pictures, a soon to be married couple, will learn really fast, wether or not a photographer can pose, do lighting and make beautiful pictures.
Why hire Jeff to be your secret marriage proposal photographer?
There are so many reasons why I should be your number one choice when hiring a marriage proposal photographer. The FIRST reason is experience. I started taking pictures when I was 13 years old, since then I have received a BA in photography / communications. I had formal training in photography & video. Ofter college in NY I moved to Los Angeles and worked with some of the worlds most famous photographers. Talk about experience, I have shot every type of assignment imaginable, from Hollywood movie openings, where hundreds of people are trying to get :The Shot" to celebrity events in which famous people, needs to be photographed, quickly. I have shot sports events, and a ton of weddings. Working as a wedding photographer in South Florida, there is no room for error. This means I need to shoot with the right camera settings and be at the right place at the right time. To learn more about my life as a photographer click over to the About Jeff section.
The SECOND reason to hire me, has to do with the advanced equipment I being to each job. Shooting a surprise marriage proposal in South Florida requires equipment that works all the time, without fail. The lenses I use are made with the finest glass, and produce the best images. This is important because, I'm often far away, and using a long telephoto lens. However, having the best lens is not the only important factor. I also arrive with two cameras, both ready for action. If by chance one breaks the other is ready.
Third, Having been in business for so many years, I have a work ethic like no other photographer anyplace in Florida. When you hire me to photograph your proposal, expect good "Discrete" communications, I certainly don't want to blow the surprise. However, I'm always easy to reach, and I'm also great at planning for the moment. So if you are planning a Florida marriage proposal, and would like the special moment captured, forever in a way that is fun, and results in beautiful pictures, call me at (561) 737-5561


Location: Boca Raton, Florida.