Jeff Kolodny Photography & Video
Joel's senior pictures at The Wynwood Walls
As a South Florida photographer, of course I'm going to take my son's senior portraits.
If your searching for a highly skilled photographer to capture your senior pictures call us at (561) 737-5561
Have you been searching for senior photographer near me? Do you live in South Florida? If so look no further. As a Boynton Beach based photographer, I only makes sense that I, myself and going to take my son's senior pictures. During his 4 years in high school we had to endure school pictures being taken by a different school photography company every year. Not just in high school be grade school, junior high school. After receiving each set of pictures, I always did a reshoot. While some of his school pictures were ok, all of them lacked emotion, fun and creative style. His latest school photo session was more of the same. As a South Florida photographer who is in business, I understand that most school photography companies have a business model to follow. The main goal of that model is to make high profits by doing volume. This factory method of photography work well if the family or graduating senior doesn't have high expectations or is on a budget. However, if you are looking for more than just the norm, then consider hiring a more creative photographer like myself. I'm based in Boynton Beach and have photographed family portraits, bat and bar mitzvahs, and weddings all over South Florida. If you have searched using the terms, senior photographer near me and you live in Boca Raton, Parkland, Fort Lauderdale, Wellington, Palm Beach, Boynton Beach, Jupiter, Delray Beach, Coral Springs, Deerfield Beach or any other place in South Florida, call me. I can be reached at (561) 737-5561
As the father of a graduating senior, it's a sure bet that I was going to shoot my sons senior portraits myself. The only question was, where? He wanted a unique cool and trendy location. Also, a place where we could have some fun. For my son Joel, that place was the Wynwood Walls in Miami.
If you are looking for a unique location to take senior pictures, family pictures, engagement pictures, and pre bat - bar mitzvah photo sessions, check out the graffiti artwork that adorns all the building around the Wynwood Walls.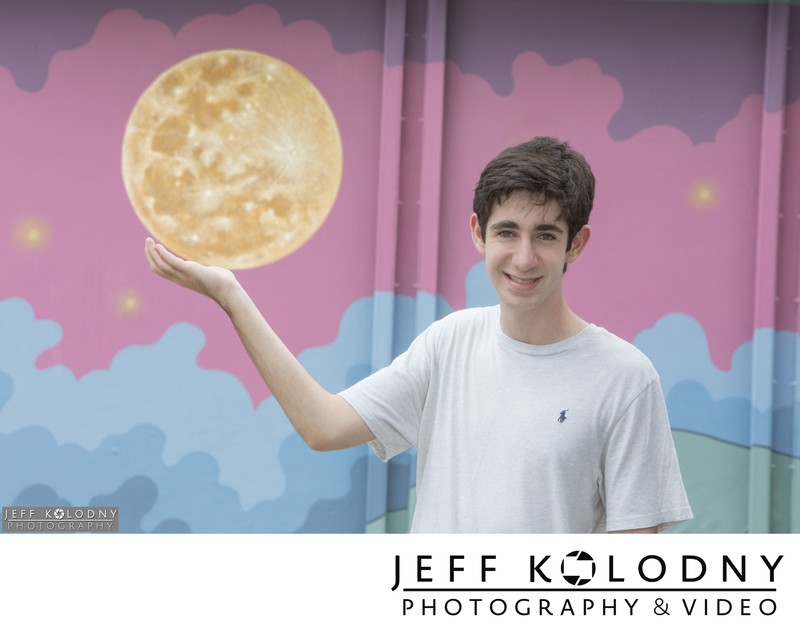 Driving up the 95 North from Miami, it's easy to spot part of the Wynwood neighborhood by looking east from the hwy. Of course I recommend looking at the road and not looking for graffiti artwork. However, a visit to this Miami location is well worth your time. The artwork that is painted on the sides of the buildings in this neighborhood is very creative and changes often. When Joel and I arrived we decided to drive around and check out the different artwork on each building. Of course, driving around will allow you to cover lots of ground, but walking around gives you the opportunity to take in all the sights and sounds of the area. Some of the best artwork is hidden in alleyways so walking around to seek out unique backgrounds is always a good idea. Exploring the area you will find that there is more that just artwork to enjoy. There are lots of stores and shops, and plenty of places to eat as well.
Some of the graffiti was funny, some artsy, some just included patterns, and mystic type scenes. In the past I have photographed pre bat / bar mitzvah portrait sessions and engagement sessions at the Wynwood walls.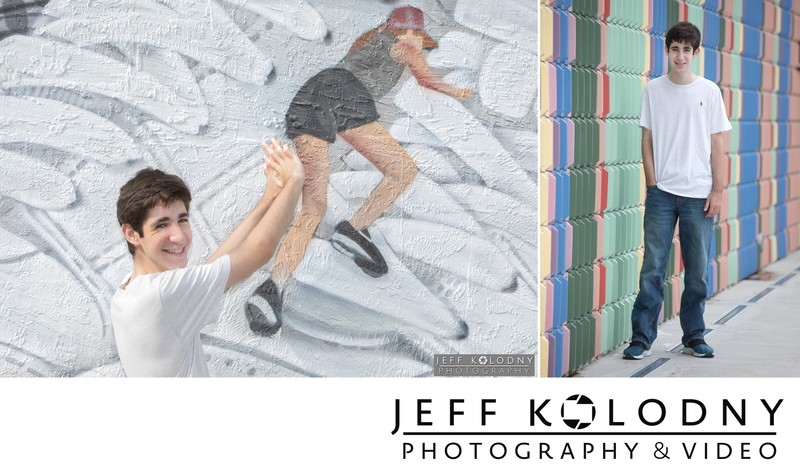 Walking around the Wynwood district we came across everything from funny, to creative to artistic, and graphic patterns. There are also many dining options from sit-down restaurants to stands where you can grab a quick bite. Plan on spending several hours there because there is so much to take in. If you have a camera in hand, you will find endless backgrounds to take graduation pictures, pre- bat & bar mitzvah pictures, and even family portraits.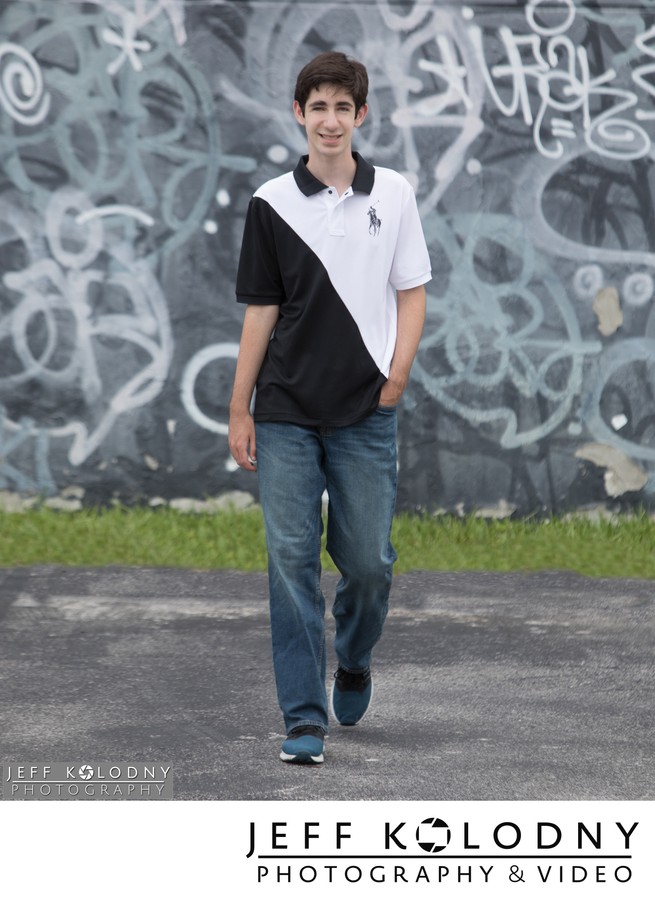 ABOVE: When we first arrived we started making pictures at at a building that featured the black and white lines. See the featured picture. My son, Joel had brought this black and white shirt that worked perfectly for the stark black and white artwork. While not his favorite shirt we decided to use this one for this background. Across the street was a parking lot with the grey toned background, this make sense to this same shirt. As a experienced portrait photographer, I felt that the jeans and black and white shirt worked well with this area as well.
If you want senior pictures or school pictures that are unique and creative, I recommend breaking away from the standard school photography companies.
By hiring an independent South Florida photographer you are not going to be stuck in boring studio that limits you picture count to a few poses or a limited number of backgrounds. While some of these studios offer a green screen option, that still doesn't create the fun and uniqueness of actually being on location. Of course the Wynwood Walls isn't the only cool place to take graduation senior pictures. I recently shot cap and gown pictures in and around Worth Avenue another one of my favorite places for South Florida portrait photography. Check out these cap and gown pictures of this graduate.
Often I receive calls to photograph graduating seniors at locations on campus as well. Recently I have photographed seniors at Florida Atlantic University, Broward College, Palm Beach State College, Barry University, Lynn University, Everglades University, and may others. Of course, I have also photographed high school students as well.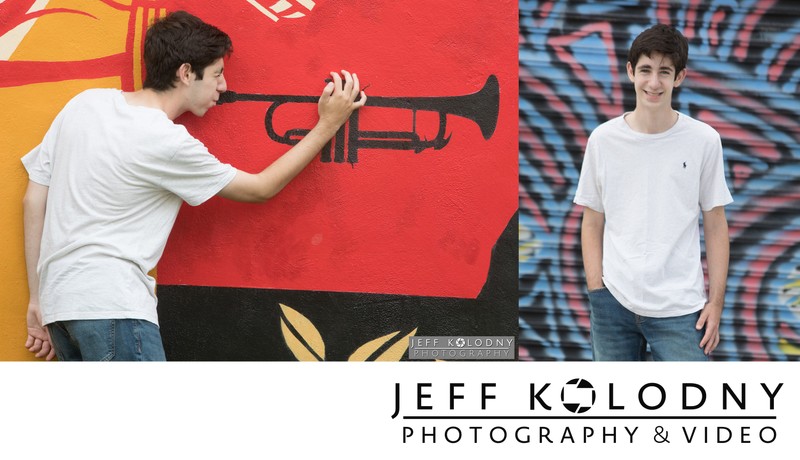 You can find just about any theme you are looking for some place at the Wynwood Walls. Of course you may have to drive around the neighborhood searching for the perfect piece of artwork, but my guess is eventually you will find what you are looking for. Since we take lot's of Disney cruises we found this Disney mural enticing.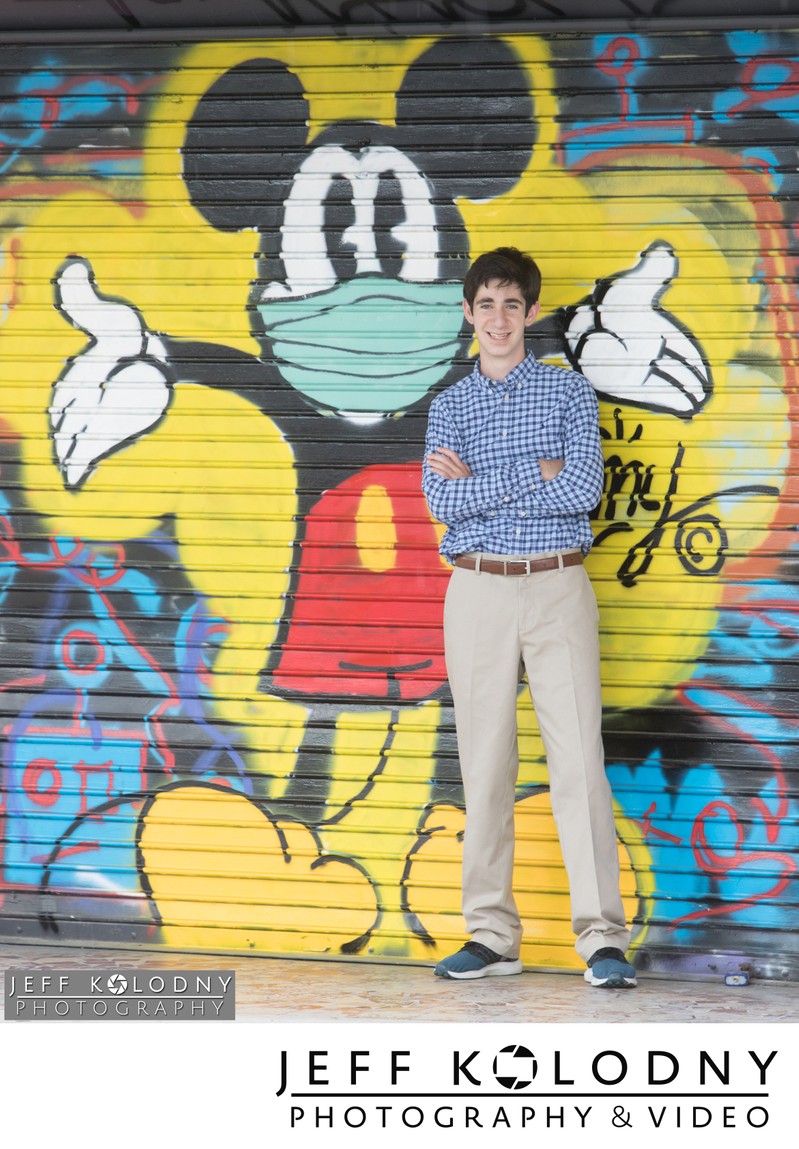 As it turns out, I'll be back to take pre-bar mitzvah pictures at the Winwood Walls today.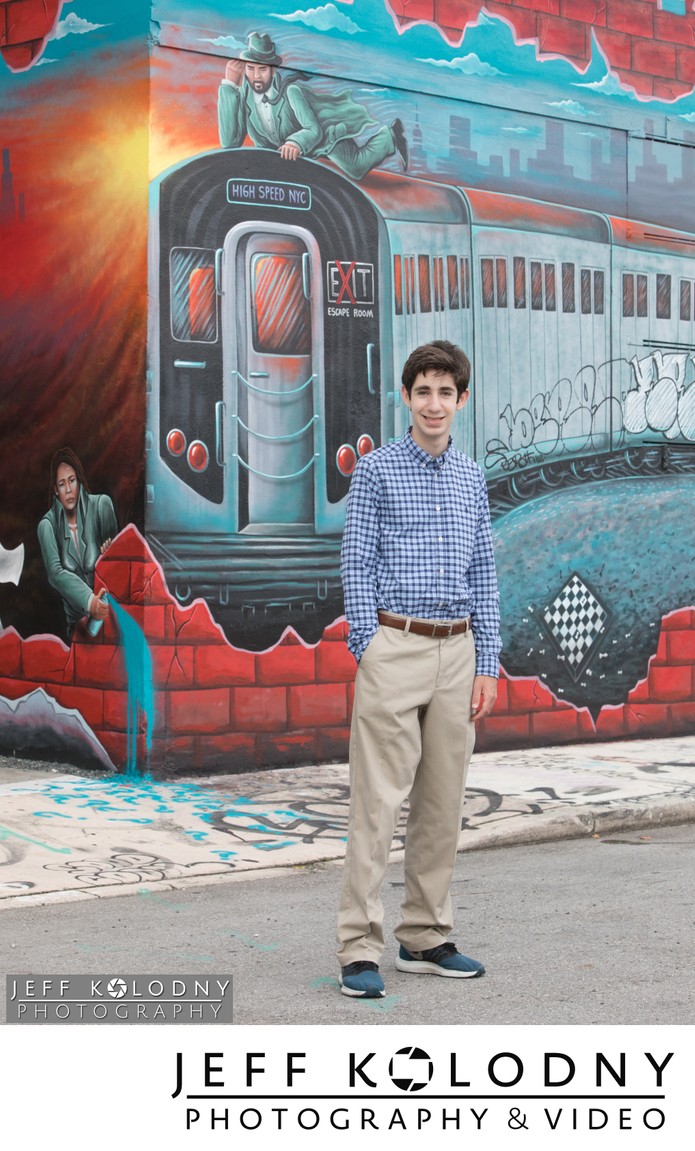 In addition to capturing beautiful senior pictures, family portraits, pre bat / bar mitzvah portraits, I also offer full photography retouching. Check out this article that shows the extent of our retouching services. Photo retouching by Jeff Kolodny.
If you are the parents of a graduating senior or if you are a graduating senior, and you want fun unique and artsy pictures then consider hiring me to take your pictures. I'm happy to travel to your university or to any other unique location to take your pictures.
Here are some more links to samples of my photography.
Family portrait taken in Boca Raton. In addition to taking pictures at the Wynwood Walls, I also take lots of family, mitzvah, engagement and other portraits at many of South Florida's beach locations. The picture in the above link was captured at the Boca Raton Beach Club, which is a venue I work at often.
This picture from a family portrait session was also taken at The Boca Raton.
Location: 266 NW 26th St, Miami, FL 33127.