Jeff Kolodny Photography & Video
Florida Elopement and Wedding Photographer
Looking for a top notch Florida Elopement and Wedding Photographer?
I'm glad you found me! If you like this fun bride and groom wedding photo then read on.
I've been photographing elopements and weddings here in South Florida for over 15 years. My father was a doctor and a skilled amateur photographer. When I was 15 years old my family took a cruise on a Russian ship from New Orleans to Mexico. The ship was the MV Odessa. As a way to keep us kids out of our parents hair, my dad gave us some quarters to play the ships slot machine. (Kids were not allowed in the casino, but I think my parents needed a break.) I put my quarter into the slot machine and boom! (777) The machine kept spitting out quarters for what seemed like hours. When the noise stopped and the quarters stopped falling into that tin clanking bin, I had $100.00 and the cruise ship security standing behind me. The cruise line gave the money to my father, then promptly sealed off the casino from kids. I really wanted to buy a camera from the gift shop and since my father was into photography, I got the camera. This was the beginning of my life as a photographer.
By the time I started college I was getting paid to take pictures, and fix cars. The fixing car thing didn't really work out. However, I did receive my BA in Communications and Photography. After spending another 20 years working as a photographer in Los Angeles I made my way to South Florida. It's a long story, but the short of it is, my wife was the marketing director for Playboy and well, I shot for Playboy. Playboy was sending us to South Florida, actually Miami, then Jamaica. Ask me and I'll tell you to full story. Anyway, we loved LA but moving here made sense. I had a successful photography business in Los Angeles so I started up a photography business here in South Florida.
Once I moved here I started working as a South Florida Elopement and Wedding Photographer.
I also shot other stuff such as special events, corporate photos, Food photography - that's another topic. I had always known that there are a lot of weddings in Florida but I didn't realize that there are also tons of Elopements. Actually, before I moved to South Florida, I never shot an Elopement. Once I started getting calls for weddings with only two people I was on my way to elopement city. You may be wondering, what is the difference is between an elopement and a small wedding? Technically the word elope means to "run away and secretly get married" Without the parents knowing. Often couples elope because one of both of the parents disapprove of the marriage. Having shot so many elopements here in South Florida I have found that, the parent thing isn't a factor. It's often a spur of the moment decision, or the couple just wants to get married alone. (With me taking pictures, of course.) Often we are asked to video the elopement ceremony because the bride and groom are planning a big party at home one day in the future. Another big factor that couples consider is the cost, and all that money they will save by not having a big wedding. In working as a South Florida elopement and wedding photographer I have found that couples having a small wedding or elopement are not cheap, they are willing to pay for nice things, they just don't want to pay for chicken to feed 200 wedding guests, or they don't want their friends and family to blow their holiday weekend traveling to South Florida for their wedding. I know this because I often find myself photographing small weddings and elopements in some of South Florida's finest hotels. When I arrive to start the photography, I find the bride has a make-up artist just finishing up and the her Vera Wang gown hanging on a custom hanger.
What is the difference between an elopement and small wedding? As a South Florida photographer I photograph many of both. Elopements tend to take place during a weekday. By the way, a weekday wedding ceremony is a great way to save some money. If I get a call for a Saturday or Sunday elopement, I have to consider the fact that I'm most likely turning away a full wedding. This will be reflected in the cost, not to mention the fact that I'm most likely alway booked with a wedding. Since elopements often occur with short notice most take place during the week. On the other hand, small weddings require more planning. Some family and friends often attend small weddings and they usually take place on a weekend day. As a South Florida elopement and wedding Photographer, I really enjoy photographing small weddings because they usually have all the elements of a large wedding but with much fewer guests attending. Couples who plan small weddings usually have the mindset of, "we want a nice luxury wedding with everything any bride would ever want, but without the high cost of feeding steak and lobster to 200 wedding guests.
The picture in this article was taken at a small wedding which took place at The Palms Hotel in Miami Beach. The Palms Hotel is a beautiful upscale hotel that sits directly on a fantastic part of Miami Beach. Check out this bride and groom picture taken at The Palms, Miami Beach. I love how the beach curves around exposing the ocean and providing a view of Miami Beach and South Beach. Here is a link to the same bride in another Palm's wedding photo.
Below is another elopement picture from one of my favorite locations.
This picture was taken at The Morikami Gardens, in Delray Beach. If you are planning a South Florida Elopement, and you are not into getting married on the beach, than you should consider the Morikami. Working as an elopement photographer, I have photographed weddings, engagement photo sessions, family portrait shoots, and elopements at this photographic wonderland. I have actually photographed more elopements here than any other type of sessions. Why is the Morikami so popular? For starters, it's a beautiful place with a giant very attractive lake in the center of a lush garden. Photography can take place at any point around the lake. When you take to walk through the gardens and circle the lake, you will find, bridges, bamboo groves, rock formations, tea houses, small streams. For a photographer who does elopement photography in South Florida it's a visual wonderland. If you are visiting South Florida and need help planning your elopement, call me at the number below. I will be very happy to help you plan the perfect and memorable elopement.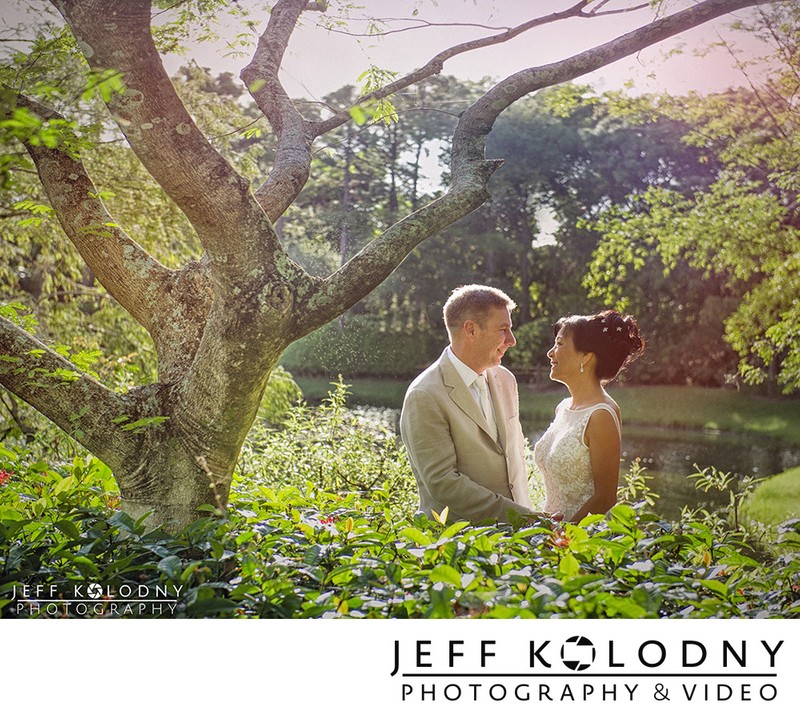 If you like my pictures and would like to talk with me about your elopement or small wedding, give me a call, I love to talk shop, Wedding and Elopement photography shop it is!
My number is (561) 737-5561. I can't wait to hear from you. By the way, you could also e-mail me at jeffkolodny@yahoo.com
Jeff
Location: 3025 Collins Avenue, Miami Beach, FL 33140.