Special Event Photographer in Miami
As a special event photographer in Miami I get to photograph some of the most exciting and beautiful gatherings in town.
This table decor picture was photographed at a end of the year party in Fisher Island. The client who has held this party every year has been hiring me as the official party photographer for several years running. The decor at this event was created and designed by Guerdy Design one of the best florists and event decorators in the entire Miami area. Since this is a holiday party the theme is always a winter wonderland or holiday theme type event. At these parties you will find that the decor is unique with an outside the box twist. At the end of this post, I'll include links to other pictures from this yearly event. Of course I can't show the guests but by looking at the decor and entertainment you will get the point that this is a event in Miami to look forward to. While the client is absolutely wonderful and always treats me well with a dinner and their friendly attitude, I'm always remain professional. Yes it's a party, however as a professional special event photographer in Miami, it's important for me to cover this as I would any other serious event such as a Charity Event, Awards Dinner, Corporate Event, Sales Event, Team Building Event, and so on. For me this means getting pictures that are well though out in terms of composition, exposure, sharpness, event expression of the guests being photographed. While you may think, expression of guests? It's a party. This is true, however, sometimes event guests at a Miami party forget to smile. As the hired photographer, its up to me to flash them a smile when taking the picture. This in turn, makes them smile. It's also very important to make sure, every person who attends is photographed. The host of the event always wants to look through there pictures and be reminded of everyone who attended.
I know I'm not the only special event photographer in Miami, however I believe I'm the best.
Why, and what make me the best? First I have years of special event experience. In 1986 I decided to make to Los Angeles. I had received my BA in Communications and photography and found that all of my favorite photographer were based in LA. Before making to move, I had read all the books and watched the video of my favorites. Once I moved to the LA, I found that working for these people was easy, providing you were willing to work your butt off for free. Photography was, and still is, my life blood and I was willing to do what ever it took to learn from the best. Fast forward several years later, I held a job at one of the most prestigious photography printing and production companies in the world. Check out ColorEdge, at the time ColorEdge was Color House. I worked there for several years and used my time there to hone my skills. I also photographed hundreds of events in the Los Angeles area as well. My clients included, The Los Angeles Times, Disney, Universal Studios and other movie studios as well. One day my boss at Color House, gave me the option of moving into a management position. At the time, and still today, my love is shooting and creating images. Not that I was not doing that at Color House, I just wanted to do that for my own business. After almost 20 years working and owning a Los Angeles photography studio, I decided it was time to relocate to the Miami Area.
It took several years and lot's of hard work to become one of the top special event photographers in Miami.
Once I made the move to South Florida, I realized that I was the new guy in a sea of talented photographers. These photographers had their connections and it took a long time of working to prove myself before I started getting jobs and assignments. Luckily some of the event planners gave me a shot and decided I was worth referring. With every job came a new opportunity and another chance to build on my previous success. Today, I am photographing special events in Miami as well as Fort Lauderdale, Palm Beach and all over the country. The fact that Miami is just a short flight to the Caribbean means that some clients are willing to fly me to the islands to photograph their small weddings and elopements. In addition to special events in Miami, I also photograph plenty of Bat and Bar Mitzvahs, Weddings, Elopements, as well as portraits sessions, maternity sessions and engagement sessions.
More pictures from this Miami Special Event.
If you are planning an event in Miami and are looking for some decor design ideas check out these links. Candy theme table design. This decor shot was taken at a earlier holiday party at the Fisher Island Club. Guerdy, did an incredible job with this unique theme party decor. Masquerade theme holiday party Here is another really cool table design also at the Fisher Island Club. This one was very unique and the guests were greeted with entertainment the very second they arrived. If you like the picture featured in this post here is another angle of the same table.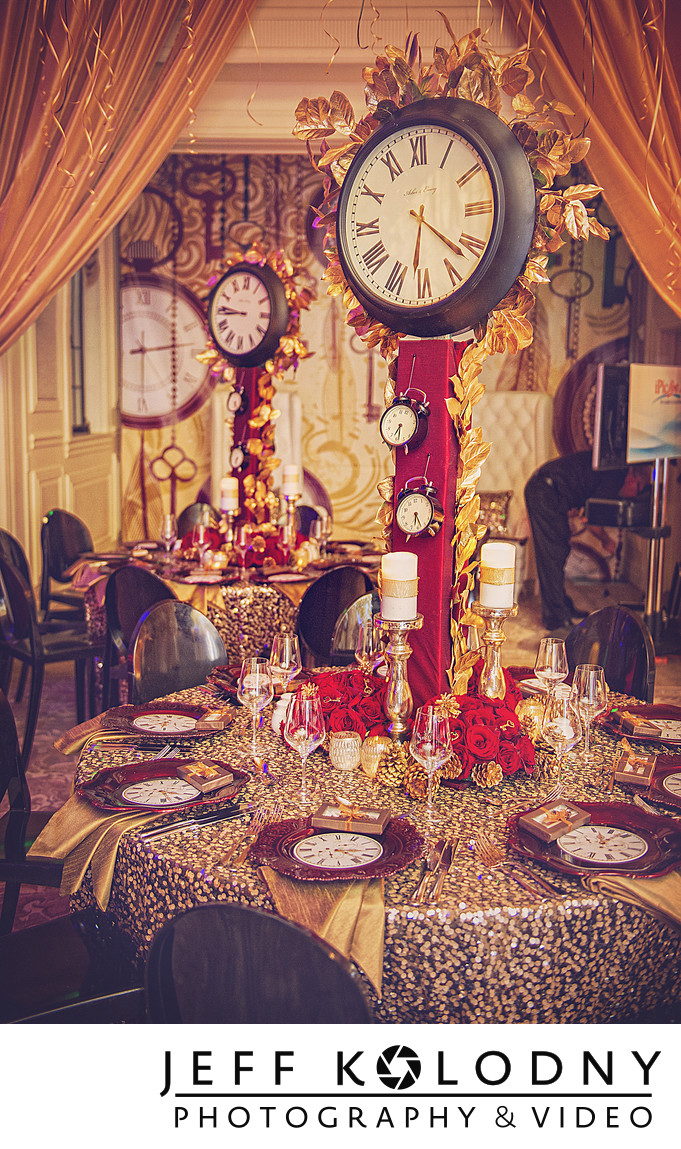 Also, check out this picture from another one of these Fisher Island holiday parties.
Location: 1 Fisher Island Dr, Miami Beach, FL 33109.