South Florida Event Photographer
As a South Florida Event photographer I get to shoot some really cool stuff.
This model posing with a new product was taken at a special event for Nokia Communications. While this is one of the older photos in my gallery the event was very memorable. This new product party featured models walking around with display products, great food and drink, a video presentation and of course great food. Nokia wanted to get as much publicity as possible from this rollout. Because I'm a well known South Florida event photographer my name was given out by the planner to cover this rollout. While I photograph many special events in Miami I'm also skilled at photographing products and products in editorial situations. This was very helpful for this client because as a single photographer, I was not only able to cover the event, I was also able to photograph detailed product photos which were used for the public relations agencies advertising endeavors. When potential client need to hire a photographer for event photography it's always a plus if the photographer can also shoot additional types of photos. If the hired photographer can cover the event and also shoot editorial, product, close-up and headshots or professional portraits the client doesn't need to hire several photographers.
This event took place at the Fontainebleau, Miami Beach. If you have never heard of this hotel let me clue you in. The Fontainebleau is a huge hotel that has been popular for all kinds of events ranging from, Charity Events, Corporate Events, Weddings, Company Parties, Trade Shows, Seminars and Conferences, Team-Building Events or in this case Product Launch events. Given all the different types of events that take place in a single venue like this, It only makes sense that clients will get more bang for the buck if a single photographer can cover a wide range of projects.
Other South Florida photography assignments to check out.
In my many years as a South Florida Event Photographer I have shot a wide range of assignments such as this charity event which took place in Palm Beach and featured to musical talents of Kool and the Gang. or this really awesome event that featured Gladys Knight. Let me tell you this girl has some awesome voice! I also photographed a team building and sales event for a large company that hired a Fighter Pilot to talk about success in life. I recently covered a South Florida event in which the guest speaker was astronaut Scott Kelly. Because I'm a dependable photographer people hire me to take photographs of events in which missing a shot is not an option. I always bring extra back up gear, I arrive early, I talk with me clients several times before the event and make sure I have detailed notes with me when I arrive.
Below - Check out this photo from a recent party.
As a South Florida photographer I get invited to all types of events. These events are common for people who work in the event industry. As a photographer, its in my nature to shoot pictures at some of these parties. The main reason why these parties take place is to show others in the event business what the different providers do. For example, a florist will provide flowers and decor, a photographer will shoot pictures and share them with everyone who attended. A venue will host an event so that others can see a new location.
As a South Florida photographer, I never get to talk with the other vendors during a job. I'm just too busy working. During a job is no time for chit chat. It's a time to work. However, during events or parties such as this one, us vendors have an opportunity to talk about past jobs, future jobs, and catch up with our personal stories. This picture was taken during a industry party in Lake Worth. The food was awesome, the flowers looked beautiful, having the opportunity to catch up with those from past and future weddings, Bat / Bar Mitzvahs, and corporate parties made for a fun time. This model dressed as a mermaid was sitting around the pool and hobnobbing with party goers.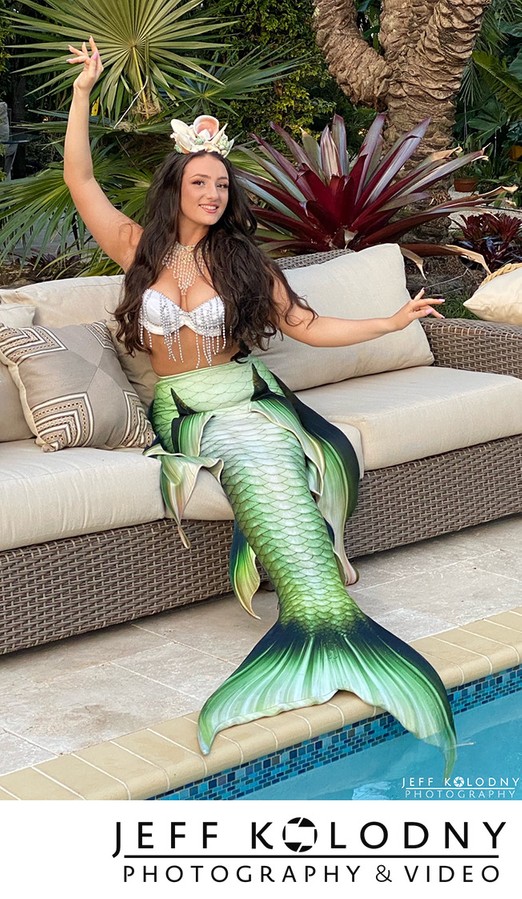 I'm formally trained in photography and have been a South Florida event photographer for over 15 years.
When someone decides to hire a photographer they want to be sure that the person showing up is reliable and also have the experience the handle any situation that arises. When I graduated with my degree in communications and photography I thought I knew it all. If have been taking pictures since I was 16 and shot pictures through high school and and college. While I had some work experience during college as an intern I was not prepared for life as a professional photographer. I moved to Los Angeles after graduating with my BA degree and very quickly found that I had a lot to learn. In order to gain real world experience I worked for many other successful photographer for free. Every weekend and most weekdays I was out shooting and lugging equipment. I was required to arrive early and ready to work late, every shot I took was analyzed and questioned. This went on for many years. I had to answer to some very hard core demanding bosses as well as many well known celebrities and successful business people. If you are not familiar with the ins and outs of working for celebrities let my tell you, most are not easy going. They demand perfection and have no problem expressing their dissatisfaction if they are not happy. Some are not nice other are nice but demanding. One thing I could tell you, I got one hell of an education and developed a work ethic that only comes from years of working for people who demand excellence.
I'm based in South Florida and photograph events all over the area.
I moved from Los Angeles to South Florida over 15 years ago. Over my past 15 years I have covered events in Miami, Miami Beach, South Beach, Coral Gables, Fort Lauderdale, Broward County, Boca Raton, Palm Beach & Jupiter. I have also been hired to travel to New York, Los Angeles and other far away places. Often a client will hire me to photograph their Miami event then fly me to another state to cover another corporate function. Because I've photographed so many events I'm can offer a huge amount of helpful information and special tips for anyone planning a special event. My blog is filled with articles that include helpful information about a wide range of events. Here are some links to some helpful blog articles.
Hiring an event photographer This article includes info on photographing keynote speakers, event decor and photographers personalities.
Question to ask your event photographer This blog post covers topics like Headshots, Photography usage rights and entertainment.
If you like the pictures you see in this article and would like to learn more about my photography please give me a call at (561) 737-5561
Location: 4441 COLLINS AVENUE MIAMI BEACH FL. 33140.