Photographer for Corporate Events
What a lucky assignment for a South Florida corporate event photographer!
When I was a young kid one of my favorite hobbies was building and flying model rockets. I must have flown about 30 different rockets. I ordered them from a company called Estes and if you click the link you will see that this model rocket company is still selling model rockets. When my son was old enough I also purchased several rockets to build and fly with him. Given my childhood experience and the fun I had with my son, you could imagine my excitement when I found out I would be photographing astronaut Scott Kelly at a South Florida corporate event.
As a photographer for corporate events many different skillsets that must blend together to ensure the assignment is covered completely.
This assignment was no exemption, the event took place at the Boca Raton Resort and Club and lasted several days. Each day required a completely different photographic assignment. The assignment started with an evening photo-shoot in which two photographers were required. One photographer covered the opening night dinner party and the other photographer shot corporate headshots and casual portraits of each attendee. We arrived early and set up a corporate styled backdrop and professional lighting equipment. Then as the attendees entered each person had the opportunity to get either a headshot or a Casual photo taken. During this time the other photographer ventured about and photographed the guests having a great time. During this time is was important that we get pictures of people networking, and having fun. In addition to photographing corporate events our services also include photographing charity events as well as sales events and team building events.
Often at a corporate event we are required to photograph, lectures, award dinners, breakout sessions as well as providing corporate headshots.
This event also required all of the above, The next day we set up a headshot station so that attendees could get their headshots taken when they had a chance. We also photographed the break-out meeting which took place in different locations around the hotel. Shooting these corporate sessions required us to capture the speakers or lecturers while they were busy educating the class. This meant getting good expressions and creating images that conveyed what was being taught. Keep in mind that this had to be done in a tactful manor because we couldn't draw attention away from the speaker. We were also required to take headshots of each attendee. These headshots had to be done quickly and everyone had to look great. Some of the attendees wore glasses and some didn't. During a headshot session it's important to make sure the glasses don't have distracting glare. Then meant that we had to make quick lighting changes for the people with glasses. On another evening this group had a awards dinner. Photographing an awards dinner required photographing each keynote speaker and each person who received an award. Because the awards dinners often have a tight schedule the photography needs to be done quickly with attention to detail. I always have a second camera ready to go just in case a battery dies during the awards dinner.
We photography corporate and charity events in the entire South Florida area including, Miami, Fort Lauderdale, Boca Raton, and Palm Beach.
South Florida includes a large area and there are all kinds of events that take place in all the South Florida counties including Dade County, Broward County and Palm Beach County. Because of our great beaches and large entertainment options this is one of the hotspots for special events. According to the latest statistics there are over 400 high-end luxury hotels located in Broward, Dade and Palm Beach counties. In addition there are over 2500 other hotels and resorts in the South Florida area. With all these venues in the area finding the perfect hotel for a corporate, charity event or business related event should be an easy task. Let's also remember that in the winter months while most of the country is frozen South Florida is a great place to visit.
The perks of being a South Florida corporate or special event photographer.
Astronaut Scott Kelly gave a great talk. During his lecture to touched base on his career, his year spent on the international space station, and global warming. We spoke for over an hour and was really a great speaker. He also took lots of questions from the attendees. Part of our event coverage included a photo opportunity with mr Kelly. I got very lucky and was able to have him sign a note to my son Joel. BELOW: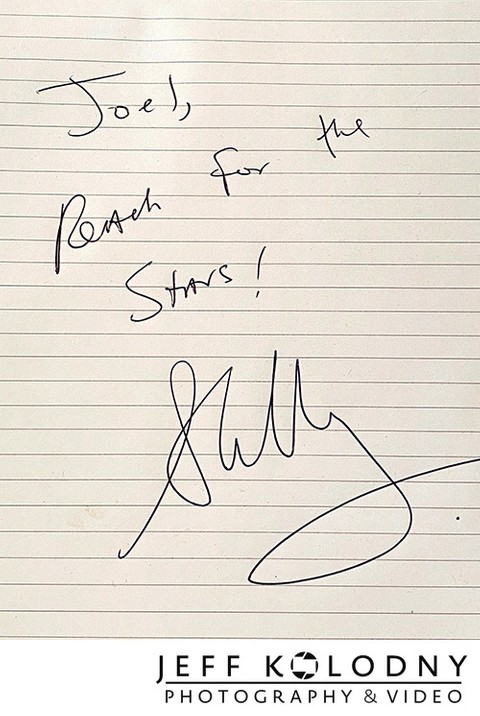 I was thrilled that Scott Kelly offers to write a short note to my son Joel.
This is one of the perks of being a photographer who shoots all kinds of events in the South Florida Area.
Between the weddings, Bat Bar Mitzvahs, Charity Events, Corporate events, Commercial assignments, book signings and Team building events I get to meet a lot of famous people. Here are some links to other well known people I have photographed.
Kool and the Gang! Click here to see a picture I took at a Palm Beach charity event that featured this very popular band!
Pilot Lt Col. Dan "Noonan" Rooney. This guy is not only a published author but also a great speaker. Click this link to learn more about this extraordinary person.
Gladys Knight at the Boca Raton Resort and Club. This girl have some voice. I got so lucky to photograph an event that included a small concert by this superstar!
As you can imagine putting together special events and corporate events like this requires the help of a top notch team of event professionals. If you are planning a special event or corporate event in South Florida I would be thrilled if you reached out to me for assistance. Aside from providing photography and video I'm also very well connected. I'm always working with the best event planners, hotels, and entertainment companies in the area. My phone number is (561) 737-5561. I wold love to hear from you.
Jeff
Location: 501 E Camino Real, Boca Raton, FL 33432.