Fisher Island Vanderbilt Mansion
When I moved to South Florida just over 16 years ago I never heard of Fisher Island, much less the Vanderbilt Mansion. As I made the rounds, and did more special event networking I heard more and more about Fisher Island. Once I heard that it's an island of Miami and that you had to drive your car onto a boat to get there I couldn't wait to work there. After about 3 years of shooting various events and around Miami, Miami Beach and South Beach, I finally got a call for a wedding at the Vanderbilt Mansion. I was so excited!! Weeks before the wedding, I made a wedding site visit to the property to check it out. I met the catering and event director and walked to grounds. I had all the great photo spots in mind for the big day. Before the wedding, I worked with the bride and groom and made a photography timeline which included plenty of time for the first look and then bride and groom pictures. When I arrived, I was shocked to find that the bride's makeup had not even been started. We had a scheduled "First Look" set for 4:00PM and now it was 4:00PM and the make up artist was just starting with the bride. It was a bummer, I had all these cool locations picked out and no one to photograph. If you are planning a wedding or photo shoot and have hired hair and make up follow this rule. Lay down the law regarding the time the person being photographed needs to be "Photo Ready"! Once the bride was ready, I only had about 20 minutes to get bride and groom pictures. Even with this delay, I still got plenty of pictures.
I must have gotten some great photos at the Fisher Island Vanderbilt Mansion
because, when I went back with my pictures, they added me to their preferred photographers list. Ever since then I always look forward to shooting pictures at this most iconic location. The act of driving your car onto a boat to sail across the Miami Bay as well as seeing all the cruise ships lined up screams luxury in Miami. The entire process of getting to Fisher Island is exciting. At least, I think it is, and anyone who I have taken to visit the Vanderbilt Mansion seems to agree. Once you arrive on Fisher Island, it's only a short drive past beautiful landscaping, the golf course and ocean views to arrive at the Vanderbilt Mansion.
Working as a South Florida photographer, I have shot some of my favorite images at the Fisher Island Vanderbilt Mansion.
Over the years I have photographed weddings, holidays parties, family portraits, and other interesting events at the Vanderbilt Mansion. This picture was taken at a yearly holiday party which was hosted every year for several years running. Each party featured beautiful unique decor, creative acts, and entertainment that was top notch. At this party all the guests walked in and had their picture taken with this creative mechanically designed character. It was a great photo opportunity.
BELOW: This picture was taken at another Fisher Island Party. This girl in the photo is a aerialist who would swing herself up to a section that held wine and champagne bottles. She would then grab a bottle, swing herself upside down and pour the guests a glass. It was quite an attention getting and interactive act. For this Miami event photographer I found it exciting to photograph and the pictures came out fantastic.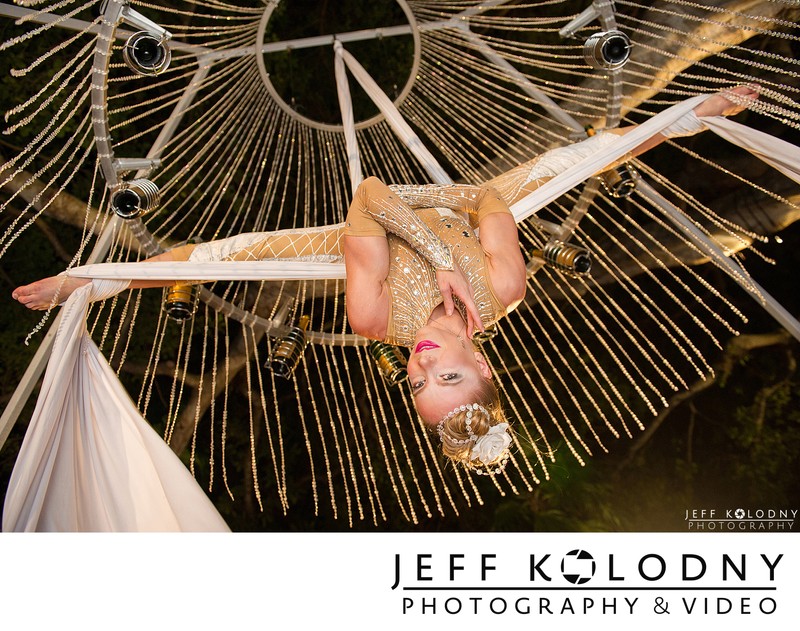 Hanging upside down while offering guests a pour of champagne provided interactive entertainment that was fun and unique.
Photographing unique entertaining and imaginative acts such as this is why I love working as a Miami event photographer.
BELOW: Here is another image taken at one of the Fisher Island holiday parties. The decor at each of these parties was more elaborate than the next. The event planner for these parties created some of the most unique decor ever.

If you are planning a Wedding, Bat / Bar Mitzvah, Holiday party or any other function at the Fisher Island Vanderbilt Mansion I would love to be your photographer. I know every inch of Fisher Island and all the great photo spots around the club. Having been a special event photographer for over 25 years I have the experience to capture all the aspects of your event. I can be reached at (561) 737-5561
Jeff