Charity Photographer South Florida
As a charity photographer in South Florida I was thrilled to photograph this Chris Evert tennis event.
Working as a South Florida charity photographer I get to photograph a wide range of interesting and unique events. Photographing these events gives me the pleasure of knowing that I'm helping a wide range of people in many different situations. Unlike a corporate event in which the events goal is to increase companies profits, a charity event is geared to helping people in need. Most charity events take place to raise funds for a specific cause. Chris Evert runs several charity events all over South Florida. Her events have raised millions of dollars that have helped in the fight against drug abuse and to help child abuse. Over the years I have photographed hundreds of charity events, however photographing Chris Evert's event are the most fun and exciting. At this event, each attendee got to have their picture taken with Chris Evert. During the event we made 4x6 printed photos which were put into frames and later given to each person. By covering these types of events I have helped people from all different walks of life and in many different situations. As a South Florida charity photographer who covers different charity events, I have learned that different events have different budgets, it's important to have a clear understanding of the budget and requirements, as well as the needs of the event host. Because event budgets are usually based on donations and event size, I always make sure I work with the event organizer to first determine the photography needs and budget. It's my job as the event photographer to be honest and realistic in regards to what is possible. It's also helpful if I can utilize the events volunteers as a way of cutting some personnel costs. Because part of the goal of many charity events is to provide value to the attendees some very creative event planning if often required.
I recently provided both photography and videography for a charity event that included an auction, a very elegant sit-down dinner, speeches and a performance by a well known band. Part of the event coverage included photographing guests in front of a custom background. This is often referred to as a Step and Repeat photo opportunity. During the dinner, auction and band performance we printed the step and repeat photos, then put the photos in beautiful frames so that the guests could go home with a souvenir of the event. The cost of providing the photography, video, printing and labor would have made the event coverage out of the charities budget. However, by having volunteers help with the photo sorting and framing we were able to keep the cost down.
The picture in this article was taken at a Chris Evert charity event in Boca Raton. Boca Raton is an area that has many charity events due to its large number of hotels and country clubs. This event was hosted at The Polo Club of Boca Raton, which is a very popular venue for upscale charity events. I have also photographed charity events at The Boca Raton Resort and Club and many other luxury venues across South Florida. Some others charity events in have photographed in South Florida have been very unique and entertaining. As a photographer who loves music I recently shot a very KOOL event that featured the band Kool and the Gang. You can see the photo here. Kool and the Gang charity event at The Breakers. Here is another Kool and the Gang guitar player. Because most charity events and fundraisers in South Florida are geared toward raising money they usually don't pay as much as a corporate or special event. However, the benefit is you getting hang with Kool and the Gang!
If you are planning a charity event in South Florida here are a few tips to help you get better results from your South Florida photographer. First I would make a photo shot list to help your photographer remember the important photos to take. Even if your photographer is a skilled professional it's a huge help to clue your photographer in as to the important photos that are required. Some photographers may be offended when given a shot list, I'm not one of them. I find it helpful. As a photographer, I have no ego when it comes to being directed by the client. Naturally I want to do the best job possible, I will always welcome extra direction from the client or host. Another reason to give your photographer a shot list is to make sure your photographer is aware of who the vips are. Understanding the timing of the event is also important. Its very helpful if your photographer knows how much time is available for each charity event segment.
If you are a South Florida charity photographer here are a few tips to help you get compelling photographs. 1 - Think about the message or story you are conveying in each photograph. Sometimes the message could be simply, People mingling, other times the message could be posed looking at the camera, if you ask the posed people looking at the camera to smile, the message could be Having a good time at this charity event. If you can tell a story with your photography you will go from a photo snapper to a photo-journalist. As a photographer shooting any type of events you really want to be thought of as a photo-journalist.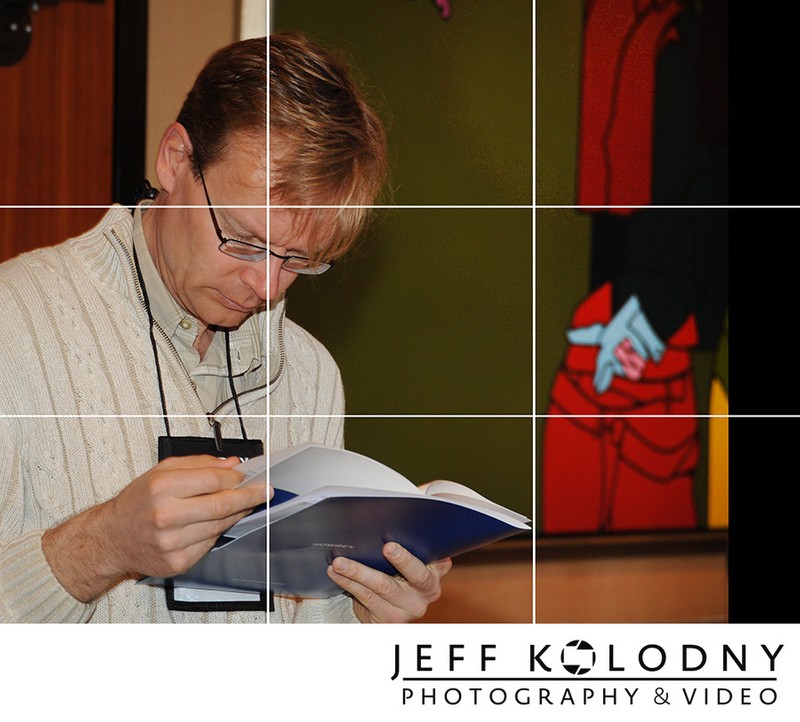 2- Consider using the rule of thirds in some of your photos. If you divide the image into thirds you could put the main focus point in one of the third points this creates more interest in a photograph. Your photographer should not use the rule of thirds in all the pictures but its a nice way to add interest in some of the photos. If you look at the photo to the right you can see how I used the guides to break up the image into thirds. You can put the center of interest in any of the four corners to add interest. Some photos won't work well with the rule of thirds.
If you are planning a Charity event and need a photographer I would be honored if you gave me a call. In the past 15 plus years photographing different events I have covered assignments in Miami, Miami Beach, South Beach, Fort Lauderdale, Boca Raton, Palm Beach and Jupiter. My years photographing a wide range of events ranging from corporate events, team building events, sales events have given me the skills and experience to photography your charity event beautifully.
I can me reached at (561) 737-5561. I would love to talk and help you with your charity event photography needs.
Jeff
Location: 5400 Champion Blvd, Boca Raton, FL 33496.