Jeff Kolodny Photography & Video
Boca Raton Wedding Photography
This image of a bride and groom laughing was taken at the Polo Club a great place for Boca Raton Wedding Photography!
If you are recently engaged and planning your South Florida wedding then I would recommend you visit the Polo Club of Boca Raton. It's very important to me as a Boca Raton Wedding Photographer to get the best images possible. Whenever I have a wedding at the Polo Club of Boca Raton I know that I'm going to have a great opportunity to get images that are unique and beautiful. This image was taken very quickly in the ballroom just before the wedding guests entered the room. As a South Florida wedding photographer I love to take pictures that show fantastic greenery, or a beautiful ocean view or even a flowing fountain with water shooting in a dramatic formation. However, somethings you just don't have to time or are in a situation where you can't take those types of wedding photos. For this photo I had to be quick and I wanted just one more bride and groom photo. I noticed the pattern of the chairs in the ballroom and figured I could shoot this pattern and place the bride and groom into this formation of the chairs as a pattern interrupt. Toward the bottom of this post I'm going to add some links to additional wedding pictures taken at the Polo Club.
About the Photo club at Boca Raton.
If you are thinking of a Polo Club wedding be prepared to be impressed by picturesque landscaping, beautiful water fountains, a amazing looking white marbled clubhouse decorated with flowing water and fire displays. For a Boca Raton Wedding Photographer the opportunities to take captivating scenic photos is endless. The panoramic views around the championship golf course provides a photographer the opportunity to position the bride and groom at a perfect angle to capture the best lighting no matter the position of the sun. The banquet ballroom is huge and can accommodate up to 600 wedding guests! By the way, the Polo Club of Boca Raton is also perfect for bar/bat mitzvahs, charity events, corporate events, luncheons and private functions. I have recently photographed a lovely charity event in the same ballroom where I took this bride and groom photo. Having worked with the dedicated team of event professionals I have found that they are very knowledgeable and always help create a picture perfect event.
Located in the center of Boca Raton your wedding guests and bridal party will find that there is plenty to do around this great country club. If you like to play golf the the course at the Polo Club is perfectly manicured and also provide stimulating scenery. Boca Raton is also known for it's collection of fine dining options. Trust me when I tell you that finding a great place to hold a welcome or rehearsal dinner for your bridal party or guests won't be a problem. If you need help call me. Just a short distance away are some of the most beautiful beached on the planet. If you want over the top nightlife you can venture south down the road to Fort Lauderdale beach or for even more excitement go further south to the world famous South Beach. Driving north will take you to Delray Beach which also have more night-life and dining options. Continue further and you can visit Palm Beach which is considered the home of the rich and famous.
Polo Club of Boca Raton wedding pictures.
Now let's talk about Boca Raton Wedding Photography at The Polo Club. Whenever I know I'm working at the Photo Club I know that I've going to take some of the most amazing photos ever. Sure there are lot's of very nice wedding venues in Boca Raton, however the Polo Club happens to be one of the most elegant. I also love the fact that I'm going to be photographing the only wedding on the property. Other hotels in Boca Raton or even South Florida have several weddings taking place at the same location. I don't know about you, but as a wedding photographer I find it really annoying when I take a couple out to a beautiful lake, pond or fountain and find another photographer taking wedding pictures in the same place I had in mind. Having your wedding at the Polo Club of Boca Raton insures you are the only wedding taking place. Check out these links below to see more of my wedding photography from the Polo Club.
Ella and Nick at the Polo Club of Boca Raton. First, this link will take you to a Blog article which features several pictures from the Polo Club. Trust me there is a photo of the bride and groom walking with a ring boy holding the brides veil which is breathtaking. Just click the link above.
This photo below was taken at the front walkway at the Polo Club. This is just one of the beautiful picturesque places to take bride and groom wedding photos.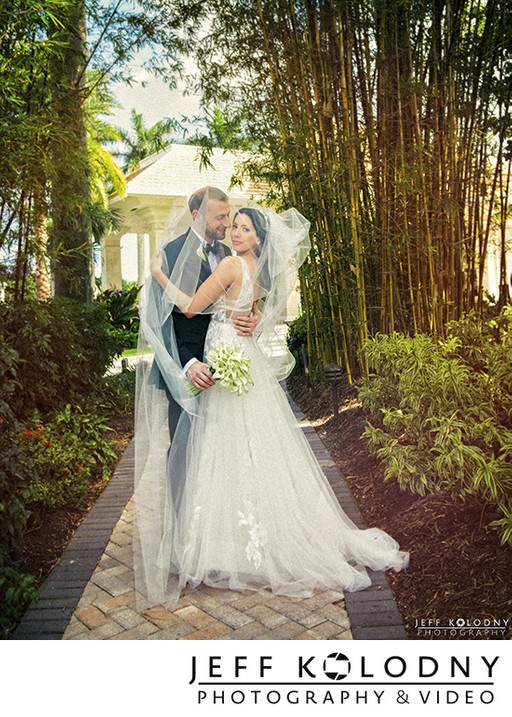 BELOW: Here is another Polo Club wedding photo.
I shot this bridal portrait on the patio in front of the Polo Club's clubhouse. Whenever I'm shooting a Boca Raton Wedding I look for a place where I can do nice portrait Photography that is casual with an attractive background. You can clearly see that the background in this photo is pleasing to look at but also no so overwhelming that it takes the attention off the to bride and groom.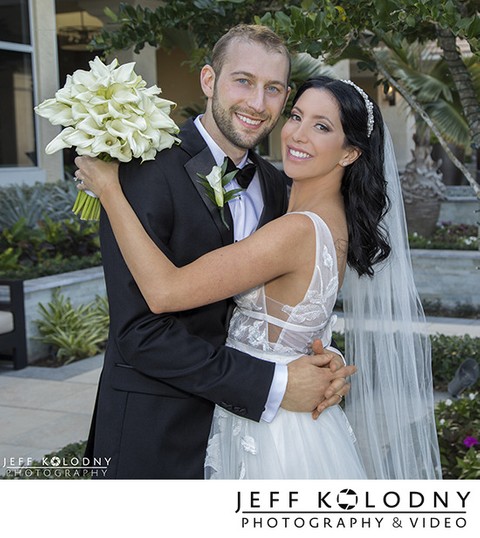 I hope you have enjoyed reading this article. I tried to give information that is informative and provides good guidance. If you are planning a wedding in Boca Raton or anyplace in South Florida I would love to chat. Feel free to call me at (561) 737-5561
Jeff
Location: 5400 Champion Blvd, Boca Raton, FL 33496.