Miami Beach Bar Mitzvah
Steve O showing off his back tattoo at a Miami Beach Bar Mitzvah
I have photographed hundreds and hundreds of Bat and Bar Mitzvahs over the years. I have also photographed many celebrities over the years as well. However, this Miami Beach Bar Mitzvah with celebrity guest Steve O was one of the craziest ever. The Bar Mitzvah child was into skateboarding so naturally his Bar Mitzvah would be a skateboarding themed party. As a way of making it very special, the parents decided to include some of the worlds top professional skateboarders. In addition the parents invited the Famous Steve O to attend. If you have never heard of Steve O it must be due to the face that you are a normal person. However, if you are the wild type, and into crazy stunts and some very very funny antics, than you most likely know who Steve O is. In addition to being an all around hilarious guy he is also a very skilled skateboarder. If you would like to learn more about Steve O here is a link for you to check out. As a matter of fact, here are several links. Who is Steve O? Here is the link to his website. Steve O's website. Here is a link to Steve O in action. After seeing this one you will know his guy writes the book on crazy Steve O worst stunts. To make this Miami Beach Bar Mitzvah even more interesting the family had a full sized skateboard ramp built. The party was filled with skateboard pros and kids riding the ramp. You could hear the wheels on wood all evening long. I have shot a wide range of Bat and Bar Mitzvahs all over South Florida. One think I found shooting all these parties is that parents and the kids work hard to come up with concepts that is unique and interesting. I have photographed Bar Mitzvahs with exotic cars, Ski Themes, and even an M&M theme Bar Mitzvah. However, a skateboard Bar Mitzvah where they actually built huge wooden ramps in the ballroom. I have never seen that.
Now of course Steve O got lots of attention, especially when I ripped off his shirt showing off the tattoo of himself on his back. That got tons of attention.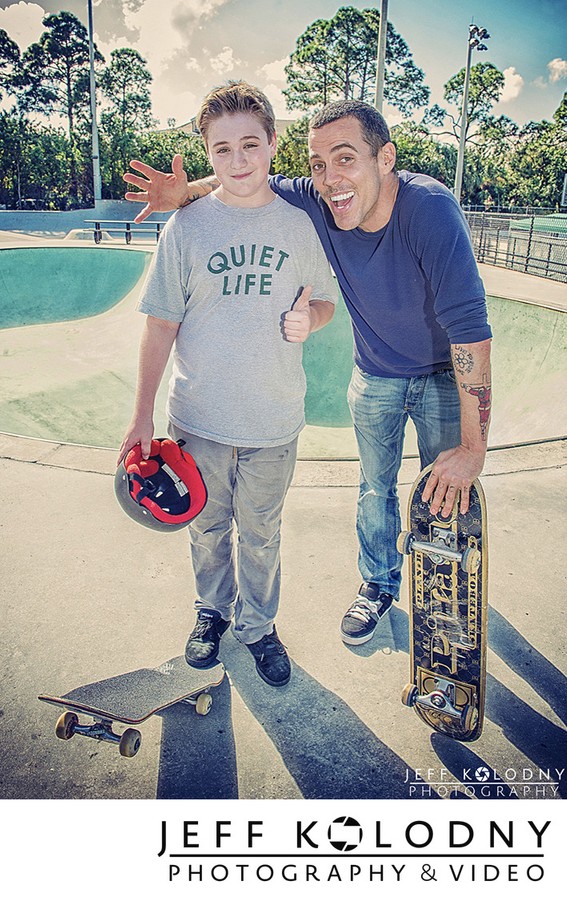 Steve O and the Bar Mitzvah boy!
So what makes a great Bar Mitzvah photographer? This question goes well beyond just viewing the finished images. Shooting a Bat or Bar Mitzvah requires a photographer that can shoot portraits and cover the action as well.
Unlike some other career choices, nothing is required to be a photographer, no one needs a licenses and there are no regulations to be a Bat or Bar Mitzvah photographer. There is nothing to stop anyone from purchasing a camera and saying they are a photographer. Many of these people sell themselves as journalistic photographers. While I love photo journalism, I'm also skilled in posing, using the best light. Anyone hiring a photographer for their child's Miami Beach Bat or Bar Mitzvah should make certain that the photographer is highly skilled in posing. I recently photographed a Bat Mitzvah in Boca Raton in which the mother told me before hand she really wanted mostly candid or photo-journalistic pictures. Then when I arrived they had 20 different people ready for posed pictures. If course, I shot a combo of both.
Here are a few tips to help you hire the perfect photographer.
First, Hire a photographer who does photography full time. Most photographers who do this part time doesn't spend enough time honing the skills required to produce high quality work. Full time means the photographer has no limit to the budget spent on equipment or training needed to produce the best work. For a full time photographer, the craft is a lifestyle. I know that I cannot look at any scene and naturally think about the lighting. Seriously, I could look at a scene and think. F11 at 125th would be that perfect exposure.
Second, Find a photographer with years of experience. The best photographers shoot thousands and thousands of images. They are always naturally practicing. After a vacation I come home with hundreds and hundreds of images. On vacation, I shoot food, people, scenics, action shots. Check out some of my scenic and travel photos here.
In the world if Mitzvahs there are different types of jewish religions. For example there are orthodox, conservative and reform. All these are similar but have differences. A photographer needs to know the differences because there are different levels of importance with each type of religious set. For example, the photographer is usually allowed to remove the torah for pictures with reformed Bat and Bar Mitzvahs. Typically the photographer is not allowed to remove the torah for pictures in a conservative mitzvah. Sometimes the Rabbi will remove the torah for the photographer. An experienced photographer knows how to work with the rabbi and abide by the rules of the temple to get the best pictures.
Third, not only should your photographer be skilled in taking the pictures. Your photographer should also be skilled in photo retouching. In the case with my photography, all our pictures get retouched. Generally people don't like shinny skin, too many wrinkles, and yellow teeth. Our retouching fixes this imperfections. We also, enhance all the positive features such as enhancing eyes, contouring face structure. All this retouching is done using methods that keep everything looking natural. We don't want our pictures to look obviously retouched.
In addition the picture retouching we also provide albums and album design. Most of the people who hire us would like an album included. Not everyone takes a package the includes an album and some add the album later. Our clients want albums that are designed to their unique tastes. By working with our families, the parents get to review the album design and make changes as needed.
If you are having at Bat or Bar Mitzvah in Miami Beach please give us a call. In addition to working in Miami Beach we also cover all of Broward county, Palm Beach County, Dade County, and Martin County as well. Our phone number is (561) 737-5561
Location: 4525 Collins Ave, Miami Beach, FL 33140.