Creative South Florida Bat Mitzvah Photography
South Florida Bat Mitzvah portrait photograph taken at Congregation Kol Tikvah in Parkland.
In addition to photographing wedding and corporate events I also photograph many Bat and Bar Mitzvahs. Photographing Bat and Bar Mitzvahs require a wide range if photography skills which is why I love photographing them. First your photographer needs to be great at portrait photography while also having the skill to quickly shift gears and shoot photo-journalistic type photos. Luckily for me I have years of experience shooting both. As a skilled photographer I've been formally trained in the art of fine portraiture. In addition to having years of experience shooting portraits I have also worked as a photo-journalist for several different news publications. While based in Los Angeles I worked as a photographer for the Los Angeles times covering news and the Hollywood scene. While in LA I photographed members of the entertainment community at many special events. These events include, the Academy Awards, Film Festivals, Hollywood private parties and many, many, Sunset Blvd star unveilings. If you ever have to opportunity to visit with me you will be blown away buy the unique collection of celebrity photos hanging on my walls. After 20 years living and working in Hollywood I made the move to South Florida and began shooting Bat and Bar Mitzvahs here as well.
Why should you hire me as your South Florida Bat Mitzvah photographer?
There are many great reasons why you should hire me. First, I have years of experience. I have been shooting weddings, Bar & Bat Mitzvahs as well as other special events since I graduated from college with my degree in Communications and Photography. After college I moved to LA and started working with the most prestigious wedding, portrait and Bat & Bar Mitzvah studios in town. In addition to working for the best photography studio, I also worked as a photo lab printer at a very high end commercial photo lab in Burbank CA. Visit, ColorEdge Burbank. at the time I worked there the lab was named, Colorhouse. Believe it or not, I still have my ColorHouse tape measure.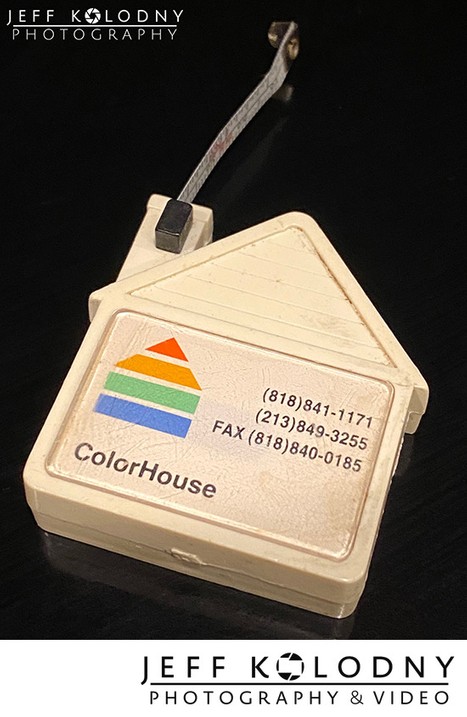 After all these years my ColorHouse tape measure is still sitting in my desk. If you click the link to ColorEdge you will see that it's not a small amateur photo lab.
During my years at ColorHouse I worked on a huge amount of intense high profile projects. I really enjoyed my years working at ColorHouse, however between shooting weddings and Bar / Bat Mitzvahs and other commercial jobs a time came when I had to decide between a career at PhotoEdge or the land of self-employment. I chose to tough it out being self-employed.
Once I left ColorHouse I did really well working for myself. In 2005 we decided to leave Los Angeles and relocate to South Florida.
Aside from my years as a photographer, another reason to hire me has to do with my work ethic. I always arrive at each event or photo assignment early and with extra camera gear. I don't bring a camera and a back up less expensive camera. I bring several notch cameras that feature the latest technology available. In addition I know what pictures need to be taken, and I take notes from the family so that I know who to put in which pictures.
Given my years of hard core experience my great work ethic and a temperament that always keeps me focused and on point no matter what this situation I believe that I'm your best choice when hiring a South Florida Bat Mitzvah photographer. If you are shopping for a photographer call me at (561) 737-5561. I would love to talk with you.
Jeff
Location: 6750 N University Dr, Parkland, FL 33067.