Bat Mitzvah Photography in South Florida
Creating unique South Florida Bat / Bar mitzvah photography is my specialty.
While most South Florida Bat / Bar mitzvah photographers take pictures that are just ok, I strive to create imagery that is unique and very different. While I'm also a dependable and reliable photographer who shoots all the required posed pictures, I also create pictures that are outside the box.
This South Florida Bat Mitzvah photo was taken during a pre-mitzvah photo session for the purpose of creating artwork that can be used for decor at the bat mitzvah party. Because her theme was fashion we decided to take the pictures very early in the morning on Worth avenue in Palm Beach. If you are not familiar with Worth avenue, it's one of the most famous roads in South Florida if not the country. Worth avenue is lined with the most expensive stores ever. When shopping on Worth avenue in Palm Beach shoppers have to decide which high-end store the visit. Choices include Neiman Marcus, Jimmy Choo, Tiffany & Co, Chanel, Louis Vuitton, Saks Fifth Avenue, Ralph Lauren, Lilly Pultzer, Gucci, and a very very wide range of jewelry stores, art galleries, and other shops. Because the Bat Mitzvah party theme was fashion we decided Worth avenue would be the perfect place. Because the finished artwork was going to be very large posters displayed at the party I wanted to do something special. Using my Photoshop skills I created magazine covers. However, I didn't want to create ordinary magazine covers I decided to make Jewish inspired magazine covers using yiddish language incorporated into the articles. See Below.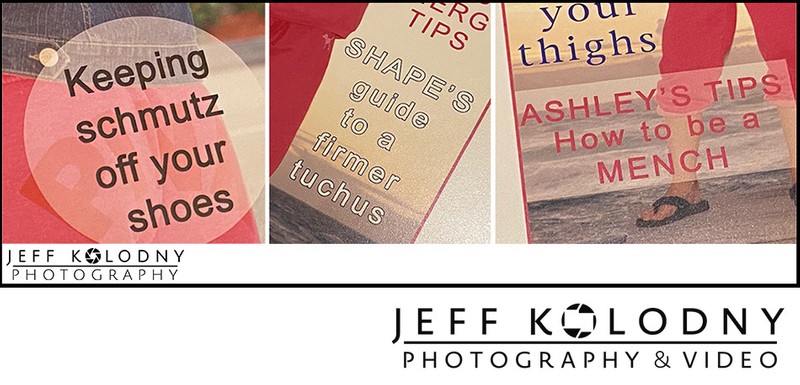 We really had fun with this idea. The pictures came out fantastic. As a matter of fact I have an entire album made just from this photo-shoot. If you would like to see the album give me a call at (561) 737-5561.
How we make extra creative South Florida Bat and Bar Mitzvah Pictures.
Creating images that are creative and unique requires several different skills. Sure you can scour the internet searching for, Creative Bar Mitzvah photography, Unique Bat Mitzvah images, Bat / Bar Mitzvah party ideas and stuff like that. This method may result in some good ideas, but I believe the really great ideas come from talking with your son or daughter about the past great times you have had together. Talking about the funny times, when you laughed so hard that the soda shot out your nose during lunch. It's during the reminiscing about these times that creative ideas come to mind. Remember, the brain is most creative at times when you are relaxed and laughing with your child is one of the best ways to relax. Once you brainstorm ideas then it's up to a skilled photographer to make your ideas come to life. As a South Florida photographer I photography a wide range of images. I shoot a ton of weddings, lots of corporate events, and I'm really good at food photography. Shooting all these different types of images gives me great insight as to all the different ways a photographer can be unique and think about producing photographs that are clever. Here are some links to a few of my favorite photos. Fun Wedding Photo. This one is from a wedding but when I came across this vintage gas station on my way to the reception, I called the bride and groom in the limo and made them turnaround so I could take this shot. Disney World Photo. This photo was taken during an engagement shoot at Disney World. The balloon vendor did not trust the couple to hold all the balloons so I had her hold them off camera and I photo-shopped them in. If you cruise through my photo gallery you will find a wide range of unique photos.
Why should you hire me as your South Florida Bat / Bar Mitzvah Photographer.
If you are interested in hiring a Bat / Bar Mitzvah photographer who has many years of experience, is college educated in the area of photography and film production, has worked and learned from the best photographers in the world then I'm your guy. Since I was just 16 years old I have Been taking pictures. By the time I started college I was getting paid to take pictures. Ofter college I decided I wanted to work for the most famous photographers in the world. In order the have access to these select professional I decided I needed to love in Los Angeles. So once I received my BA degree, I packed my stuff and drove out to LA. I got a job working for a the best wedding photographer in Los Angeles. At the time the best photographer was Willy Leon Studio. Willy was a fashion photographer who also shot weddings and events. He was skilled at being able to apply fashion photography to his wedding images. He also shot portraits and of course Bat and Bar Mitzvahs. While I worked to Willy I also spent time learning for other famous photographers. By working with these superstars of the photography world I got a first rate education. Some of the Superstar photographers I leaned from include Herb Ritz Irving Penn Gary Bernstein and many more.
It's not just about taking great Bat / Bar Mitzvah pictures.
I know plenty of very talented photographers who take great creative pictures. The problem is they just can't get to the job on time, or they forget what day the party is. Many spend every penny the make and have not money left to make the clients album. Some can't return phone calls, some don't want to return phone calls. I have been in business for a long time, over the years I have had many employees. Many Many didn't work out. There what the photographer who wanted me to send him alone on events at second I hired him. I don't thing so. Then he told me he really doesn't want to shoot weddings and Bat / Bar Mitzvahs on weekends. OK - I'll call you when I have a Tuesday wedding. Thanks Bye. Then there was the photographer who lost the film. Actually he didn't loose all the film. I was with him on the job and took the film with me when I left. He had to finish the last hour of the Bat Mitzvah party. After the party he left his camera gear sitting in front of the Air Tel hotel lobby while he went in to get a coffee. When he came out his gear was gone. Really? What a surprise! Then after he told me he had his cameras and film stolen he asked if I could pay to replace his gear. Hmmm NO. I could go on, I'll have to finish that book I have been working on. The truth is, while people are only human and sometimes make mistakes, some photographers are just dumb, lazy. I'm not one of them. I always leave extra early for each job. I bring plenty of back up gear, I have enough money in the bank to design and order your album in a timely manor. I'm fully insured and I keep my memory cards on me at all times. If someone steals my gear, Ok they get camera gear, but they won't get your images. Did I say I'm insured? Anyway, if you are looking for a South Florida Bat / Bar Mitzvah photographer who will provide you with the best photography and an enjoyable experience, call me at (561) 737-5561. Jeff
Location: Worth AvePalm Beach, FL 33480.